Patriots vs. Chargers: 4 Observations from Week 2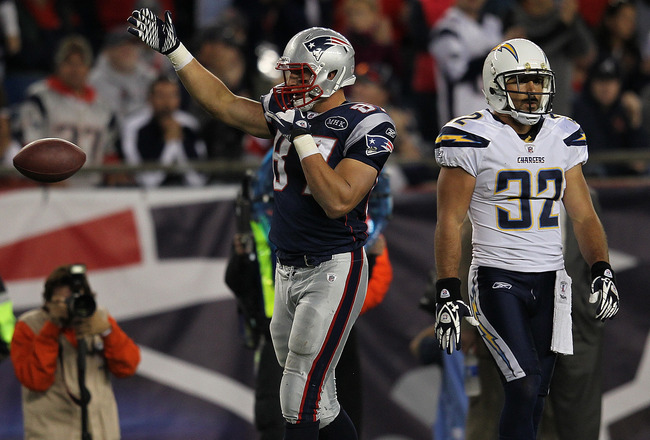 Jim Rogash/Getty Images
The New England Patriots picked up their second win on the season against the San Diego Chargers, beating them 35-21.
Expectations were high coming into Week 2. Tom Brady was coming off a career performance against the Miami Dolphins on Monday Night Football.
The Chargers were able to limit the Vikings to just 28 net passing yards in Week 1. It appeared as if two powerful forces were about to go head to head, with only one of them coming out on top.
We know that the Patriots prevailed, and once again appear to be one of the top teams in the NFL, but there is more to take away than just that.
Here are four observations from Week 2.
Chad Ochocinco Still Isn't Catching on
Jim Rogash/Getty Images
We have all heard it throughout the preseason.
Chad Ochocinco just isn't catching on to the complex offense the Patriots are running. After a very underwhelming performance in Week 1, Ochocinco only caught two passes for 45 yards against the Chargers.
Ochocinco looked solid catching his two receptions early, but quickly disappeared. He is absent on many formations including completely being taken out of the hurry-up offense.
At one point, Tom Brady had to walk out to Ochocinco to tell him the play. These kind of instances won't be acceptable as we progress forward throughout the season.
If Ochocinco wants to call himself a star receiver, then he is going to have to start playing and studying like one.
The Pass Rush Still Needs Work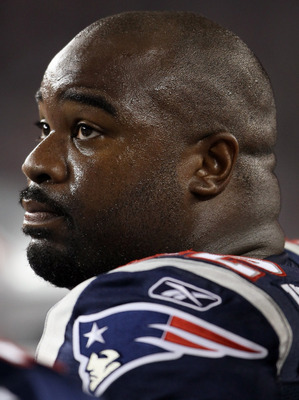 Elsa/Getty Images
The pass rush has been a clear need for the Patriots for several years now.
They tried to target that need this offseason by acquiring several new pieces for the defensive line, including Albert Haynesworth.
While there have been flashes of an improved pass rush, such as a nice sack today by Mark Anderson, it still isn't consistent enough to really impact the defensive play.
Philip Rivers had far too much time in the pocket today, which allowed him and Vincent Jackson to slice up the Patriots secondary at several points during the game. No matter how good your secondary is, eventually receivers will get open.
It could be that the new pieces still need a chance to get more comfortable in the system. We could see a much different-looking defense by Week 6 or Week 7.
If not, it could be a long year for Devin McCourty and the Patriots secondary.
The Patriots' Tight Ends May Be Their Best Weapons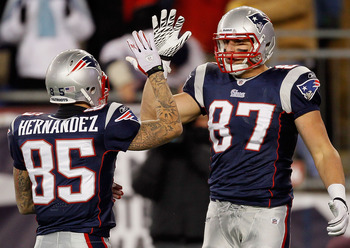 Jim Rogash/Getty Images
When New England drafted Rob Gronkowski and Aaron Hernandez in the 2010 draft, there were some eyebrows raised around the NFL community.
The Patriots have never hesitated to draft what they feel is a need and what they feel is good value.
Both Hernandez and Gronkowski have certainly proven that they provide their fair share of value. Now in 2011, it appears that they are taking their game to the next level.
The two young tight ends accounted for a combined 11 receptions for 148 yards and three touchdowns against San Diego. While their skill sets differ drastically, they have both proven that they can be great red-zone threats, and also stretch the field.
They have earned Brady's trust, and I only expect more throws to go their way as the season moves on.
Tom Brady Is the Best Quarterback in the NFL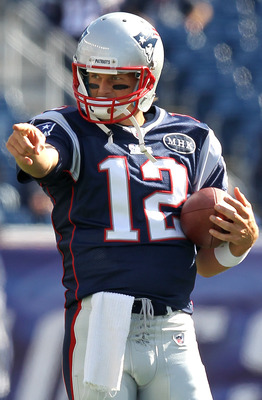 Jim Rogash/Getty Images
Tom Brady has 940 yards and seven touchdowns after two games.
I want you to let that statement sink in for a minute.
Tom Brady has been one of the best quarterbacks in the NFL for some time.
We know that he has the three Super Bowl championships. We know that he broke single season records in 2007. We know that he was the first ever unanimous MVP in 2010.
However, it never gets old seeing how easy he makes it look.
Now, it would be completely unrealistic to think that Brady could possibly keep up this pace. He is sure to have some games where his stats are less than eye-popping.
Yet, there are going to be plenty of chances for him to put up huge numbers, like next week against the Buffalo Bills. The season is still young, and there are plenty of unanswered questions.
One thing we do know is that right now, no quarterback is playing better than Tom Brady.
Keep Reading

New England Patriots: Like this team?