NFL Power Rankings: 3 Teams That Helped Themselves in Week 2
September 19, 2011
Ronald Martinez/Getty Images
In Week 2, we began to learn more about these teams. Week 1 is generally filled with upsets and surprise performances, but Week 2 is where definite trends start to emerge.
Among those trends is which teams are establishing themselves as consistent winners.
The following are three of those teams.
Washington Redskins
The jury is still out on if the Redskins will be good enough to be a surprise playoff contender, but at the very least, they have shown us that they are not the hot mess most assumed they would be.
Rex Grossman has played pretty well thus far and the defense has shown a lot of improvement over their 2010 form. In Week 1, they held the Giants to 14 points, and in Week 2, they held the Cardinals to 21.
The Redskins are very obviously a competitive team that should be taken seriously. Teams with Washington on their schedule were likely counting them as a win a few weeks ago, but now, they can't assume anything.
Buffalo Bills
Given how bad the Kansas City Chiefs have turned out to be, it's hard to get too excited about the Bills' blowout win over them in Week 1.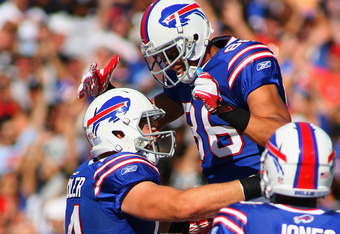 Rick Stewart/Getty Images
In Week 2, though, the Bills took a big step towards legitimacy.
The Bills took on and beat the Raiders, 38-35. The Raiders aren't a Super Bowl contender, but they were an 8-8 team with a good defense last season.
It's not just that they beat Oakland. It's how they did it. There were five lead changes, and every time the Raiders got ahead, the Bills fought back. To me, at least, it's pretty clear that the Bills are here to stay.
New York Jets
The Jets entered Week 2 coming off a close win over the Cowboys. Even though Dallas is a tough opponent, there were many that felt that the Cowboys gave the game away and that the Jets didn't deserve to win.
In Week 2 against the Jaguars, the Jets proved that they are once again a force to be reckoned with. The Jags aren't any good, but the way the Jets played is impressive against any team. The Jets waltzed home with a 32-3 win that wasn't even close. They were clicking on all cylinders the entire time.
The Jets are clearly the same playoff team that they have been over the last few seasons, and their big win against the Jaguars proved it.
Joseph Healy's NFL Power Rankings for Week 2
1. New England Patriots
2. Green Bay Packers
3. Philadelphia Eagles
4. Baltimore Ravens
5. Pittsburgh Steelers
6. N.Y. Jets
7. New Orleans Saints
8. Houston Texans
9. San Diego Chargers
10. Atlanta Falcons
11. Chicago Bears
12. Detroit Lions
13. Tampa Bay Buccaneers
14. St. Louis Rams
15. Dallas Cowboys
16. New York Giants
17. Jacksonville Jaguars
18. Arizona Cardinals
19. Minnesota Vikings
20. Indianapolis Colts
21. Buffalo Bills
22. Oakland Raiders
23. Tennessee Titans
24. Kansas City Chiefs
25. Miami Dolphins
26. Washington Redskins
27. San Francisco 49ers
28. Carolina Panthers
29. Cincinnati Bengals
30. Cleveland Browns
31. Seattle Seahawks
32. Denver Broncos