Questions Linger About Jaguars' Direction After 32-3 Loss to Jets
September 18, 2011
Nick Laham/Getty Images
The Jacksonville Jaguars needed more than this.
It wasn't necessarily a "win" the Jaguars needed, it was hope. It was a performance worthy of a ticket price. It was an effort worthy of three hours in front of a television. 
They needed to show progress. They needed to show fight. They needed to give their battered fan base something on which to hang their hopes.
They did none of this.
In one of the most miserable offensive performances in recent Jaguars' memory, they were completely dismantled by a New York Jets team that clearly outmatched, outworked, out-coached and outperformed the perennially disappointing Jaguars. 
What was most upsetting about the performance turned in by Jacksonville on Sunday wasn't the mere fact they lost. They barely looked like a professional franchise.
Offensively, the Jaguars' line was bulled over, outsmarted and confused in protection. Luke McCown, the quarterback on whom the Jaguars' fans hung their hopes following the release of David Garrard, was simply dreadful.
Maurice Jones-Drew had few creases, and most of his 88 yards rushing came on a few longer rushes at a time when the Jaguars trailed big and should have been passing.
In customary fashion, the Jaguars receivers and offensive skill players barely made a ripple.
Zach Miller and Mike Thomas were ghosts. Cecil Shorts, the rookie from Mount Union, was silent. 
McCown was harassed early and finished the game six of 19 for 59 yards and four interceptions, all of which were completely ill-advised.
McCown eventually gave way to Blaine Gabbert, who spent most of the fourth quarter running for his life despite completing five of six passes.
In short, the Jaguars weren't in the same league with the Jets on Sunday.
Is this what the Jaguar faithful were promised all offseason? For the past few years now, there have been rallying cries in the city of Jacksonville. Cries to stand behind the team, to fight in support of a looked-over franchise.
Rumors persist of a potential move to Los Angeles, yet the fans fight to cling to its team. "Save the Whale" is a popular mantra, as if the franchise is beached along the Atlantic shoreline, struggling for life. Folks, this isn't a whale. 
This is a football team.
Furthermore, this is a business. A business that is losing the trust of its biggest, and only client. 
The attitude of the Jaguars' franchise is one that places the responsibility of ticket sales firmly in the hands of the fans, which I find deplorable.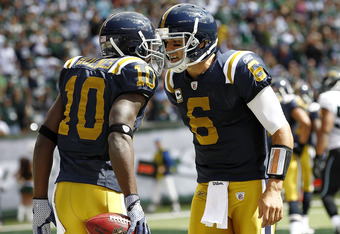 Jeff Zelevansky/Getty Images
The attitude of local media is that to not buy tickets is somehow unpatriotic. There is a palpable fear-mongering that surreptitiously says "if you don't buy tickets, we're going to leave and it will be your fault!"
The fans panic. The fans fear. They save up and do all they can to prevent blackouts.
Nothing seems to change.
The pressure put on the fans is actually divisive. The season ticket owners look at non-season ticket owners like they are somehow "less than fans," and are ready to blame them for the rumors of ultimate departure from Jacksonville.
Those who can't afford the tickets view season ticket owners as "do-gooders," eager to wag a finger in the face of anyone calling themselves a fan, yet hasn't ponied up the dough.
Strife ensues on the message boards on www.jaguars.com, where a clearly divided fan base wonders what they are doing wrong to make the team so perpetually mediocre.
Fingers are pointed at Jack Del Rio, others point at Wayne Weaver, some even at Gene Smith. Some even point back at one another.
The Jaguars keep offering Kool-Aid, and the fans guzzle it down.
In what other business is the survival of the company incumbent upon the consumer? What other product requires people to purchase it before it proves good on its promise to be of high quality?
Jaguars fans are assaulted with the persistent message that the team needs their dollars to survive in Jacksonville, but isn't there an easier way to get into the wallets of this hardworking fan base?
The Jaguars have taken much criticism for their unwillingness to go after high-priced free agents. While I don't agree that bringing in Randy Moss or Terrell Owens would solve the Jaguars issues, Jaguars fans screamed for help at receiver in the offseason.
They wanted Malcolm Floyd, they wanted Ochocinco, they just wanted someone that could make a play and scare a defense. They weren't even that picky who they got.
The franchise told them they had a core group that could compete with anyone, a group of receivers that would make plays and scare defenses.
The fans persisted. They wanted a "name," not for the name itself, but for a sign that there was something to be excited about. They wanted to know their franchise was willing to get a playmaker.
What they got was Cecil Shorts, a fourth-round selection out of football factory, Mount Union.
What they wanted was a new quarterback, meanwhile the franchise told them that David Garrard was their guy.
The fans got Luke McCown.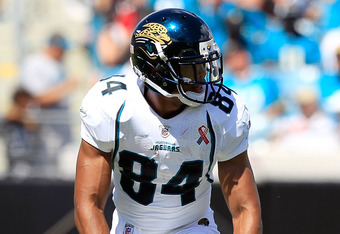 Sam Greenwood/Getty Images
Yet, don't necessarily think of the franchise as miserly. Just misled.
The Jaguars opted not to resign Kirk Morrison or Justin Durant, and spent over $60 million on Clint Session and Paul Posluszny, who may or may not be a considerable upgrade.
They signed Dawan Landry, whom they moved to strong safety, and totally ignored addressing a free safety position that was victimized last season as the culprit behind one of the league's worst secondaries.
Yet, the product still has not improved.
The excuses, meanwhile, are plenty.
The coach-speak spewing from Del Rio as they "stay the course." They didn't go after certain free agents because they weren't the "Jaguar" profile. The players available weren't locker-room friendly.
Yet, the Patriots and Eagles, constant contenders, welcomed these players with open arms. 
It seems to work out quite well for them, don't you think?
It's time for the Jaguars fans to demand more from this franchise, and realize that their discretionary income must be earned, as in any business.
Guess what happens in other cities when the teams are bad? The fans don't go.
Meanwhile, Jaguars fans are told otherwise. They are pointed to the few examples where generational fans in Detroit, Boston, and Pittsburgh supported bad teams by sitting in the stands through terrible seasons.
The Jaguars, a 16-year-old franchise, don't have this luxury. 
The current Jaguars' regime is essentially a sitting duck after a terrible preseason, a lackluster win and a disgraceful loss. 
Jaguars fans should be prepared to make the next regime earn their respect.