Eagles vs Falcons: 5 Second-Half Adjustments the Atlanta Falcons Must Make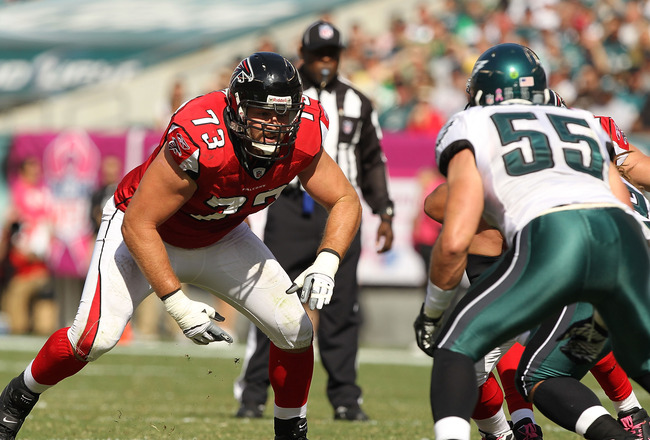 Al Bello/Getty Images
In this contest between the Atlanta Falcons and Philadelphia Eagles, we go into halftime with a much closer contest than anyone expected.
Still, the Eagles have completely outplayed the Falcons, as evidenced by the Falcons' 90 total yards of offense to the Eagles' 200-plus yards.
Despite the numbers of the game going completely in Philly's favor, the Falcons broke the game open with a massive turnover and return at the end of the half, resulting in a short drive to a score. This made the game 14-10 in their favor rather than a 17-7 game in favor of Philadelphia.
Their offensive woes are evident, and without that major defensive break, the Falcons would be coming into half two at a major disadvantage.
With that in mind, here are five adjustments that the Atlanta Falcons need to make going into the second half if they want to keep the lead and win this game
Make Use of Jason Snelling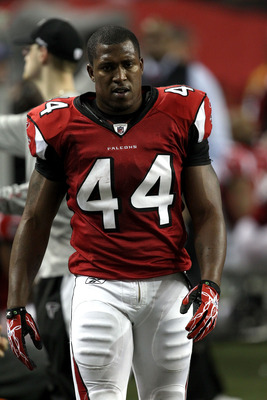 Streeter Lecka/Getty Images
The Philadelphia Eagles are weak against the run, with a suspect group of linebackers. However, they only need to stack the box to stop Michael Turner, a luxury they can afford given the presence of Nnamdi Asomugha and two other Pro-Bowl cornerbacks.
Michael Turner is a bruising back, but he has complete stone hands when catching out of the backfield.
Jason Snelling has excellent hands with good power and speed. He can easily avoid the Eagles' linebackers on screens and short pass plays, possibly breaking off something big. Even if he doesn't, he will force the Eagles to respect the rest of the Atlanta Falcons' offensive game plan.
He will also eat up clock, keeping the potent Philadelphia offense off the field longer.
Get Pressure on Michael Vick with Minimal Pass Rushers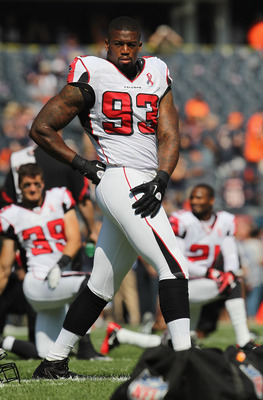 Jonathan Daniel/Getty Images
Michael Vick's touchdown pass to Jeremy Maclin on the goal line illustrates the blitz problem perfectly.
When the Atlanta Falcons dedicate six or more players to blitzing Vick, he can just scramble, backpedal or otherwise make a play with his feet. He is one of the best in the NFL at throwing on the move and making plays outside of the pocket. The Falcons leave themselves exposed with an all-out blitz, as Jeremy Maclin aptly demonstrated to them since he was wide open.
If the Falcons want to pressure Vick without opening themselves to an easy big play, they need to commit only four to five men to the rush each time. Philadelphia's offensive line can be exploited.
This is why they signed Ray Edwards.
Protect Matt Ryan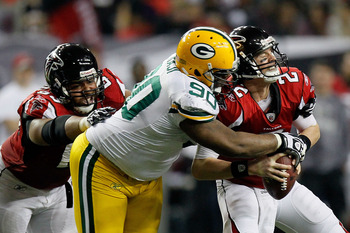 Kevin C. Cox/Getty Images
Quarterback Matt Ryan has had some serious trouble staying in the pocket and on his feet. The Atlanta Falcons took steps in the offseason to improve the offensive line, and that should be translating into better, not worse, protection.
If Matt Ryan cannot be kept on his feet long enough to make a play, the Falcons have no chance of winning this game. So far, he only has 36 yards passing to Michael Vick's 133.
Complete More Short Passes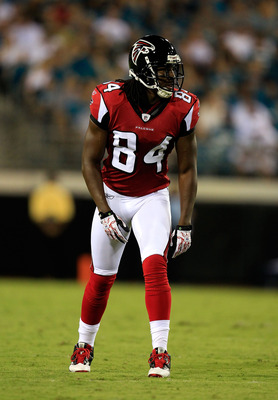 Sam Greenwood/Getty Images
The Philadelphia Eagles have a trio of All-Pro cornerbacks. This makes it rather difficult for even the Atlanta Falcons' potent receivers to get open down field for a big pass from quarterback Matt Ryan.
With the Falcons pounding the rock and Nnamdi Asomugha and Co. covering the deep ball, Atlanta needs to find a way to get an air attack going. The only way to accomplish such a feat is with a short passing game, where Roddy White, Julio Jones and the backs can make plays underneath before the corners lock in.
A West Coast Offense could be just the ticket.
It also might help increase their total number of first downs from a miserly six.
Spy Michael Vick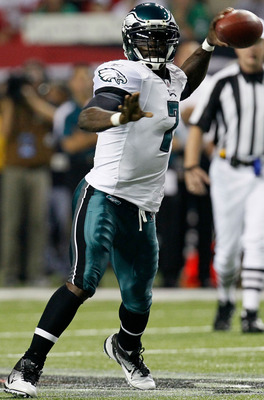 Kevin C. Cox/Getty Images
Any pass rush or man coverage is ruined by the idea of a quarterback that can scramble at will for big yardage.
Putting a spy on Michael Vick, be it a safety, linebacker or defensive end, will keep him in the backfield and force him to make plays with his arm.
This will significantly decrease the number of big plays, as well as first downs by Philly, which so far have been double that of the Atlanta Falcons.
Keep Reading

Atlanta Falcons: Like this team?