Boston Red Sox: Why We Can Stop Worrying About the Postseason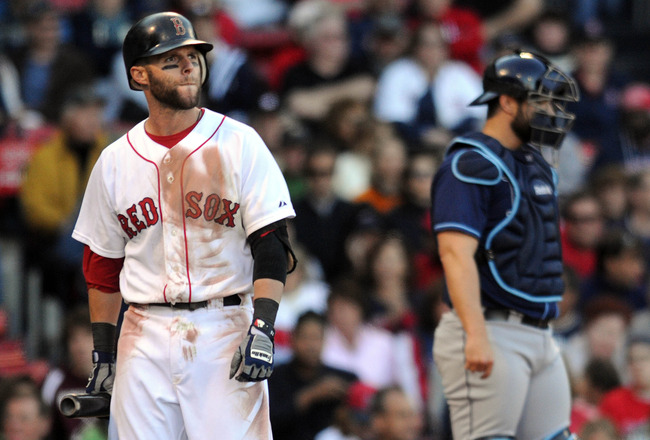 Dustin Pedroia has gone from MVP candidate to an inconsistent spark plug.
Darren McCollester/Getty Images
It's okay to admit you're scared. Believe me, I'm scared, too.
Since the better part of the past two decades have been kind to Boston Red Sox fans, it's easy to forget just how often the franchise has been saddled with yet another factoid that begins with the words "worst ever."
Squandering a nine-game wild-card lead would be the biggest wild-card-related collapse in MLB history.
Yes. The worst ever. Worse than 1995 Angels, the 2005 Indians and even the 2007 Mets. Being informed that you're worse than the Mets at anything is like receiving a scarlet letter.
Now the Red Sox are not safe with only a two-game lead in the Wild Card, but before you break your knuckles pounding the panic button, I'm going to try and soothe the Nation's troubled collective soul.
The Red Sox are still very likely to make the playoffs, and I can prove it.
The Red Sox Have an Easy Schedule the Rest of the Way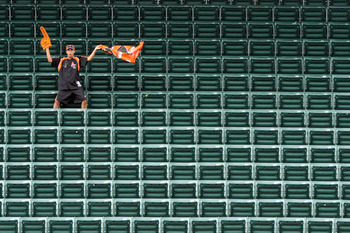 Thank goodness for the Baltimore Orioles.
Steve Ruark/Getty Images
Thank you, Peter Angelos, for running your team into the ground.
For the past near-decade, his Baltimore Orioles have existed primarily to get their clocks cleaned by the Boston Red Sox 15 times a year. Red Sox fans can take comfort in knowing that seven of their final 10 games are against the lowly Orioles.
The Red Sox are 8-3 when taking on Baltimore this season. The two teams haven't squared off since July 20, when Boston was at their hottest and Baltimore was coming off a stretch where they lost 15 of 19.
Now, Baltimore is actually playing well and has won four of its last five. Matt Wieters and Adam Jones have had solid seasons and may be coming into their own as major leaguers.
That shouldn't be enough to stop Boston from winning at least five of those games against them, though.
The other three games Boston has remaining on the schedule are against the New York Yankees, against whom the Red Sox match up well. The Yankees are like the Red Sox in that they both are offensively oriented and have question marks surrounding their pitching.
While those games are not easy, they should be expected to fare better in New York than they did against Tampa Bay.
Tampa Bay Doesn't Have an Easy Schedule the Rest of the Way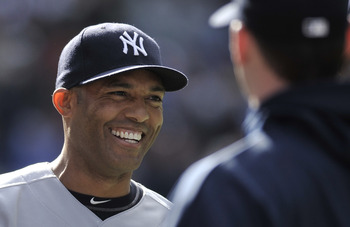 Mariano Rivera aims to close out Tampa's season.
Brad White/Getty Images
Tampa looked like a true playoff team against Boston this past weekend, but don't let that performance distract you from the fact that the team hasn't done exceptionally well in September. In reality, Tampa Bay has just been "pretty good."
They have a respectable mark of 11-6 for the month, but they lost some games against those miserable Orioles that would have really helped their playoff prospects. Now, in order to make the postseason, they have to win the vast majority of their seven games with the Yankees.
Tampa is 5-6 against the Bombers this season, and even though the Rays offense has been much better as of late and certainly better than it was the last time they played the Yankees, this will be a tough hill to climb.
The Red Sox Are Only Getting Healthier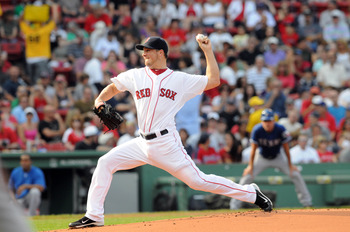 Red Sox Nation is going to need you, Erik Bedard.
Darren McCollester/Getty Images
Kevin Youkilis is currently held together by rubber bands and the jelly inside of a Pop-Tart, and J.D. Drew can't come outside to play because he has a boo-boo on his finger and a sore in his neck, but apart from those two, the Red Sox are getting healthy.
Clay Buchholz had another bullpen session recently and reported no problems. He could take the mound again, and would help immensely even in a bullpen role.
Jed Lowrie has responded well to a cortisone shot in his shoulder, and he should be healthy for this final stretch run.
Erik Bedard is expected to make his next start, which is good news since his arm will be sorely needed in the starting rotation.
It's all hands on deck, now. Except for Drew, but that's not a big loss since he's terrible at baseball.
The Odds of a Playoff Berth Are Still Very Much in Favor of the Red Sox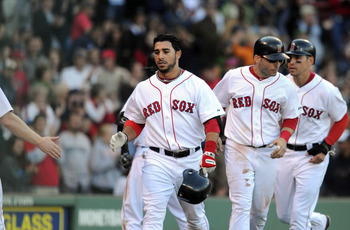 It's not quite panic time until the Red Sox start losing to the Orioles.
Darren McCollester/Getty Images
It's well documented that the Red Sox had a 99.4 percent chance of clinching a playoff berth when September began. Those odds have now slipped noticeably downwards, but guess what? Their chances are still very good.
According to CoolStandings, the Red Sox have a 90.3 percent chance of getting into October. The Rays are still only at 8.6 percent. Those numbers are enough to inspire confidence.
However, the numbers don't tell us just how poorly the Red Sox have played lately. To be fair, it's been mostly the pitching. If these starters continue to struggle to pitch through the fifth inning, then it could be a long offseason filled with finger-pointing, heads rolling and Carl Crawford jokes.
Just win, boys. Don't do this to us.
Keep Reading

Boston Red Sox: Like this team?