Why Was Chicago Bears Quarterback Jay Cutler Left in the Game to Be Slaughtered?
January 17, 2017
Stacy Revere/Getty Images
Watching Chicago Bears quarterback Jay Cutler swarmed from all sides by the New Orleans Saints defense in the fourth quarter Sunday had me asking the question that needed to be asked: Why was he still in the game when they were clearly not coming back?
Down 30-13 with around 10 minutes left in the game, I see Cutler in the huddle and I question the decision of leaving him in the game instead of letting Caleb Hanie take over.
Then, with around six minutes and change left on the clock and the same score, he marches back on the field. At this point I'm pulling at my hair and cursing the Bears "brain-trust."
Cutler is getting killed because the Saints know he will be passing the ball and are sending everyone at him.
After another three-and-out, unfortunately for Cutler, the Bears cause a turnover and guess who trots back on the field. Yes, you guessed it: Jay Cutler. There were less than four minutes left in this rout, and the Bears are putting the franchise quarterback back in to face enemy fire.
Is it just me, or was anybody else thinking just how insane that was?
There is no way they were coming back to win this game. All you had to do was watch to know that.
You concede that New Orleans was better this day, and regroup for next week. You don't attempt to commit team suicide by putting the only player that matters in harm's way, but that's what the Bears did.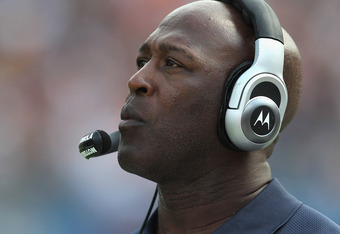 Jonathan Daniel/Getty Images
In Chicago, the favorite QB was always the second-string guy, but those days are gone, even for those who aren't big fans of Cutler.
While he didn't have a great day, he also didn't have time to set up in the pocket, as the Saints and defensive coordinator Gregg Williams had the Bears offense figured out.
He was sacked six times, along with being hurried, slapped around, bruised and almost concussed on one hit in the first half.
Other than running back Matt Forte, he had nobody to throw to. Forte accounted for the bulk of the offense with 10 catches for 117 yards, along with 49 yards on 10 rushes.
Bear wide receivers either couldn't get open, got knocked off their route, or dropped the ball when it did come their way.
We know they're not a very talented group, and that was never more apparent than Sunday. Even the Fox announcing crew of Troy Aikman and Joe Buck stated the obvious during the game, saying "they didn't have a go-to receiver."
They also questioned why Cutler was still in the game with around six minutes left. Unfortunately, they were the only ones who noticed. Nothing was mentioned about it on the local sports radio stations in their post-game shows.
How could the Bears be so stupid and risk the entire season with that decision? They're really lucky he didn't get injured. If you had to start the backup for any length of time, you might as well just say, "Wait until next year."
You could see him motioning angrily on the sideline late in the fourth quarter. I'm sure he wasn't very happy, because it appeared like it was hunting season on Cutler.
Where was head coach Lovie Smith while this was going on? Isn't he ultimately the one who would make the decision to pull him?
Perhaps he felt secure with the two-year extension he signed in the offseason that keeps him here through the 2013 season. This was a perfect example of why he should never have received that extension.
He needs his feet to the fire, because we all remember what happened the last time the Bears made the playoffs. He received an extension that time, too, and Bear fans received three playoff-less seasons.
With his job on the line last year, he wasn't feeling quite as comfortable, and the Bears reached the postseason. Of course they had one of the most incredible strings of luck ever seen in the NFL or sports in general, but I don't want to be negative.
If this doesn't make him come to his senses, nothing will.
Is he waiting for Jay Cutler to be carried off the field in a body bag?