Fantasy Baseball: Who to Pick Up and Drop for Your 2012 Season
September 18, 2011
David Welker/Getty Images
With Mike Trout, Trevor Bauer, Matt Moore, Julio Teheran and Shelby Miller as rookies in 2012, they could be streaming options before a quick pickup in the beginning of the season for dynasty league owners.
Players like Lance Berkman are amongst players who can easily break down for the 2012 season. With high expectations for Berkman's strong season, can the 36-year-old veteran be trusted for 2012 fantasy teams?
Probably not, especially since he is a free agent. And in the case of Berkman going to a new team, it might be hard to adjust under the pressure of a brand new contract and how he is aging. Therefore, Berkman is a good trade candidate as the season winds down the stretch, and many players are going to be like this, as ailing players are forced to adjust to new scenery.
Derrek Lee's power is starting to wind down, as he recently turned 36. The adjustment to four new ballparks and becoming a free agent again this year is obviously dangerous for his career. Thirty-two-year-old Michael Cuddyer could be some good trade bait since he's posting his highest average year of his career.
Many players, like Andruw Jones, seem to be winding down, though they are still capable of doing damage to opponents. Jones had 51 homers in 2005 compared to 11 homers in 2011, but has he really lost his power?
Jones has only 170 at-bats this year compared to 586 back in 2005 and has still posted 11 homers—which puts him in a situation where he can post around 35 homers for one season in a starting position.
Will that happen? Probably not, but he is going to be a free agent this year, and with a starting job, he can post somewhere from 20-30 homers in a season, assuming he gets a starting job. So if you are in a deep league, Jones may be worth the risk.
Freddy Garcia and Bartolo Colon are both at a position to trade right now. The two have wound down in the end of the season, but people think Colon can go back to All-Star status with Garcia, though it's looking like they can break down. Plus, with awaiting prospects for Yankee stadium, a bad adjustment can end their careers.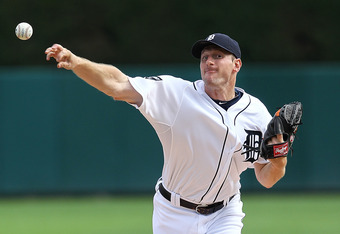 Dave Reginek/Getty Images
Max Scherzer is still young and reaching his prime as his 27th birthday approaches. He has a 4.39 ERA that puts him in a situation where one can get Berkman for him plus a prospect who could play in the 2012 season. Scherzer's stats may not look tempting, but consider his strikeout rate, and he has many innings pitched, which can put him in a good position for the 2012 season.
Is it the time to buy top prospects like Teheran, Trout and others?
The answer is absolutely not.
Hype is in the air as first-year struggles can occur, and they can ruin a season for teams that paid high prices for their future when, at struggling points, they can be gotten for really cheap. Prospects like Leonys Martin and others will impact their teams in the 2012 season, but they are not top prospects, and they are the ones to buy at the moment. 
One shouldn't lose faith in players such as Kyle Drabek and J.P. Arencibia, who are slumping in their attempt for the majors; adjustment could be a hard thing to achieve. Drabek can put up great stats next year at a cheap price for deep leagues, while Arencibia could kill the average of a team, so he can be up for trade when he has potential for a 40-home run season later in his career.
There are many risks in fantasy leagues; some are just meant to be, and some are not meant to be. You should always be aware of the status of the players.