NFL Picks Week 2: Why the Philadelphia Eagles Can Dominate the Atlanta Falcons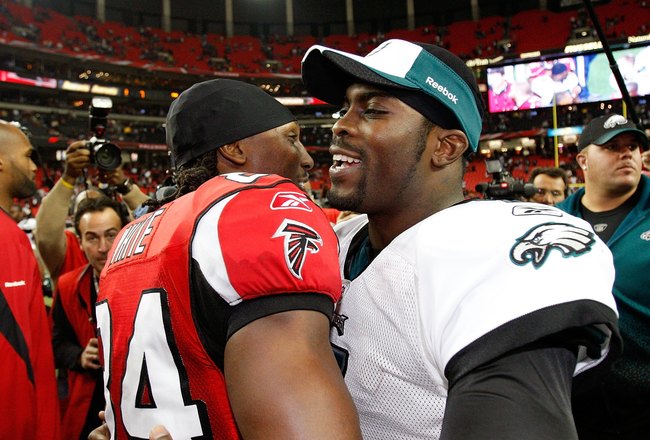 Kevin C. Cox/Getty Images
In Philadelphia's recent history against the Atlanta Falcons, they have dominated the team, winning by margins of 27-14, 34-7 and 31-17 in their last three encounters. In their fourth encounter, however, the situation is changed. Atlanta is a better team than it was before and will be extra motivated to beat the Eagles under the bright lights of Sunday Night Football. This is their chance to prove to the world that the team has moved on with Matt Ryan and that their new quarterback can beat the man who once represented their team and their city.
Sadly for the Falcons, that day will not come tomorrow. The Eagles will not only beat the Falcons, but they will dominate the Falcons.
Here are five reasons why Philadelphia is expected to emerge victorious for the fourth time in a row against this team.
1. Eagles' Pass Defense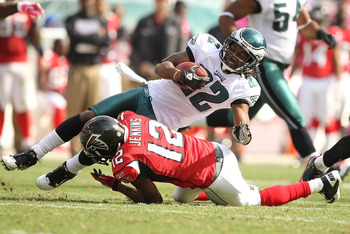 Al Bello/Getty Images
Yes, the Falcons do have Michael Turner, one of the best running backs in the game. Against a poor Eagles run defense, that could pose many problems. But this Eagles' defense is designed to shut down passing attempts, and therefore force opponents to go with the ground attack.
While Atlanta has fine receivers in Roddy White and Julio Jones, the Eagles' secondary corps is well-equipped to shut them down.
Nnamdi Asomugha will likely be placed on White and limit him to at most only a couple of catches. And the inexperienced rookie, Julio Jones, will be lined up against Asante Samuel. Samuel is not a shutdown corner, but he is still one of the best in the league.
This will take away Atlanta's explosiveness and force the team to run the ball or go to its tight end, Tony Gonzalez. But with a great pass rushing defensive line, the Eagles will be able to force the Falcons into stops. And the Eagles' offense is so explosive they will score and get on the board, forcing Atlanta to play from behind.
2. Eagles' Defensive Line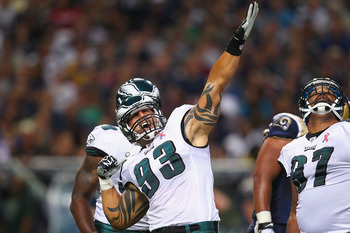 Dilip Vishwanat/Getty Images
The Falcons usually have one of the better offensive lines in the NFL, but they sure looked subpar to say the least in their season opener, as they allowed Ryan to be sacked six times and hit an additional five times. Even the best quarterbacks in the league are unable to take such a beating.
I consider the Eagles' defensive line to be superior to that of the Bears. If the Bears can generate that much pressure against the Falcons, the trio of Cullen Jenkins, Jason Babin and Trent Cole certainly can as well.
And with playmakers all over the defense, just as the Falcons turned the ball over three times to the Bears, the Eagles can also force turnovers from them as well. And whoever wins the turnover battle will almost always win the football game.
3. Falcons' Defense Can't Stop Eagles' Offense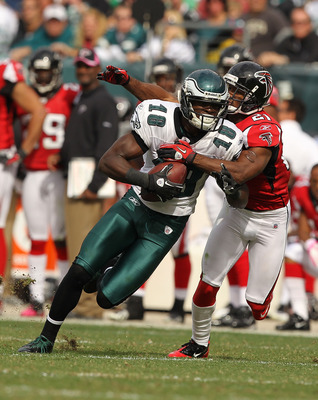 Al Bello/Getty Images
The Falcons have a formidable pass rush to rival that of the Eagles', with John Abraham, Jonathan Babineaux and Ray Edwards all likely to cause problems for a weak Eagles offensive line. But the linebackers on the Falcons, other than Curtis Lofton, are relatively weak. If Michael Vick can escape the pocket, he can run for a significant gain.
And while the Falcons have a decent secondary, the past few encounters have shown that it is not strong enough to stop the Eagles' wide receivers (other than knocking out its receivers), as Kevin Kolb was able to wreak havoc through the air on this team. DeSean Jackson and Jeremy Maclin will still be able to get open for big gains and make big plays.
4. Vick's Presence Reduces Homefield Advantage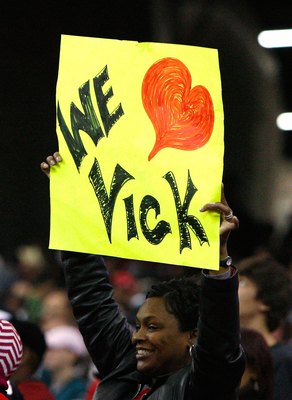 Kevin C. Cox/Getty Images
The Georgia Dome is a difficult place to play in due to the noise, but the crowd will not be as loyal as it normally is. The last time Vick returned to the Georgia Dome, he was given a mostly positive reaction by the fans there. Now that Vick has had his glorious comeback and is an incredible story and inspiration to many, I would not be surprised if he got a standing ovation.
Now returned to his superstar form, Atlanta fans will show their support for the man who helped to build up their franchise with old Falcons Vick jerseys. Most will still be cheering for him to get driven into the ground, but they will still support their old quarterback and leader.
Thus, Atlanta's usually massive home-field advantage will be reduced drastically.
5. Vick Is Familiar with Falcons Schemes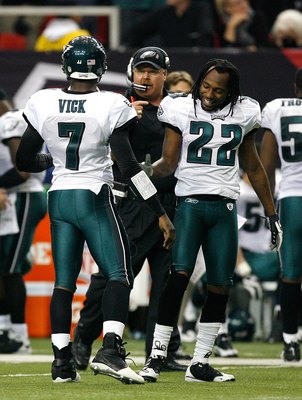 Kevin C. Cox/Getty Images
Finally, it should be noted that Michael Vick was still the quarterback of the Atlanta Falcons for many years. He is likely still familiar very much with the Falcons' schemes and what kind of plays they may throw against him.
The Falcons cannot really say the same about scheming against Vick. Yes, they know Vick's tendencies, but they know the "Old Vick's" tendencies—the one who would look to run first, at most looking at his No. 1 option before taking off. That was their Vick.
The Eagles' Vick is a completely different player.
With tutelage under Andy Reid and Marty Mornhinweg, and a great mentor in Donovan McNabb, Vick resembles less his former run-first self and more a young McNabb in his prime. Always looking to pass first before running with the ball. But unlike McNabb, Vick is faster. Much faster.
Any defensive coordinator has their hands full game-planning against the "new Vick" and the Falcons, unfortunately, do not have an advantage due to their familiarity with him.
In fact, their familiarity may even turn out to be a disadvantage, as they may scheme more to force him to pass, and then watch themselves be picked apart by his improved precision in the pocket.
Keep Reading

Philadelphia Eagles: Like this team?