MLB Awards Predictions: 7 Stars Who Could Steal Awards with Hot Finishes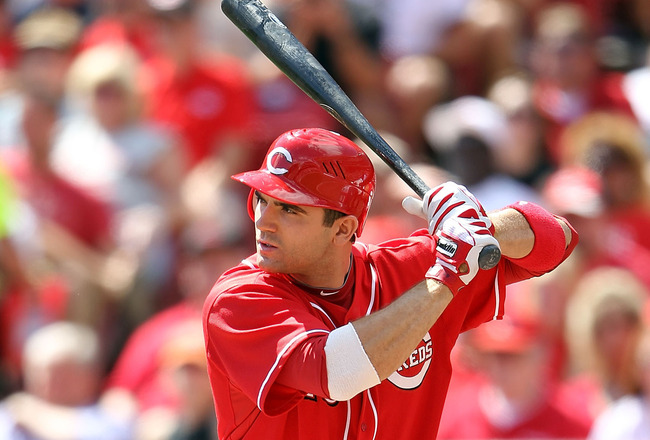 In 2010, Joey Votto topped Albert Pujols for the NL MVP crown.
Andy Lyons/Getty Images
Sometimes, it's a runaway. Sometimes, it's a dogfight to the very end. But when a player receives postseason accolades and awards, it truly shows the value and strength he brought his ballclub.
In 2010, we saw Joey Votto, Albert Pujols and (to some extent) Carlos Gonzalez duke it out for National League MVP honors. The Reds first baseman came out on top with the trophy, but all three were just about equally deserving of it.
But sometimes, players have a way of coming out of nowhere to win an award. Last season, Jim Tracy won the National League Manager of the Year award as skipper of the Colorado Rockies, despite the team finishing in third place in the NL West. But the Rockies put together one of their annual late-season runs and spun off a 10-game win streak in September, which helped them finish with an above-.500 record.
So who will be our thieves this year? Next is a list of players (and managers) whose late-season performances could in fact put them over the top in the postseason awards race.
American League Rookie of the Year: Brett Lawrie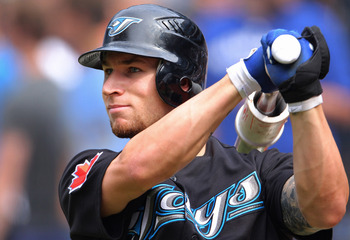 Brett Lawrie didn't receive his call-up until the beginning of August
Tom Szczerbowski/Getty Images
Brett Lawrie may have a significant disadvantage when comparing him with other AL Rookie of the Year candidates. The Toronto Blue Jays did not promote their top prospect until Aug. 5 this year. But the production this kid has delivered since then cannot go unnoticed.
In the 43 games he has played entering play on Thursday (and he has played in every game since his call-up—every inning in all but one game), Lawrie has nine home runs and 25 RBI. Plus, the kid already has a walk-off grand slam, which occurred in just his fifth major league game.
Granted, guys like Mark Trumbo, Michael Pineda and Eric Hosmer have been with their respective ballclubs for the majority of the season. But if we look at late-season surges, Lawrie's name has to be among the conversation.
American League MVP: Adrian Beltre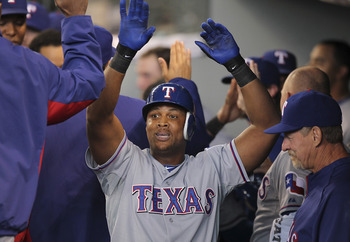 Adrian Beltre has been one of the hottest hitters since returning from a DL stint in early September.
Otto Greule Jr/Getty Images
The American League MVP race may be the tightest of all the postseason awards. Justin Verlander, Adrian Gonzalez and Robinson Cano have all had MVP written on them all season.
But one can't forget the third baseman for the Texas Rangers, Adrian Beltre. After hitting the disabled list with a hamstring injury in late July, Beltre missed 37 games for the Rangers. He returned to the lineup on September 1, and immediately made his presence felt.
Since his return, Beltre is .365 with eight home runs and 21 RBI. Beltre spun off a career-high 19-game hitting streak, which began before he went on the DL. Overall, Beltre has hit 28 home runs and has been a major factor in the Rangers' path towards the postseason.
National League Cy Young: Cliff Lee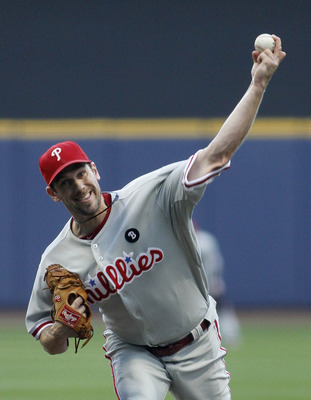 Cliff Lee is sporting a nifty 2.38 ERA in 2011.
Mark Hirsch/Getty Images
When the Philadelphia Phillies shocked the world by bringing Cliff Lee back into the fold, this is exactly what they were hoping for—their top two aces leading the way in NL Cy Young award conversations.
Of course, people are generally quick to hand the award to Lee's co-ace Roy Halladay. And it would be by no means a crime to give Doc the award. But the way Cliff Lee has pitched this year (and even more so during the second half), the table has been set for a very difficult voting period.
Since the All-Star break, Lee owns a minuscule 1.71 ERA over 89 innings pitched. He also has a 95:13 K:BB ratio over that span. Remember, also, earlier this year, Lee spun 34 consecutive scoreless innings back in late June (he went 5-0 in June with a 0.21 ERA, including four straight shutouts).
National League Manager of the Year: Kirk Gibson
Kirk Gibson's Diamondbacks currently lead the NL West by 5 1/2 games.
Stephen Dunn/Getty Images
Before the season began, many experts had the Diamondbacks written off as a last-place team in the National League West. Well Kirk Gibson and his group of Snakes have really shown those pundits, haven't they?
Since reclaiming first place in the division from the Giants on Aug. 10, the D-Backs have not relinquished that position and look steadfast heading into October. And much of the credit has to be given to their skipper for keeping this young team focused and resilient.
Up by 5.5 games over the Giants, the Diamondbacks open a huge three-game weekend series against those G-Men on Friday in the desert. The D-Backs seem to be on their way to their first playoff appearance since 2007.
American League Cy Young: C.J. Wilson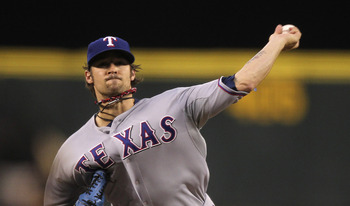 C.J. Wilson could be in line for a big contract as a free agent this offseason.
Otto Greule Jr/Getty Images
For years upon years, the Texas Rangers have been notorious for having a juggernaut offense, with very little pitching for balance. Well, the emergence of left-handed ace C.J. Wilson has put that thought to bed for the most part.
Wilson, who was converted into a full-time starting pitcher last season, is having himself a career year in 2011. He currently owns a 16-7 record with a sub-3.00 ERA.
But his numbers since the calendar flipped to August have been even more impressive. In 10 starts since Aug, 1, Wilson has a 2.03 ERA and has recorded 69 strikeouts in that span. During that stretch, he has failed to pitch longer than five innings just once, and is 6-2 over those 10 starts.
Wilson has certainly put his name in the discussion for AL Cy Young award, and it's hard to argue against him with the way he has been throwing lately. He should help the Rangers once again go deep into the playoffs.
American League Manager of the Year: Joe Maddon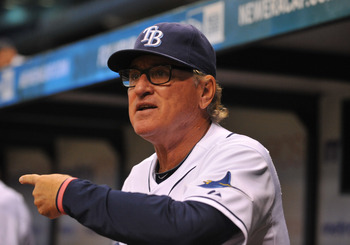 Joe Maddon was named AL Manager of the Year in 2008
Al Messerschmidt/Getty Images
Once again, Joe Maddon deserves a ton of credit for what the Tampa Bay Rays have been able to do in 2011. Despite all odds, his Rays are just 2.5 games behind the Red Sox in the American League Wild Card, entering play on Thursday.
The Rays are playing with an impressive grit and determination, and are playing well despite losing a number of their key pieces during the offseason. The ballclub has a 29-19 record in August and September, and after taking three of four in a recent series against Boston, the Rays are certainly making life interesting in the Junior Circuit.
National League MVP: Lance Berkman
Lance Berkman is enjoying a bounce-back season in 2011.
Dilip Vishwanat/Getty Images
Boy, did the St. Louis Cardinals get a bargain with Lance Berkman. Last December, the Redbirds signed Berkman to a one-year, $8 million contract, after enduring the worst season of his career in 2010. Well, not only is Berkman a prime candidate for NL Comeback Player of the Year, but with the Cardinals making a steamroll towards the playoffs, he should be in the conversation for MVP as well.
Berkman has been one of the Cards' steadiest performers all season. But he's put together a late-season surge that has helped the Cardinals get to a game-and-a-half behind the Braves for the NL Wild Card.
Since Aug. 1, Berkman is batting .329 and has a .444 OBP. And since Sept. 1, those numbers inflate to .394 and .474. His production and leadership have not gone unnoticed by the Cardinals, who on Thursday, signed Big Puma to a one-year, $12 million extension for 2012.
Keep Reading