Toronto Blue Jays: Lasting Impressions After Home Stand Versus New York Yankees
September 17, 2011
Abelimages/Getty Images
Jose Molina, only in the game because starting catcher J.P. Arencibia was pulled for a pinch runner the previous inning, was the hero with a game-winning single in the bottom of the ninth.
I was at this game and I came away with several impressions—some good, some not and some just plain odd.

Quick Hits
Even from left field, CC Sabathia looked like a Sequoia out there on the mound.
Speaking of Sabathia, why would Yankees skipper Joe Girardi keep him on the mound for 120 pitches with the playoffs basically a guarantee? Is 20 wins worth potential injury?
Brett Gardner is really, really fast. Although Arencibia's throws could have been a bit more on point on Gardner's two stolen bases, it wouldn't have mattered. Gardner was there well ahead of the pickoff throws.
Why is domestic beer three different Budweiser products and the premium, 50 cents more, Alexander Keith's?  I'm confused.

The Good
My seats were right above the Blue Jays bullpen, so I was able to watch starter Dustin McGowan and J.P. Arencibia warm up before the game. McGowan's arm action was fluid and effortless and his throws were incredibly crisp.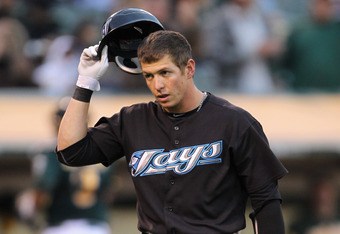 Ezra Shaw/Getty Images
Apparently Jays Manager John Farrell agrees, as he was quoted saying, "Tonight was the sharpest of the three outings he's had."
With a strict 80-pitch limit this time out, McGowan was able to complete five full innings while allowing three runs on only three hits.  His one mistake was a breaking ball that Eric Chavez took deep for a two-run shot in the fourth inning.
However, McGowan really needs to start throwing more strikes. Forty-three of 75 pitches, or 57 percent, is a bit too low. Although his four strikeouts were encouraging.
Jose Bautista might have the best right field arm in baseball. Forget stats like range factor; when Joey Bats is deep in the corner, extra bases are by no means a guarantee.
Robinson Cano found this out the hard way as he attempted to stretch a single to a double in the second inning. From the far right-field corner, Bautista scooped up the ball and fired a heat-seeking missile at second base to pick off a stunned Cano. Bautista may have the best Blue Jays right field arm since Raul Mondesi.
Second base may no longer be an issue for the Toronto Blue Jays going forward. Kelly Johnson looks very comfortable out there, in spite of his four errors since joining the team. After his 3-for-3 day at the plate, he raised his batting average to .254, which is a sight better than the .209 he was hitting with Arizona. I would not be shocked to see him re-sign with Toronto for a contract in the neighborhood of two years and $10 million.
The Bad
Speaking of new arrivals and comfort zones, Colby Rasmus looks completely lost at the plate. His defense is fine, which was never a concern to begin with; however, it appears he's brought his offensive woes with him north of the border.
Rasmus was 0-for-5 tonight with three ugly strikeouts as he swung at several terrible pitches. In fact, the only two times he put a ball in play, he hit a checked swing comebacker to the pitcher and then grounded in to a fielder's choice, so he failed to hit anything out of the infield.
With only 12 games remaining in the 2011 season, it appears the jury will be out on Rasmus's long-term future here until at least late May 2012.
Although his situation is nowhere near as dire, Eric Thames has to cut down on his strikeouts if he hopes to remain a Toronto Blue Jay beyond next season. With so many talented outfielders in the minors like Anthony Gose, Jake Marisnick, Markus Knecht and of course Travis Snider, Thames must prove that he's more than the slightly above-average major league hitter that he's showing right now.
A slash line of .265/20/65 extrapolated over a 162-game season is simply not enough to sustain the projected 150 strikeouts. For the record, I'm confident Thames can develop into a .270/25/80 hitter while keeping his whiffs at the 95 to 110 level in time. However, he'd better pick up the pace of his development before he's left on the outside looking in.
This is more of a disappointment than a negative, but I was really hoping to see more of Adam Loewen tonight. He's looked pretty good on TV so far, but I wanted to eyeball him in person. 
Speaking of which, I was stunned that John Farrell didn't pinch hit Loewen for Rasmus in the ninth inning, instead using him as a pinch runner for Adam Lind two at-bats previous. Considering the brutal day Rasmus was having, it made sense from my vantage point.
In the end, Jose Molina made it a moot point anyway.
As always, feel free to follow me on Twitter @TheDelgadoShift