New York Jets: Shonn Greene Needs to Make Statement Against Jaguars Stingy Run D
September 16, 2011
Jim McIsaac/Getty Images
Twenty-four yards.
That was all that three-time Pro Bowler Chris Johnson mustered against the Jacksonville defense in Week 1. One of the best running backs in the game was held to 2.7 yards per carry on the ground, with a long of nine yards.
These stats are horrifying, whether it was CJ2K suffering field rust or the Jaguars run defense is that incredible. I'm bound to lean on the latter, which makes the Jets' matchup versus the Jags on Sunday look like a disaster for Shonn Greene.
Greene fought for 26 yards on 10 attempts against the Cowboys last Sunday; and to call him a non-factor in the game is an understatement.
It's clear now that the Jets have Santonio Holmes, Plaxico Burress and Dustin Keller running routes for Mark Sanchez, the playbook has made a move towards an aerial game. I'm all for getting Sanchez comfortable with his new weapon, Burress, and improving his accuracy, but tossing the ground game aside is where I take issue.
Greene and LaDainian Tomlinson had a total of 42 yards rushing on 15 attempts. Sanchez threw 44 passes. This team was a ground-and-pound unit over the past two seasons, but someone on the sideline is throwing that away for, well, throws.
Yes, the ground game was non-existant against Dallas, but the only way for things to improve is to keep at it. Greene isn't going to evolve into the premier runner and fantasy stud every analyst is claiming him to be if he doesn't get to run.
Greene is no Johnson, which makes predicting what's going to happen based on last week pretty scary. What should we expect? Maybe 10 or 11 yards? That can't happen, if only for Greene's sake. Another bad game could result in LT regaining the starter role, or an even more drastic shift away from the run towards the pass.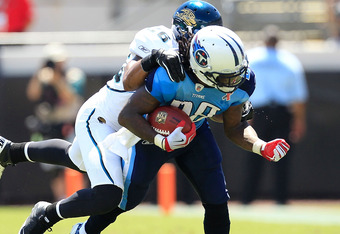 Sam Greenwood/Getty Images
Against the odds, the Jets ground game needs to find holes in the Jaguars D. Not that they'll likely need it to win—New York is a nine-point favorite. No, the success of the run game is needed as a confidence boost. Week 3 will pit the Jets against the Raiders, the team who held Denver to a league-low 38 rushing yards in the first game of the season.
A mere two weeks away is a showdown with the Ravens in which all hands will need to be on deck. Even with the receiving weapons at the Jets' disposal, Baltimore will be the toughest challenge of the young season. A mixture of run and pass will be required, so Greene needs to find his footing now or never.
It's going to be tough, but Greene and the rest of the Gang Green backfield need to find ways into the secondary. If not, these next few weeks will not be pretty.