Does Jeremy Hellickson or Ivan Nova Deserve the AL Rookie of the Year?
September 16, 2011
J. Meric/Getty Images
While Craig Kimbrel seems to have the National League Rookie of the Year all but wrapped up, the debate for who deserves the American League award is heating up. There are many good candidates this year. Among them are Seattle's Michael Pineda, Los Angeles' Mark Trumbo and the two subjects of this article, Tampa Bay's Jeremy Hellickson and New York's Ivan Nova.
To me, the award will come down to Hellickson and Nova. They have been very effective in their rookie years, and both have played pivotal roles in their teams' playoff runs. Just last night, Hellickson tossed 5.2 gutty innings in Boston to help the Rays beat the Red Sox. Nova has been as good as a No. 2 starter for the Yankees, who maintain a stranglehold on first place in the AL East despite a lack of a consistent pitching rotation.
Beginning this debate, I want to look at the barebones stats for these two pitchers:
Nova: 151.1 innings, 15-4, 3.81 ERA, 92 K, 54 BB, zero CG.
Hellickson: 176.0 innings, 13-10, 2.91 ERA, 113 K, 63 BB, two CG, one SHO.
Right off the bat, you can see the reason why this is such a tough choice. Nova's superior record and winning percentage are sexy stats, but Hellickson has him beat in every other area that I listed. But, like I said, these are the very basic statistics. The plot thickens once we look at some other, perhaps more telling, statistics.
Nova: 1.70 K/BB, 1.34 WHIP, 4.05 FIP, .253 OBA, 92 ERA-
Hellickson: 1.79 K/BB, 1.14 WHIP, 4.28 FIP, .211 OBA, 74 ERA-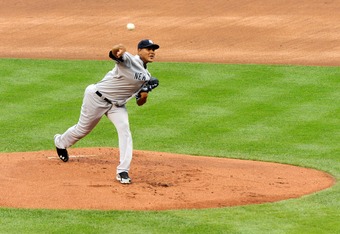 Steve Ruark/Getty Images
Now, the scale has truly tipped in favor of Hellickson. He has Nova beat in every statistic except for FIP.
For those who don't know, FIP, or Fielding Independent Pitching, is a relatively new statistic that regresses all of the balls in play against a pitcher to league average. It weighs more heavily components that a pitcher can control, such as strikeouts, walks and home runs. Using that, we can make a fair declaration that Nova was a slightly better pitcher this year.
But is that enough?
Let's examine a few other factors. First, we must look at run support. Nova, in 26 games, has received 115 runs of support, or 4.42 runs per game. Hellickson, in 27 games, has received 110 runs, or 4.07 runs per game. Those numbers seem very close.
Hellickson, however, has had 14 starts in which he received three runs of support or fewer. In those games, his record was 3-10. That means that he is 10-0 in games where he received more than three runs of support.
Nova, on the other hand, had 12 starts with low run support. In those games, he has gone 4-4. What does that say? Well, for one, he is 11-0 in games where he received good run support. But when you put these two pitchers side by side, their performance is pretty much equal.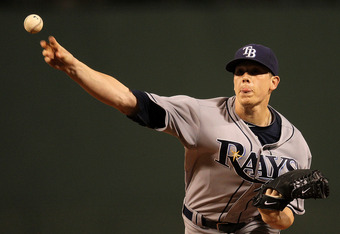 Jim Rogash/Getty Images
To add one more variable, consider that the Rays were shut out six times with Hellickson on the mound, as opposed to the Yankees being shut out just twice with Nova.
Long story short, it is very plausible to think Hellickson could be 15-8 or better with better run support.
There is one final factor to consider. BABIP, or batting average for balls in play, is a statistic that has become increasingly more popular. The league average is .291 so far this year, so anything below that means either the pitcher was "lucky" or he had a great defense behind him.
Nova's BABIP this year is .282. This is not significantly different from the league average, and coincidentally, the Yankees defense is ranked seventh in baseball according to runs saved. Nova has allowed a lot of ground balls. Without a stellar infield defense, a lot of those balls probably found their way to the outfield.
Hellickson's, however, is .228, well below league average. The Rays defense has saved 42.5 runs this year, good for third in baseball. This would explain a lot, as would Hellickson's 45.5 percent fly-ball rate. With the rangy Rays outfielders, a lot of balls that would normally fall for hits were caught.
Now that we've gone through all of the statistics and essentially picked these two rookies' seasons apart, it is time to make a decision.
I'll do a primitive system of assigning a "1" or a "2" to each statistic for each pitcher based on whose number is better. The pitcher with the lower average number is the AL Rookie of the Year.
After evaluating nine statistics (wins, ERA, FIP, WHIP, K/BB, OBA, CG, run support, "luck" factors such as BABIP), we have a winner.
Based only on statistics, it appears that Tampa Bay's Jeremy Hellickson is the American League Rookie of the Year.
Of course, I'm no BBWAA voter and my vote won't count. Disagree with me? I look forward to discussions in the comments.