Top 10 QBs in the NFL after Week 1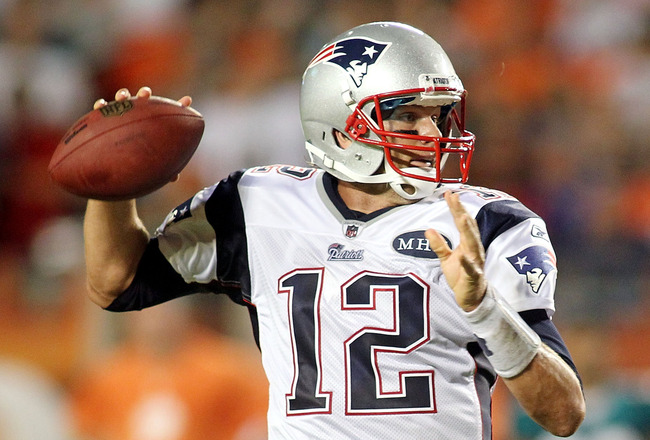 Marc Serota/Getty Images
After one of the best Week 1 openers in NFL history we saw our share of great performances. From blowouts to rookie records and even a 933-yard record setting game between two quarterbacks, Week 1 in 2011 was the week of the quarterback, but who stands alone as the best? Here are the top 10 quarterbacks going into Week 2.
Honorable Mention: Philip Rivers and Tony Romo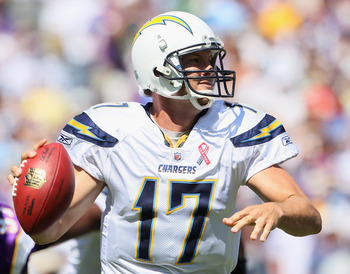 Jeff Gross/Getty Images
Tony Romo made some bonehead moves with a late game interception and a fumble on the goal line, but aside from those two things he was great against a tough New York Jets defense, especially that secondary. Romo doesn't deserve to be in this week's top 10 players, but with his 342 passing yards, two touchdowns and his 9.5 yards per attempt, he deserves a mention.
With two picks and an 85.0 rating, Rivers doesn't deserve to be in the top 10 either, but he did have 335 passing yards and he completed 68.8 percent of his passes all while leading his Chargers to victory over the Minnesota Vikings. Rivers can do much better than this, but I still give him credit for what he did in Week 1.
10. Cam Newton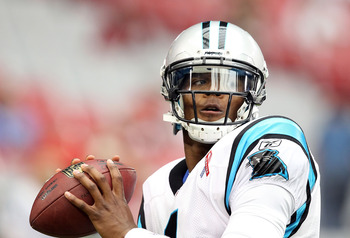 Christian Petersen/Getty Images
Cam may have lost his first game as an NFL quarterback, but man did he look good. Anytime a rookie sets NFL records in his first game, he deserves to be considered one of the top 10 quarterbacks. Cam tossed for 422 yards, which was second only to Tom Brady, and he threw for two touchdowns and posted an impressive 11.4 yards per attempt. Not bad for his first game.
9. Drew Brees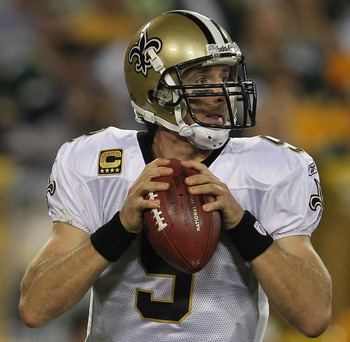 Jonathan Daniel/Getty Images
No picks, three touchdowns and 419 yards…you wouldn't think those were the numbers of a QB that lost. Brees played great against a great, Super Bowl defending Green Bay Packers defense in the first game of the 2011 season. Brees went 32 of 49 for 419 yards and three TDs to earn a 112.5 quarterback rating. If Brees can play this way all season long, I expect him to be much higher on this list by the end of the season.
8. Rex Grossman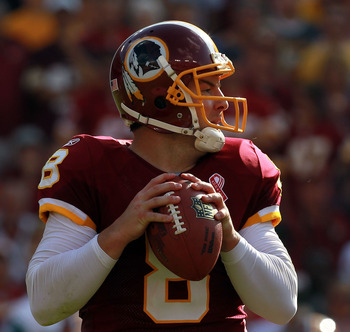 Ronald Martinez/Getty Images
I know what you're thinking, "Rex Grossman…really?" If you would have told me a week ago that Rex Grossman would be a top 10 quarterback after Week 1 I'd be driving you to the loony bin, but what's more surprising than Rex making this list is the fact that he didn't throw a single interception. Grossman went 21 for 34 (61.8%) for 305 yards, two touchdowns, no picks and a nine yards per attempt average. Nice work Rex.
7. Joe Flacco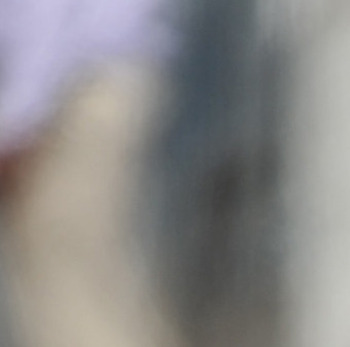 Larry French/Getty Images
The Ravens defense was the main reason the Ravens beat the Steelers, there is no doubting that, but Flacco took the ball that his defense got for him, and he turned it into points. Flacco's three touchdowns and no picks were great, and definitely enough to out-do Big Ben. Altogether, Joe went 17 of 29 for 224 yards and three touchdowns. I think Week 1 showed that there is a new king in the AFC North.
6. Jay Cutler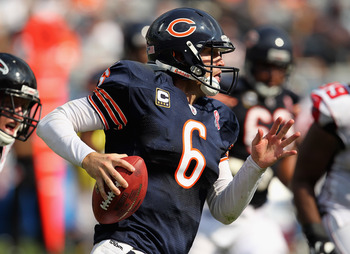 Jonathan Daniel/Getty Images
Cutler didn't look like a cry baby after his Week 1 win over last year's first seed Atlanta Falcons. Cutler looked great, going 32 of 22 for 312 yards and two touchdowns. Jay averaged 9.8 yards per attempt and recorded a 107.8 QB rating. I'd say he earned his No. 6 spot after Week 1.
5. Kevin Kolb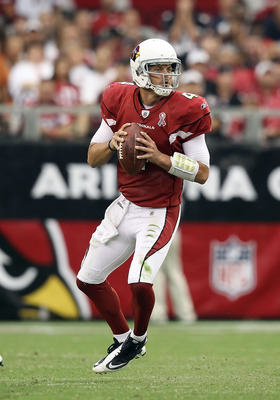 Christian Petersen/Getty Images
There were a lot of expectations on Kolb coming into this season. The Cardinals looked to him to be the quarterback of the future for this dying franchise, and he lived up to all the hype. Kolb posted a very impressive 130 QB rating and tossed for an incredible 11.4 yards per attempt. Kolb's 309 yards, two touchdowns and zero interceptions were exactly what this Cardinals team wanted to see. Kolb won more than a game for the Cardinals, he also won their hearts.
4. Matthew Stafford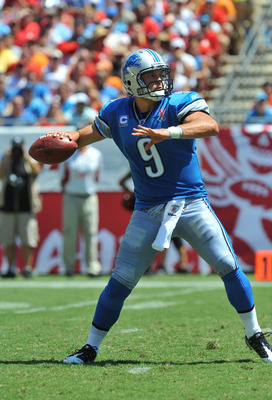 Al Messerschmidt/Getty Images
Lions fans are just happy Stafford didn't break in half. Not only did Matthew Stafford stay healthy, but he played at an all-star level. Stafford went 24 of 33 for 305 yards and three touchdowns, he earned Detroit a victory over a team that just missed the playoffs last year and he posted a 118.9 QB rating. Stafford's 9.2 yards per attempt was impressive and the fact that the Lions said they should have done better makes me a little excited to see what else could happen this year. At the end of the season, I expect nothing less than a playoff berth from Detroit and Stafford making a run for the MVP award…yeah I said it…MVP.
3. Ryan Fitzpatrick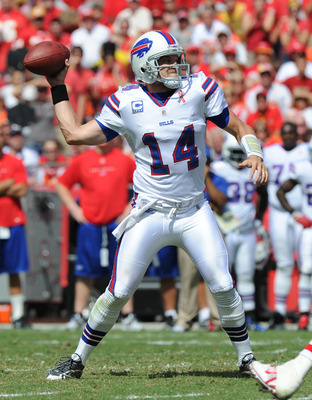 Peter Aiken/Getty Images
Say what you want about this Harvard grad, but I think he showed that he can be an elite QB in this league. Fitzpatrick went 17 of 25 for 208 yards and a whopping four touchdowns! He didn't throw a single interception and he led his lowly, bottom of the barrel Bills to a win over last year's AFC West Champions. If Fitzpatrick can keep his composure and play as smart as he did against the Chiefs, the Bills should run their offense through him, and if they do that, they may be able to fight the Jets and the Pats for a division title in a few years.
2. Aaron Rodgers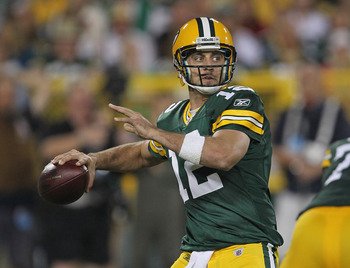 Jonathan Daniel/Getty Images
Mr. Rodgers was on fire in the Saints-Packers opener. Rodgers went 35 of 27 for 312 yards and three touchdowns, without a single interception. Rodgers showed the NFL that it isn't going to be easy to take the Lombardi Trophy out of Green Bay. I expect Aaron Rodgers to be right up here or at the No. 1 spot by the end of the season.
1. Tom Brady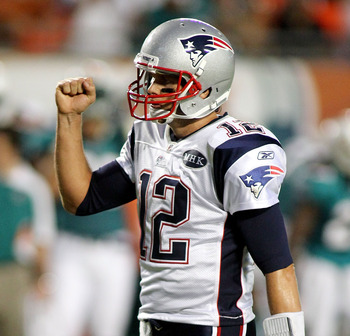 Marc Serota/Getty Images
Surprise, surprise, Tom Brady is at the No. 1 spot. Brady was darn near perfect in the Patriots game against the Dolphins. Brady's 517 passing yards and four touchdowns are Madden-level statistics. Brady averaged 10.8 yards per attempts and he completed 66.7 percent of his passes. If Brady can keep up this level of play all season long, he could get back to back MVP awards.
Keep Reading