NFL Predictions Week 2: 3 TEs Who Will Eclipse the 100-Yard Mark
September 15, 2011
Jeff Gross/Getty Images
Let's be honest, when we first think of the most important positions in an offense, QBs and RBs come well before the TEs.
And in some cases, the O-line as well if the TE isn't much of a blocker.
However, this dual-threat position is very important to having a successful offense, because when running the ball, the TE can act as a sixth offensive lineman, but also a key aspect in the passing game.
For Week 2 in the 2011 NFL season though, here are three TEs that will surely eclipse the 100-yard mark.
Benjamin Watson, Cleveland Browns
He may only compiled 45 yards on three receptions in Week 1 against the Bengals, but Benjamin Watson did have a TD as well.
In 2010 he was the Browns leading receiver, and gained over 100 yards one time in 2010.
Yes he may be a bit of a stretch, but he's QB Colt McCoy's favorite target, his most reliable, and the veteran of the receiving core.
This week he goes up against a weak Colts' defense, and with Cleveland desperately needing a W, Watson is a no-brainer.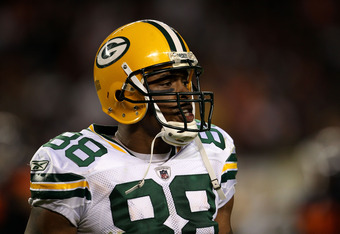 Jonathan Daniel/Getty Images
Jermichael Finley, Green Bay Packers
In 2010 Finley went down and only played in five games.
Yet, he still averaged over 14 yards per catch (had 21 for 301 yards) and is now poised for a breakout season.
QB Aaron Rodgers is rolling as expected, along with the rest of the receiving core.
And for as much as Rodgers dishes the rock around, Finley will definitely get his, especially against a Carolina Panther defense that needs a lot of work.
Antonio Gates, San Diego Chargers
No surprise here to see the best receiving TE in the game to collect 100-plus in Week 2.
This week San Diego goes up against a very susceptible New England Patriots pass defense, and with Philip Rivers under center, Gates may not be the only one to compile over 100 yards on the day.
And despite only getting 74 yards in game one, Gates will pick it up, because the San Diego offense may be in for a shoot-out against Tom Brady.
Be sure to check out John on Bleacher Report.
And, you can follow him on Twitter @ Sportswriter27.