Milwaukee Brewers: Do Prince Fielder and K-Rod Statements Hurt Postseason Hopes?
September 15, 2011
Mark Hirsch/Getty Images
On Wednesday afternoon, Milwaukee Brewers first baseman free agent to-be Prince Fielder set off some fireworks with comments he made in an interview, and the sparks are still flying around the web.
Speaking with Brian Anderson of TBS, Fielder was asked about whether or not he thought he would return to the Brewers next season. Fielder said, "I'm signed for this year, but being real about it, it is probably the last year."
Brewers' set-up man Francisco Rodriguez also expressed displeasure in speaking with Scott Miller of CBS Sportsline on Tuesday.
"Don't tell me something if you're not going to do it. That's what irritates me most,'' Rodriguez said. "They told me they were going to do something, and they didn't. Simple as that. I'm trying to pretty much come in every day ready to pitch and get my job done where they need me. At the same time, I had an expectation, like every other player. They told me they were going to do something and never did it. That's why I can be a little disappointed by the situation.''
Rodriguez reiterated those comments on Wednesday when speaking with reporters.
"There's been plenty of save opportunities," Rodriguez said. "And I've only pitched once in the ninth inning, and it was not even a save opportunity. I'm not happy. It's simple. That's the bottom line. They told me one thing, they haven't done it and that's pretty much what I said.''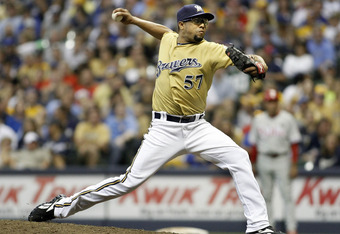 Mark Hirsch/Getty Images
Now, it's easy to assume that the two players are talking out of frustration, considering that the Brewers have lost six of their last eight games and have been unable to cinch the deal in the National League Central division.
The Brewers have also seen their lead in the NL Central slip from 10.5 games ahead just a week ago to a 5.5 game lead now. With just 12 games remaining for the Brewers, it would seem like an insurmountable lead, however stranger things have happened.
That's what makes the timing of these two statements by star players so odd. Frustration is one thing, but to vocalize that frustration with snooping reporters aching for a lead is another entirely.
On his weekly radio show Thursday morning, Brewers general manager Doug Melvin was forced to spend most of the show answering to the statements made by Fielder and K-Rod.
"I don't think it's going to affect the ball club," Melvin said. "When you're winning like we have been, when you're playing like we have been, there's always a lot of interviews. 

"There's always somewhere along the lines, someone might say something that they look back on and whether they mean it.

"I was in the clubhouse last night, and it didn't seem to be an issue amongst the team, amongst us, with Ron and the coaching staff. 

"It sounds like some clichés, but also, it shouldn't affect our ball club. They're both free agents. It's a natural tendency for free agents, if they get asked, players today some time want to say what their feelings are at a certain point. Any free agent player at this time probably does think there's a chance of them maybe not coming back."
At this point in the season, Melvin should be spending his time worrying about how to create the best matchups for the postseason and not having to answer or defend senseless comments made by ridiculously selfish players.
He can talk all he wants about how the recent stupidity isn't affecting the clubhouse, but don't think for one second that manager Ron Roenicke isn't upset about being thrown under the bus by K-Rod's comments, or that closer John Axford, who by the way is 19-for-19 in save opportunities since K-Rod joined the Brewers' bullpen, doesn't feel like he has the support of his main set-up guy.
These were supremely selfish statements made by two players who are obviously looking out for one thing and one thing only—themselves.
At a time when the Brewers are on the verge of clinching their first division title in 29 years, this is the absolute last thing that they need to be going through right now.
Doug Mead is a featured columnist with Bleacher Report. His work has been featured on the Seattle Post-Intelligencer, SF Gate, CBS Sports, the Los Angeles Times and the Houston Chronicle. Follow Doug on Twitter, @Sports_A_Holic.