Baltimore Ravens' Offseason Risks Show Great Promise After First Game
September 15, 2011
Rob Carr/Getty Images
The Baltimore Ravens were one of the most active NFL teams in the offseason, and many people believed that wasn't necessarily a good thing. Consistency was a big theme that everyone was talking about because of the shortened offseason due to the lockout.
They were saying that the teams that were able to keep their rosters intact and return most of their starters from the previous season, would have an advantage in the upcoming season. The Ravens were one of the teams that people worried about, while the Pittsburgh Steelers were consistently praised for their shrewd moves and ability to retain the majority of their players. The Steelers kept all but seven players from the 2010 season, and the Ravens made changes to 20 roster spots.
That was universally seen as a big risk by most analysts and, in many ways, it was. There are no guarantees in the NFL. Players who were successful for other teams are not guaranteed to be successful for your team, and rookies and young players don't always pan out—regardless of how good they looked in college. For many reasons, going with players who have been successful on your team is certainly the less risky move.
That was the logic behind praising the Steelers offseason. They kept the majority of their players on both sides of the ball, and in and area of need, like their secondary, they opted to re-sign their long-time starting corner Ike Taylor, who is 31 years old. They also extended All Pro safety Troy Polamalu, who turned 30 in the offseason, by making him the highest paid safety in league history.
This isn't anything new for the Steelers. They have been famous for re-signing their own players for many years, and it has worked out great for them since they've won two Super Bowls with basically the same team—especially on defense.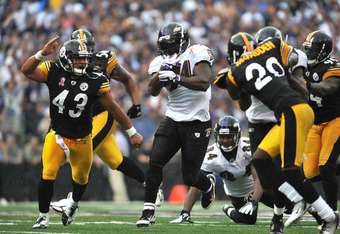 Larry French/Getty Images
The only real problem with that philosophy is that players, no matter how talented they are, age over time, and although it might be less risk for the upcoming season, starting veteran players year after year without working young players into starting positions will ultimately catch up to the team since the young players won't be ready to start once the veteran players can no longer perform at an elite NFL level.
This is a dynamic that the Ravens understand and do a good job managing. It really is a balancing act between working in young players with upside and veterans with valuable experience. It isn't an exact science and starts with good scouting and drafting. If the coaches have good young players, they're more willing to go with young players over veterans they've learned to trust.
"I think it depends on your philosophy, first of all, and your willingness to take risk. I think we have that as an organization, and it starts at the very top," head coach John Harbaugh said at a press conference on September 12th. "Also, [it's about] how well you feel like you are drafting, because as a coach, when you feel like you have got younger players in place that can do the job, you are more willing to go with those guys. If you don't feel like you have someone in place that can do it, then obviously, you want to hold onto your veteran guys. As a coach, you are always greedy. I want them all. As a coach, you want the older guys and you want the younger guys."
Obviously, the hardest part of managing a team is knowing when to retain players and when to let them go. The coaches would like to have all their players, young and veteran, and are probably a bit partial to their veterans, but they must understand that professional football is a business and that it's not possible to keep every player with the salary cap. That's when it boils down to balance.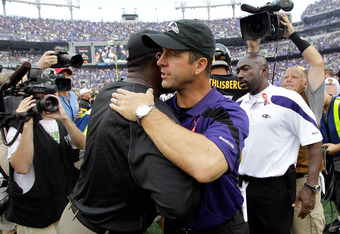 Rob Carr/Getty Images
"You want to build as much depth into the whole thing as you can, and the financial reality is that it just can't work that way," Harbaugh said. "Then you have to take a step back, become a business man, look at the bottom line, look at the spreadsheet and say, 'Okay, what combination of players and dollars and cents gives you a chance to put the best football team out there?'"
The "combination of players" that Harbaugh was talking about is not only about the talent and experience of the players, but also about the money that the player's contract will demand. This is where the real management strategy comes into play.
Veteran players are obviously less risk than young players, particularly rookies, since they are a know quantity. The problem with veterans is money, since they will often be paid based on what they have accomplished in the past. Unfortunately, older veterans tend to decline in ability with age and, therefore, will not play up to their contract value toward the end of their careers.
On the other hand, young players tend to get better with experience and will play for much less money than veteran players since they are still making a name for themselves. This means that good young players will outperform their contracts. The obvious risk is that young players have a chance to not perform up to expectations since they are an unknown quantity.
The balance between young and veteran players must be based on good scouting and drafting. The better a team is at drafting and scouting young talent, the better the team will be overall—particularly in the future. The team will grow in talent with each passing season.
That is what we have seen with the Ravens in recent history. They are one of the best scouting teams in the league due in large part to the talent evaluation abilities of general manager Ozzie Newsome.
In the offseason, the Ravens were criticized for releasing several big-name veterans, Todd Heap and Kelly Gregg among others, and opting to go with younger talent Ed Dickson, Dennis Pitta and Terrence Cody, to replace them. It's clear that the Ravens' offseason strategy is showing great promise after a huge, blowout win over the Steelers.
The Ravens weren't afraid to trust their young talent or add several new players—Vonta Leach, Bernard Pollard and Bryant McKinnie to name a few.  The young players made an immediate impact and the new players were key contributors in the first game.
Many people looked at the Ravens' offseason moves as risky, but they didn't allow that to change the way they did business. They continued to build their team with young players and veterans and were unafraid to make any changes that would improve the team. They seem to believe that staying the same isn't an option and that if they're not improving, they're getting worse. It seems to be working out very well so far.