Bears vs. Saints Week 2 Preview: 5 Things To Watch in the Big Easy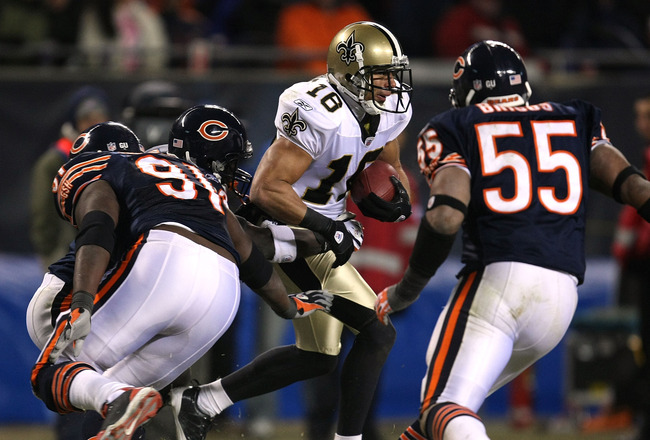 Jonathan Daniel/Getty Images
The Bears came out last week and surprised a lot of critics by giving the Atlanta Falcons a good, old-fashioned trouncing.
The Saints didn't experience the same kind of success, losing to the Packers on opening night, 42-34.
However, the Saints will be hosting the Bears in Week 2 in their season opener in one of the most difficult places to play in the country.
With both teams playing in gruesome divisions and having difficult Week 3 matchups, this game has implications long past this Sunday.
Here are five things that I'm going to be looking for from these two teams come Sunday.
New Orleans Defense
Jonathan Daniel/Getty Images
The New Orleans defensive unit got torched against Aaron Rodgers and the Packers—especially in the first half, where they gave up 28 points and 230 yards to the All-Pro quarterback.
Now, it's clear that Jay Cutler isn't exactly Aaron Rodgers, but Cutler experienced a nice day against an above-average Atlanta defense.
I'll be interested to see if the Saints made any specific changes in their pass-rush schemes and how they're going to pick up Chicago's running backs out of the backfield.
Giving up a reception to nine different Packers players is unacceptable, especially because of how Matt Forte is used in Mike Martz's offense.
Jay Cutler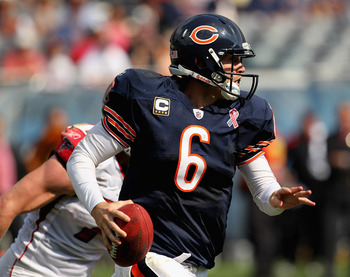 Jonathan Daniel/Getty Images
Jay Cutler certainly silenced most of his critics after his performance against Atlanta. After completing 22-of-32 passes for 312 yards and two touchdowns, Cutler has to be feeling good about himself going into Week 2.
While a lot of his success relies heavily on the offensive line, most of what Jay has struggled with is decision making.
Even though many of my reservations have been relieved after watching him command the offense so vehemently against Atlanta, I am still a bit nervous.
Jay Cutler has never been one to shy away from letdowns; I'll be anxiously watching his performance against a less-than-stellar Saints defense that will be looking to improve themselves.
Can the Bears Handle the Emotion?
Jonathan Daniel/Getty Images
Brian Urlacher is the heart and soul of the Chicago Bears and he's the undeniable leader of one of the best defenses there is.
However, not even he can fully handle the news he received this week. Sadly, Urlacher's mother, Lavoyda, passed away and Urlacher has left the team to be with his family.
At this point it is unclear as to Urlacher's status for Sunday. No matter what it is, the game is going to be loaded with emotion following this unfortunate event.
I'm looking at it this way IF Urlacher plays. Remember when Brett Favre put on the show of a lifetime the day after his father passed?
Urlacher has a Favre-like persona in regards to the Bears defense. The way the team and fans will rally behind him if he does play, we might see something special, too, on Sunday afternoon.
Bears Defensive Line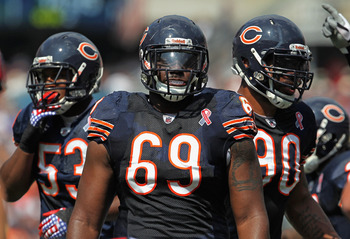 Jonathan Daniel/Getty Images
The Bears defensive line was relentless against a good Falcons offensive line in Week 1.
The Bears as a whole only gave up six points, but the line specifically sacked Matt Ryan five times and directly contributed to three Falcon turnovers.
I'll be looking at the chess match in the trenches between the Bears defensive line and the Saints offensive line.
The Saints offensive line is one of the best in the NFL and protected Drew Brees very well against the Packers. This will be a very good test for Julius Peppers and Henry Melton.
It's always important to get pressure on Drew Brees; if he gets even a second longer than he needs, he will still dice up a defense like vegetables in a salad.
The Special Teams Game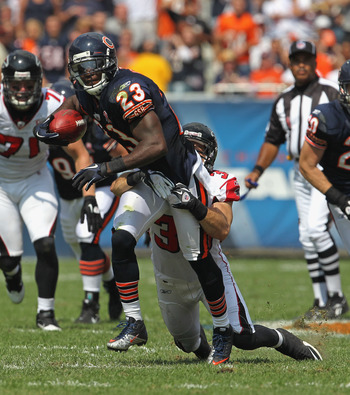 Jonathan Daniel/Getty Images
This particular facet of the game applies to both teams, but in different aspects.
For the Bears, I'm looking specifically at the return game and the punting unit.
Field position is going to be crucial on Sunday when facing Drew Brees and the high-octane Saints offense. Even though Brees is capable of orchestrating a picturesque drive from any starting position, giving him the most field possible is important. A day of 60-yard drives could spell trouble for the Bears.
As for the return game, it's all about Devin Hester. After the NFL saw a record weekend for returns, it's time for Devin to get back into the game and take one back.
For the Saints, I'm going to be watching their kicking game. With Garrett Hartley injured, they've brought in old-time veteran John Kasay.
Kasay looked good in Week 1, connecting on two field goals with a long of 38 yards. I'm just not convinced that his long at age 41 is going be much longer than his age itself.
Meaning their lack of a long kicking game could lead to more fourth-down opportunities for the Saints. Which, in turn, could lead to better field position for the Bears offense, pending fourth-down holds.
See, it's like the circle of life.
Keep Reading

Chicago Bears: Like this team?