Fantasy Football 2011: 4 Reasons To Believe You Already Lost Your Fantasy League
September 14, 2011
Andy Lyons/Getty Images
We are only one week into the NFL season and already millions of fantasy football owners are focusing on their fantasy hockey drafts. They care more about Sidney Crosby's concussion than Steven Jackson's strained quad. They are more concerned with their goalie situation than their kicker situation. This is because these fantasy football owners have already given up on their seasons.
Yes, one week into the NFL season and many people think they have a better chance of drafting Andrew Luck next year than winning their fantasy league this year. There is no bigger group of pessimists in the world than fantasy owners—except for Philadelphia Eagles fans.     
But these Mike Brown-like owners are idiots for throwing in the towel after one rotten week, right? Surely they can turn things around, especially if their league's waiver wire system works in reverse order of the standings and they pick near the top this week.

Well, do not be so sure. 
I am an optimist. I think Obama is going to turn the economy around. I believe the Michigan Wolverines can reach a bowl this year. And I am holding out hope that there will not be a Kardashian on television by 2014.
I lost my first game in two of my three fantasy leagues, yet I know the season is far from over for me. Last season I won a league after starting out 0-2. If you are smart enough, lucky enough and have players that are talented enough, an opening loss does not destroy your title dreams.     
But there are four reasons to believe you already lost your fantasy league. Here they are. 

You drafted or protected Peyton Manning
You are no chiropractor, but you had a stiff neck once and it went away in a week, so you thought Manning had a similar problem. Or you thought Manning was just like Brett Favre, Cal Ripken Jr., Marcel Dionne, Calvin Murphy and other classic iron men athletes and he would never miss a game. Or you thought Manning might miss two or three games, not two or three months.
So now you are in the same boat as the Indianapolis Colts. You are Manningless. And worse your fantasy backup quarterback is not Kerry Collins, it is Jason Campbell, Alex Smith or Andy Dalton. Pencil in the 6-10 record now unless you have three top-10 running backs or you have Ron Wolf as your general manager.   
If you have depth at other positions you could possibly trade for another big-time fantasy signal caller. Maybe a decent QB with some upside like Buffalo's Ryan Fitzpatrick or New York's Mark Sanchez might be available on waivers depending on the league rules and the intelligence of the other owners.     
But the bottom line is you deserve to pay the price for relying on a player with a mysterious neck injury who was not able to do anything during the preseason. You should gone with a safer, healthier choice. Instead of opting for a Caesar salad you went with White Castle. Your season is over.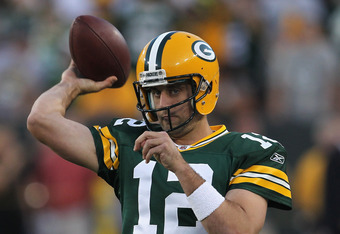 Jonathan Daniel/Getty Images

You did not draft Aaron Rodgers when you had the chance
Allen Iverson always laughed off practice, and now Rodgers is laughing off offseason workouts.  Unlike Brees, who shelled out money to fly his locked out teammates in so they could participate in his pseudo-practices, Rodgers and his Packers enjoyed their extra free time during the labor impasse, probably sitting home playing Madden 2011 or watching reruns of The League.
If you did not rank Rodgers first or at worst second to Michael Vick among fantasy quarterbacks, now you know you were more wrong than the Grammys when they handed Jethro Tull the Heavy Metal Performance award in 1989. Rodgers was phenomenal in Green Bay's opener against New Orleans, splitting the Saints for 312 yards and three touchdowns, with most of the damage coming in the first half. No Super Bowl hangover, no rust from having a shortened training camp.
If you had the opportunity to draft Rodgers in the first round and ignored him, you probably got stuck with one of the following: Arian Foster (out due to anti-awesomeness in hamstring), Chris Johnson (nine rushes for 24 yards, ala Refrigerator Perry) or Rashard Mendenhall (45 yards and a chorus of hatred for his ill-advised Tweets).    
Have fun in Medicore Land with Matt Ryan or Sam Bradford as your quarterback. You could have had Rodgers and been Lambeau leaping over your living room couch every time he threw a TD pass. Your season is over.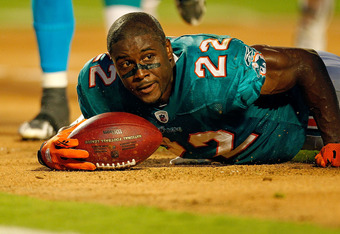 Mike Ehrmann/Getty Images

You only have one or two decent running backs on your roster
Even though the trend in my leagues and many leagues was that quarterbacks were drafted earlier and more often than in past years, fantasy football still revolves around running backs. And if the only two starting running backs on your roster are Marshawn Lynch and Reggie Bush, you are a longer shot to win your league than the Denver Broncos are to win the Super Bowl . 
What were you thinking? You should always draft two running backs within the first three rounds and arguably three within the first six rounds, and if you don't than that means you will be relying heavily on your quarterbacks, using a third receiver in your RB/WR/Flex lineup slot and desperate for a 10-carry tailback during the weeks your running backs are on byes.  
Now more than ever quality RB are difficult to acquire because most pro teams like splitting carries between two backs. And with the NFL shifting towards a pass-first league, if not a pass-only league, having a steady stable of rushers is more crucial than ever. 
If you passed over Ray Rice for Andre Johnson, your season is over. If you could have drafted Ahmad Bradshaw but opted instead for the Pittsburgh defense, your season is over. And if you picked a third tight end rather than a fourth or fifth running back, your season is over.  

You just realized that everyone in your league is smarter than you
Have you ever heard of the old poker adage that if you cannot find the fish at your table it means it is probably you? Same holds true for fantasy football. If you think every owner in your league is a genius and makes no draft, roster or lineup mistakes, then look in the mirror, Rich Kotite, because you are the least intelligent owner of the bunch.   
If you were the first one in your league to draft a kicker, you are the dumbest owner in your league. If you think T.J. Houshmandzadeh must still be in the NFL due to those incessant ESPN commercials, you are the dumbest owner in your league. If you took time out from setting up your cheat sheet for your draft so you could listen to your The Best of Bread album, not only are you dumb but you have a tin ear. 
If you know in your heart that everyone in your league is wiser than you, you are screwed. You should be able to tell immediately from the draft results. And if you are correct in your assessment it means that the other owners will choose better free agents, make shrewder trades and make fewer boneheaded lineup choices than you will.
Think of yourself as the San Diego Chargers of your league. No matter who is on your team you will never win the championship because the person running the operation has brain cramps like Cyndi Lauper does singing the National Anthem. You are in effect Norv Turner. 
Can a fantasy football owner overcome drafting Manning, not drafting Rodgers, having a couple Ron Daynes at running back and/or not being very bright? It will not be easy, especially if all four problems apply.
But take solace in the fact that while you ruined your fantasy football season just one week in, you won't be able to pull the same stunt in fantasy basketball since there will be no NBA season. Now start coming up with your Top 25 Right Wings list, Messier!