Fantasy Baseball: 5 Hottest Players Available on Waivers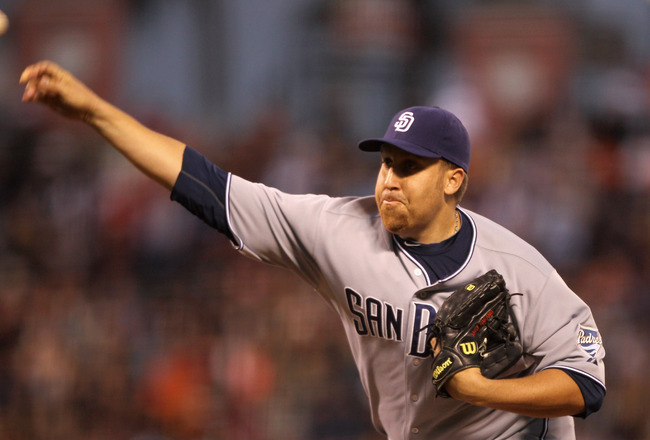 Ezra Shaw/Getty Images
We are coming down to the final couple weeks of fantasy baseball.
By now you have either accepted defeat or you are planning your final moves to make a push for your league's championship.
With most trade deadlines past, the major moves will be coming from the free agent wire and chances are your waiver wire has been well picked over.
However, not all hope is lost and there should be some value still available. Target those few players that may ride a hot streak to the end of the season, and you'll be in good shape.
To help you with that, here are five names that could help put you over the top and win your league.
P Aaron Harang—San Diego Padres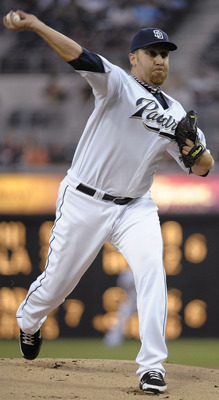 Denis Poroy/Getty Images
Aaron Harang has been a great comeback story for the San Diego Padres this year.
Once the ace of the Cincinnati Reds pitching staff, his numbers took a big hit in 2008 but he is back in prime form in 2011.
Harang was inconsistent earlier in the season, but of late he has been excellent. Though he did have a rough start on Monday against the Giants, do not let that deter you.
Before that start, Harang had allowed just six runs over 26 innings of work through four games.
Pitching in the best pitcher's park in the league is always a plus for a guy like Harang.
He is still available in plenty of leagues so do not hesitate to grab him if you need a solid back end starter to help you maintain those pitching numbers.
P James McDonald—Pittsburgh Pirates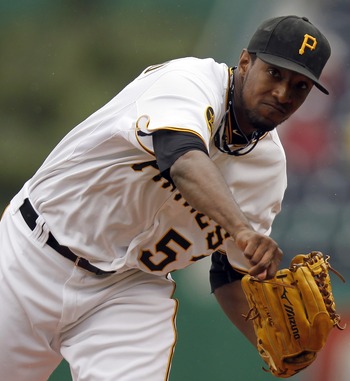 Justin K. Aller/Getty Images
James McDonald was a deep sleeper in most fantasy drafts at the start of the season.
The Pirates' big, power arm has been inconsistent in his first full year as a starter. He has shown flashes of greatness, but he also loses control of his stuff.
Similar to Harang, McDonald had been on fire in his last six starts until Sunday, when he allowed four runs over 4 and two thirds to the Florida Marlins.
Prior to that game, McDonald had given up only nine runs over 37 innings. When on target, McDonald is a more than serviceable pitcher who will give you solid strikeout numbers.
McDonald is available in tons of leagues and should be able to bump your stats up if you are in a close battle.
CF Dexter Fowler—Colorado Rockies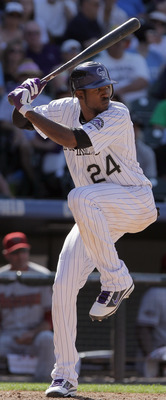 Doug Pensinger/Getty Images
Dexter Fowler has been up and down from the minors to majors this season, which is why he should be available in many leagues.
He has shown some promise in the past, but over the past two weeks he has been absolutely on fire. Fowler has hit .378 with five home runs over the course of 45 at bats.
We know that Fowler also has legitimate speed. If you can take advantage of this power streak, you could be looking at a cheap dual threat option to help you down the stretch.
Even with him putting up huge numbers of late he is still widely available in fantasy leagues across the board.
Don't hesitate to add this guy who can potentially help you in a variety of categories.
OF David Murphy—Texas Rangers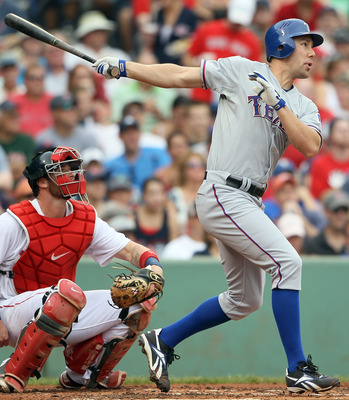 Elsa/Getty Images
David Murphy has been on an absolute tear over the past couple weeks.
Murphy is hitting .380 with two home runs and 12 RBI in 50 at-bats. He has been one of the most productive waiver wire guys as of late.
Hitting for the Texas Rangers is not going to hurt is value either. Murphy is the kind of hitter that could give you some great batting average numbers down the home stretch as well as have plenty of chances for RBIs and runs.
Murphy isn't the most available guy out there, but ESPN has his owned percentage at 59.4 percent.
If he is still available in your league don't hesitate to add him to your roster if you have room.
CF Alex Rios—Chicago White Sox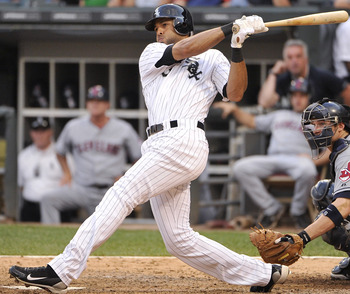 Brian Kersey/Getty Images
Alex Rios has been one of the biggest disappointments of the 2011 season.
He has shown flashes of being a great fantasy baseball option in the past, but this season he has completely bombed.
However, over the past two weeks he has hit .296 with two home runs and eight RBIs over 44 at- bats.
Rios is still going to strike out a ton and won't be earning many walks, but if he is swinging a hot bat he has the potential to contribute in four categories.
If Rios continues to look like he will finish the season strong, don't be afraid to roll the dice with him.
Keep Reading