Miami Dolphins: Winning Games Means Going Back to the Basics
September 13, 2011
Mike Ehrmann/Getty Images
The Miami Dolphins, once again, have gotten out to a slow start. Not only did Miami not keep up with New England, a strength coming into 2011 was a glaring weakness.
Tom Brady's 517 yard passing performance wasn't only the most prolific performance in New England Patriots history, it was heralded as the 5th most yards passing in a game by any player in NFL history.
Coming into Monday Night's game, Miami was going with the notion that its defense would be one of the better units in recent memory. Not only did New England prove that assumption wrong, Miami will have to go back to the drawing board before playing another explosive team, Houston, during week two.
Rookie Nate Solder, who started his first NFL game Monday, kept Miami's only pass-rushing weapon in check. In turn, Tom Brady had so much time in the pocket that he could have treated his weather-battered hair without worry of being touched by the defense.
Behind Miami's horrid defensive performance was a heaping of miscommunications, failed blitz attempts, muscle cramps and blown coverages.
You can only imagine what is going on at team facilities this week as the team quickly scrambles to right its wrongs and fix a once feared defensive unit.
Mike Nolan's defense is based off of very complex coverages and disguised blitzes, which doesn't bode well for an unprepared and fatigued defense.
How will Miami fix its errors before staring across the field at Matt Schaub and Andre Johnson?
The answer could be much easier than you believe.
The team must simply go back to the basics. Miami looked like a dear in the headlights against New England and forgot about the fundamentals.
Miami didn't tackle well, used poor technique in coverages and didn't keep track of assignments. Not to say that the defensive scheme needs to be dumbed-down, but the defense needs to take a few deep breaths and trust each other.
Offensive Consistency
First things first, Chad Henne looked great. The only negative thing that stands out on the box score was his one interception, which happened on the last play of the game.
In Henne's brilliance, the unit as a whole struggled to put it all together. The offensive line was being eaten alive by the revamped Patriots defensive line, while play-calling in the red-zone was less than desirable.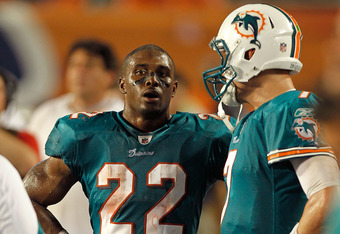 Mike Ehrmann/Getty Images
Looking at the big picture, Henne did all he could to ensure a Dolphins win. In similar circumstances in Dan Henning's offense, Henne was often prone to making mistakes at all of the wrong times.
Henne did miss a couple of receivers, but overall, he quieted his naysayers.
Not only did Henne rack up over 400 yards passing, he was also the team's leading rusher. Henne's 59 rushing yards against New England is higher than his totals in 2009 and 2010.
Apart from Henne carrying the offense, the rest of the unit was a mess. Miami couldn't get a rhythm running the ball, which forced the offense into many second/third-and-longs.
Reggie Bush was the beneficiary of quite a few checkdowns, though you would like to see more of an effort using him as a weapon in the game plan.
Miami needs to identify what kind of offense this is. If they want to run the ball, they need to establish the run early. If they want to pass, they need to do a better job spreading the field and giving the backs room to run in the limited amount of touches they will get.
Miami was caught between those two factors, which is why some drives faltered. At times, it seemed like the offense was working against itself. On drives that the run was established, penalties or passing miscues stalled the momentum. On drives that featured the passing attack, running plays forced the offense to fold.
Miami's offensive line is also not built for a power-running game. If they would like to be a run-first team, they need to get more athletic players, like Nate Garner, worked into the starting lineup. Richie Incognito, Vernon Carey, and Marc Columbo are simply not built to generate a huge push.
Houston is heading to Miami for an interesting week two matchup. If Miami doesn't bounce back, they will be in trouble.
Miami also has a chance to make history this Sunday. Houston, since becoming an expansion team, has never lost to the Dolphins. Miami needs to change that to get the season back on track.
Look for a much better effort from the defense and a more balanced attack on offense.
Jason's radio show "The Extra Yard" airs on Wednesdays from 2-4PM. Visit http://knightcast.org/ to listen and to get on during the show.
 Follow Jason on twitter here: https://twitter.com/#!/JClaryUCF