Pittsburgh Steelers Are and Have Been Making Questionable Decisions
September 13, 2011
Handout/Getty Images
Yesterday the Steelers got the news that starting right tackle Willie Colon will be placed on the injured reserve for the second straight season. Colon was recently signed to a five-year deal worth $29 million. 
Earlier in the offseason the Steelers released tackles Max Starks and Flozell Adams. Both players were cut to make room on the Steelers bloated salary cup. I understand that but neither Adams or Starks has a job right now. Both of them are better players than current starting left tackle Jonathan Scott and/or rookie Marcus Gilbert, who will now be starting at right tackle in place of Colon. 
I thought that Adams and/or Starks would be signed but apparently they both want too much money. Without Colon, the Steelers starting offensive line will look like this:
LT-Jonathan Scott
LG-Chris Kemoeatu 
C- Maurkice Pouncey
RG- Doug Legurksy
RT- Marcus Gilbert 
That offensive line is just not acceptable. You have a $100 million dollar quarterback in Ben Roethlisberger, and you're protecting him with a $5 offensive line. UNACCEPTABLE! 
Not one of the Steelers current offensive lineman would start for another NFL team, with the exception of Pouncey, who's a stud. 
Jonathan Scott sucks. Doug Legurksy sucks. Gilbert is a second round draft pick rookie. Chris Kemoetu is good when he pulls to the right, but besides that he sucks and is overpaid. 
Hindsight is 20/20 but why did they give Colon the contract that they did? He missed the entire season last year with a major injury, and it's not like he was an All-Pro player before that. Colon wasn't worth that kind of money. 
Kemoeatu isn't worth the money and contract that he has right now either. Kemoeatu is highly inconsistent and is not a Pro Bowler. Contract was awful and the Steelers' are regretting it now. 
Legurksy is not a starting guard. He's a decent backup at best and his best position is at center. The Steelers already have one of those. They should have kept and started Tony Hills, who started right guard for most of the preseason. Hills has much more athleticism and upside than Legursky.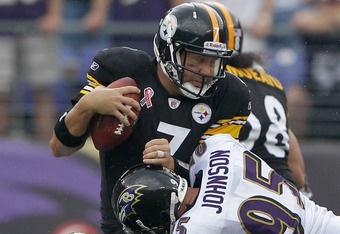 Rob Carr/Getty Images
Now the Steelers are in trouble. They got manhandled up front against the Baltimore Ravens. Now they just lost their second best lineman. Even if Gilbert pans out, which I do believe he's better than Scott already, the line is still going to be mediocre at best. 
How do the Steelers plan on being an effective offense with such a bad offensive line? Roethlisberger never has time to throw, Rashard Mendenhall never has a hole to run through. 
Roethlisberger is the best player on the team, at least on the offense. The offense should be built around him. Look at the New England Patriots with Tom Brady. Three of their seven highest paid players are offensive lineman. Their first round draft pick this year, an offensive lineman. 
The Steelers only have one offensive lineman in their top 13 highest paid players. They've drafted one offensive lineman in the first round since 2004. The talent is just not there and neither is the commitment to improving the line. 
Every year they just try and put a band-aid on it, it's a offensive line patch-up job. That's a good way of getting your franchise quarterback killed. 
I understand the Steelers have been built on defense but their quarterback is a pretty good player. The defense is starting to look old really quick. Yet the Steelers have so much money invested in defensive players over the age of 30. 
James Farrior is 36, Larry Foote is 31. They split time at inside linebacker. This year they're making almost $10 million combined. There's no need for both of them to be on this team. If the Steelers would have released one of them like they should have, they would have the money to sign either Adams or Starks. 
Casey Hampton, a nose tackle who plays sparingly, is currently the fourth highest paid player on the team and is 33 years old. Hampton has been a good player and a great person in the community, but his prime is past and Chris Hoke has proven he can do just as good as Hampton for far less money. 
The Steelers also decided to re-sign Ryan Clark, Bryant McFadden, and William Gay. The secondary has a good mix of mediocre players and old players. 
The Steelers are also paying Aaron Smith over $6 million this year. Why? Smith has been the most injury-prone player on the team and is 35 years old. The Steelers also just drafted defensive ends in the first round in the last three drafts. Let the young guys play. Save money for other positions. 
The Steelers should be embarrassed about their current situations with the salary cap and the offensive line. Roethlisberger has won this team two Super Bowls and a lot of games and is just coming into his prime. They have to spend money to equip proper talent around him. That's what all the other teams do with their franchise quarterbacks. 
The Steelers had an offseason from hell this year, from losing the Super Bowl, to Rashard Mendenhall's tweets, to James Harrison's magazine fiasco, to Hines Ward's D.U.I. They started the year by getting blown out by their biggest rivals.
2011 is not going very well. If the Steelers have a disappointing season they'll have no one to blame but themselves.