Philadelphia Eagles: 5 Things 'Dream Team' Must Work on in Week 2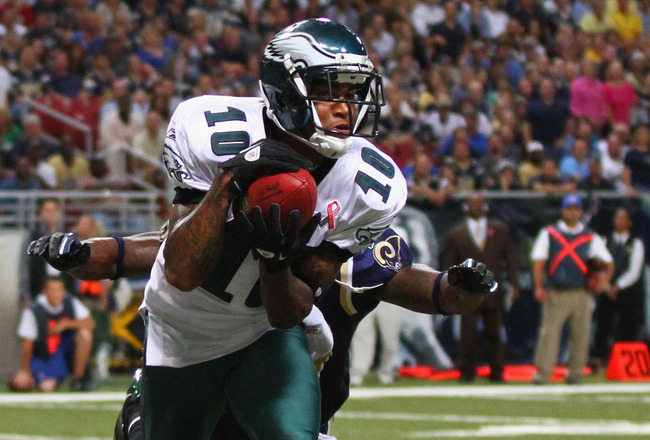 Dilip Vishwanat/Getty Images
The Philadelphia Eagles kicked off their season this past Sunday afternoon with a victory in St. Louis. But there remain an onslaught of issues that this team must fix if they want to continue dreaming of a Super Bowl.
Michael Vick and co. progressively improved throughout the game versus the St. Louis Rams, but there remains plenty of room for improvement.
After allowing the 47-yard endzone-express lane for Steven Jackson, the Philadelphia Eagles defense clammed up and only allowed six points for the remainder of the game.
There are plenty of things the Eagles can improve on between Week 1 and Week 2. Traveling south to play the Atlanta Falcons in the Georgia Dome Sunday night will provide an enticing early-season matchup of preseason Super Bowl favorites. Andy Reid and his coaching staff need to fix or tweak some things during this week.
Here's a list of five things the birds will certainly be looking to fine tune during their practices this week.
1. Recognize Blitzes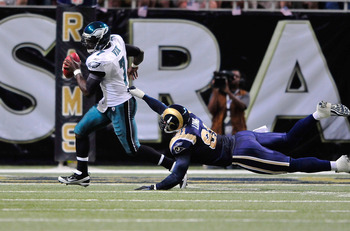 Jeff Curry/Getty Images
I may be in a small majority here, but the Philadelphia Eagles offensive line had a performance that they could build upon during Sunday's game. There's no question that there remains massive room for improvement, however, I thought they exceeded expectations for a unit with only one player at his same position from 2010 and a rookie starting at center.
Where the problem seemed to lie was in Michael Vick and Jason Kelce's ability to recognize blitzes; something that has been a negative checkmark upon Vick's quarterbacking record in the past. The first offensive series ended abruptly due to a corner blitz that came off the edge untouched.
An astute observation described Vick's stance as perpendicular, leaving his blindside completely incognizant of backside rushers. The one play that sticks out was the safety blitz by Quintin Mikell off the edge. Mikel's shot on Vick jarred the about face No. 7 forcing the Eagles' $100m man to cough up the ball and every Eagles fan to hold their breathe.
Andy Reid spoke about the offensive line and the amount of blitzes they saw during the game.
"They [the St. Louis Rams] were bringing more [rushers] than we could handle. That wasn't really so much the offensive line as it was what they were doing. We were just off, you saw that, off by a hair on just huge, huge plays. We have to be just one little step quicker and we'll be OK."
The vengeful hit by former Eagles safety Quintin Mikell produced the only Eagles' turnover of the day on offense.
Michael Vick spoke during training camp about his offseason film studies. He must do a better job of recognizing schemes and on coming rushers at the line of scrimmage. Otherwise a hit like the one from Mikell could sideline the electrifying quarterback for an extended period of time.
2. Gap Control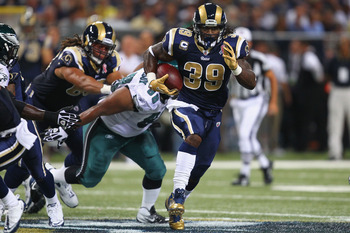 Dilip Vishwanat/Getty Images
Most Philadelphians turned their attention to the middle linebacker position and offensive line after the free agency madhouse simmered down in the summer. Several fans and media members expressed concerns about starting a rookie at a position in the defense that carries a hefty load of responsibility, including calling plays and audibles.
The first play from scrimmage for the St. Louis Rams did not help ease those fears at all. Steven Jackson took advantage of good blocks and a gap astonishingly large for any NFL defense to allow. Philadelphia Eagles head coach Andy Reid commented in his press conference yesterday on just how wide a running lane they gave Jackson.
"It was a nice run by Steven [Jackson] on that first play, but the hole was pretty big. I might have been able to fit through that hole. It was a good size hole."
Reid afterwards commented on how the linebackers "progressively" improved throughout the game and narrowed the lanes. They must continue to narrow the lanes even further and must do it quickly.
Cadillac Williams ran for 91 yards on 19 carries replacing the injured Steven Jackson. Averaging 4.78 yards-per-carry is something the Eagles should be concerned with by a second string running back with banged up knees.
Philly plays the Atlanta Falcons on Sunday in prime time. Matt Ryan has a few more weapons at his disposal than Sam Bradford, including Michael Turner. The Falcons running back will be licking his chops at a chance to square up one on one with Casey Matthews at the second level.
Michael Vick's homecoming could be a rude awakening for the Eagles if they don't tighten things up. The other Michael who has a nice set of wheels and could provide a blueprint for destruction to the Eagles defense.
3. Enhance Dome Communications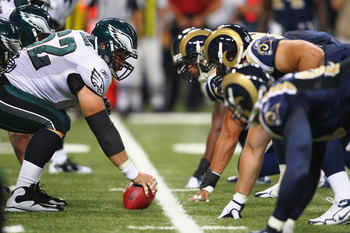 Dilip Vishwanat/Getty Images
Listening to all the postgame interviews with different Philadelphia Eagles players and head coach Andy Reid their seemed to be a reoccurring problem: crowd noise. This has a major part to do with the fact the St. Louis Rams were playing in a dome and less to do with the Rams fans being raucous.
Michael Vick talked about the breakdown in communication throughout the game. "They blitzed like crazy, and it was tough, being on the road, our communication was down a bit." Reid chimed in as well during his press conference yesterday stating he felt Week 1 was a "good test" and came away "encouraged from how they handled the noise."
I would beg to differ on that observation by Reid. The Eagles offense certainly got better as the game progressed, but part of their second half success came in part to the home crowd noticeably leaving early.
The other factor (especially in the fourth) lies in the fact that the Eagles ran the ball more often in the second half exploiting the Rams defensive conditioning rather than relying on pass protection. Both of those factors can be attributed to one thing: a lead on the road.
Philadelphia handled the noise indoors pretty well once they got a lead, but Michael Vick's communication at the line of scrimmage and cohesion between his line must continue to improve. Vick returns as a starter to his old stomping grounds for the first time next week and he doesn't want to get shown up.
Although there certainly will be a ton of red No. 7 jerseys as well as green ones in the crowd, the Georgia Dome will be exceptionally loud. The Atlanta Falcons open their season in prime time, which allows their fans to tailgate all day and liquor up for the occasion.
Expect Andy Reid to pump up the volume in the NovaCare complex to a deafening level as the Eagles practice throughout the week.
4. Get DeSean Jackson a Contract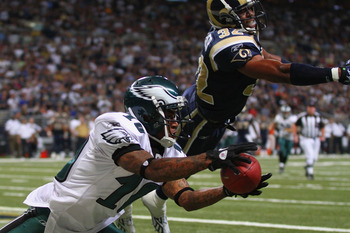 Dilip Vishwanat/Getty Images
The Philadelphia Eagles front office have ran out of excuses for not signing their dynamic wide receiver. DeSean Jackson on Sunday proved again why he deserves to be rewarded with a new contract.
Many believe the Eagles needed to restructure Michael Vick's contract before they could get to Jackson's. Vick now has his new contract and "action Jackson" is still sporting the good soldier role for the team.
Jackson hauled in six catches for 102 yards receiving and one touchdown on Sunday versus the St. Louis Rams. His stat line could've been much bigger had he not dropped what would've been two sure touchdown passes from Vick.
One drop came in the endzone (pictured above) when Jackson nearly completed a spectacular catch. The other came off Jackson's fingertips on a deep throw from Vick in which Jackson had beat the coverage.
Although, Howie Roseman and Joe Banner are not solely to blame for Jackson not signing a new contract yet. DeSean Jackson's camp—led by Drew Rosenhaus—have been asking for a number that far exceeds the Eagles' valuation of Jackson making it difficult for the two parties to meet in the middle.
Every week the Eagles go out and Jackson performs well the more it will cost the Eagles front office to resign their explosive wide out. It would behoove Roseman and Banner to resign Jackson early into the season so the team can focus on their goals and not have to be side tracked by a midseason contract dispute.
A locker room filled with a ton of new players is a fragile thing. The last thing they can afford would be a divide between the players and the front office. That would be a rude awakening from their "dream team" aspirations.
5. Get an early lead
Dilip Vishwanat/Getty Images
Steven Jackson popped off a 47-yard run to open the season against the new look Philadelphia Eagles defense. The long run put the Eagles defense in a position they are not designed to play in.
There's little secret that the Eagles defense had been built around playing with a lead. You could see how effective the unit was once the Michael Vick and the offense grabbed a lead later in the first half.
Nnamdi Asomugha spoke about the effects of having a front four "that could rush (the passer)."
"A lot of times quarterbacks can just sit down and just throw all day. When our front four is getting there then obviously we're going to get more chances to make plays... The hope is once they have to throw the ball we can start getting into more coverages and then we can be able to play the ball and get a lot more turnovers. Hopefully we'll do more of that once we get those leads."
It did not take long for the Eagles to take the lead and not look back. Juan Castillo's defense was impressive after the first touchdown they gave up only allowing six points the rest of the 48:44 remaining on the clock.
After the fumble recovery returned for a touchdown by Juqua Parker, the Eagles defense was able to pin their ears back and get after Sam Bradford once the Rams were forced to throw more often. The Eagles defense had five sacks and seven tackles for a loss on Sunday, including 11 hits on the quarterback.
Probably the most impressive stat for the Eagles was holding the Rams to 2-12 on third down attempts, which includes a goal line stand.
Philly's defense must get a lead to play with early. Teams like the St. Louis Rams are simply outmatched by the overall talent of the birds' roster. Next Sunday will prove to be a different story playing the Atlanta Falcons.
Letting the Falcons take an early lead could prove to be problematic for the Eagles. Castillo's unit much rather get after Matt Ryan than have to deal with Michael Turner pounding the rock play after play.
Keep Reading

Philadelphia Eagles: Like this team?