2011 St. Louis Rams: With Bartell out for Year, Rams Must Trade for Cornerback
September 13, 2011
Dilip Vishwanat/Getty Images
Initially, it was believed that St. Louis Rams starting cornerback Ron Bartell had merely suffered a stinger in the season opening loss at home to the Philadelphia Eagles.  However, according to Jim Thomas of the St. Louis Post-Dispatch, Bartell is out for the year.  Tests previously revealed that Bartell suffered two fractures in his neck.  
Before the regular season started, projected nickel back Jerome Murphy, a promising 2010 third round draft pick, fell to injury.  He has already been placed on injured reserve, ending his 2011 season before it began. Murphy was a strong tackler and possessed the size and speed that head coach Steve Spagnuolo loves at defensive back.  
With Bartell to IR with Murphy, Rams GM Billy Devaney needs to make a bold move and trade future draft picks for a solid starting corner, preferably one with a reasonable contract, considering the Rams are up against the cap.  
Attaining a starting level corner who won't count heavily against the cap won't come cheap, so the Rams must be prepared to part ways with a premium draft pick, even one in the second or third round if necessary.   
This team has playoff aspirations, and rightfully so.  The NFC West is wide open, and the division is ripe for picking.  
Nine wins should be enough to win the division, and the Rams and their fan base are starving for a playoff appearance.  The last playoff appearance for St. Louis came after the 2004 season.  
If St. Louis believes the team can indeed make a playoff run, shoring up the secondary is not an option- it is a must.
St. Louis will be hard pressed to come close to a playoff appearance if they do not find a suitable replacement for Bartell, a consistently solid starter who has been praised in the past by the likes of Arizona Cardinals pro bowl wide receiver Larry Fitzgerald.
The Rams were already thin at the position after losing Murphy and before Bartell's injury. The situation is bordering on dire straits now.  
Justin King has been inconsistent and Al Harris is 36 now.  The only sure thing is starting corner Bradley Fletcher, and he can only defend one receiver at a time.  Even he, however, is day to day with a toe injury.  Even when healthy, the impressive Fletcher can obviously only defend one receiver at a time. 
Considering the teams the Rams could face in the playoffs, adding significantly to the secondary is vital.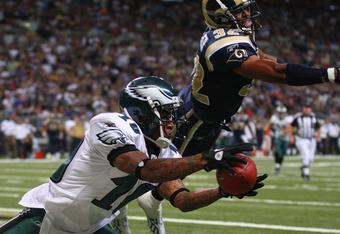 Dilip Vishwanat/Getty Images
Teams like the Rams week one opponent, Philadelphia, and other likely playoff teams, like New Orleans, who field strong, deep receiving corps, will be nearly impossible to beat without some strong secondary help.
Trading this early in the year is extremely difficult, however, so it will be even more challenging to pry away a legit starter from another team.  
Teams still have the season in front of them and everyone in the NFL is still attempting to field the best team possible for this year.  Later in the campaign, when teams fade from contention, it will be easier to trade with those who've fallen from the playoff picture.  After one week, however, nobody will be willing to throw in the towel yet.  Thus, adding a standout corner will be costly, as is to be expected.  
With that said, after losing a second of its' top three corners, St. Louis must take bold steps to fortify the position.  
That won't be easy and it won't come cheap.  But it will be absolutely essential to do so if St. Louis wants to have a legit shot at a playoff appearance and an opportunity to succeed in the postseason.
Shane Gray is a passionate St. Louis Rams fan and covers the Rams year round. To check out the rest of his work, go here:http://bleacherreport.com/users/582932-shane-gray.