Bryce Harper and the 15 Most-Hyped MLB Prospects of All Time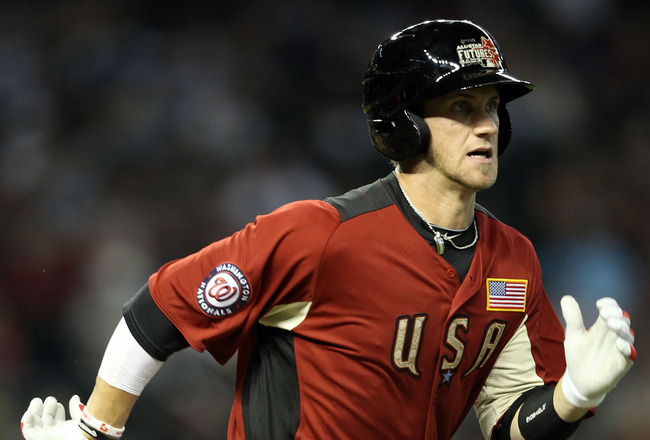 Christian Petersen/Getty Images
Bryce Harper could well be playing for the Washington Nationals by the end of the 2012 season. He would join Stephen Strasburg atop the Nats' organizational depth chart, give the team a real chance to consider playoff contention in 2013 and possibly detonate the biggest media bomb in the history of baseball prospects.
One of the great distinguishing features of baseball vis-a-vis its competitors for America's sporting attention is that fans of this great game can measure their organization's future in more concrete terms than can football or basketball fans. Sure, if your team is headed for the top pick in the NFL or NBA draft the coming year, you will get an immediate-impact, elite talent. As you play out the string, though, that guy is always a silhouette with a question mark for a face.
In baseball, conversely, a bad team's fan base can point to their best prospect (or two or three) and see how that guy will fit into their team sometime in the next year (or two or three). For that reason, really exciting young players often get a ton of hype. Harper and Strasburg are just two examples of the sort of frenzy a player with boundless potential can elicit as they close in on the big leagues. Here are the 15 most-hyped prospects ever.
15. Fernando Valenzuela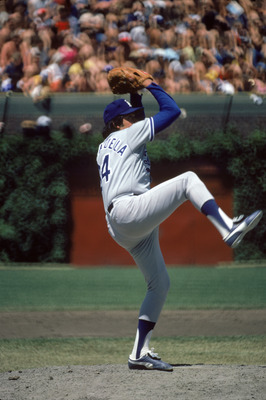 Jonathan Daniel/Getty Images
With a zany delivery, great stuff, prodigious youth and a terrific baseball name on his side, Valenzuela burst onto the scene in 1981 amid what came to be known as "Fernando-Mania."
Arm fatigue set in early after the Dodgers pitched him ragged in his early 20s, but for a while there, Valenzuela baffled hitters and captivated fans nationwide.
14. Todd Van Poppel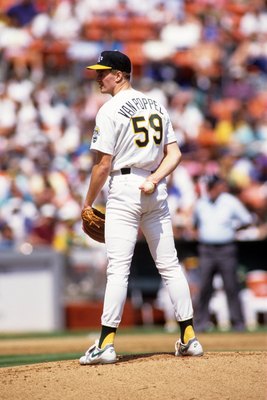 Otto Greule Jr/Getty Images
Twenty years ago last Sunday, Van Poppel made his big-league debut with people already wondering what his ceiling could be.
Drafted in the first round in 1990, Van Poppel became the game's top prospect (per Baseball America) after that very season, despite pitching just eight games. He was viewed as a future All-Star, perhaps the next Roger Clemens.
It never happened. Van Poppel hung around for over a decade, cashing in on what everyone agreed was enormous untapped potential, but finished with a 5.58 career ERA.
13. Rick Reichardt
Prior to 1965, there was no draft for amateur ballplayers to enter big-league organizations. You simply signed with whichever team discovered you, or if you were lucky, whichever bid the most for your services.
Rick Reichardt was one of the lucky ones. A two-sport stud who stood out as a football player at the University of Wisconsin, he had scouts licking their chops over his athleticism.
He eventually got a signing bonus in excess of $200,000—this in the early 1960s, when even Mickey Mantle was just beginning to scale those heights in salary. Feeling the system could too easily spiral out of control from there, MLB quickly instituted the draft to keep bonuses for unproven players under control.
12. Matt Moore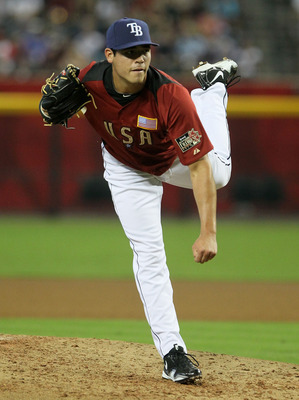 Jeff Gross/Getty Images
For those in big-market cities, or with big-market sensibilities, this might seem a bit off-handed. Yes, Moore is a great prospect, but has he been hyped?
In the right circles, he really, really has been. Moore led the minor leagues in strikeouts in 2009 and 2010 and nearly made it a three-for this season. His electric stuff from the left side makes scouts, and a fair number of those who see Moore in action, really eager to spread the news.
11. Josh Hamilton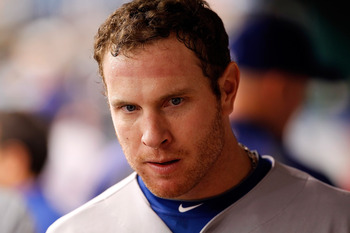 J. Meric/Getty Images
Hamilton's tools were on a plane matched by very few prospects in the history of the game. As a young man, he could run like a 1980s shortstop but hit for power like a 1990s corner outfielder.
When the Devil Rays got him, it looked for all the world like Hamilton would be a cornerstone of their eventual ascension from expansion franchise status to true contender. It didn't happen that way, largely because Hamilton's substance abuse put his career on hold for nearly five years. Still, he eventually reached his tremendous potential. It's hard to miss with that kind of talent.
10. Bob Feller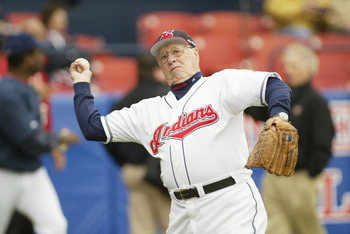 Rick Stewart/Getty Images
Feller was a phenom when the Indians signed him in the 1930's. He had a filthy slider and a huge fastball, and although it took him a while to polish that stuff, "The Heater from Van Meter" immediately had the attention of Cleveland fans. He made his big-league debut at age 17, for crying out loud.
9. Ken Griffey, Jr.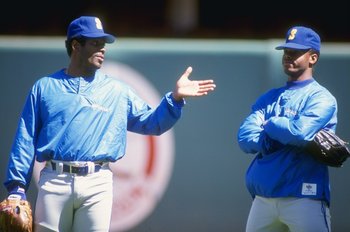 Ken Levine/Getty Images
A big-league pedigree can go a long way toward making a player a household name before he even reaches the big leagues. So it went for Griffey, whose father was waiting in Seattle for his son's anticipated arrival.
In the meantime, fans put expectations on the younger Griffey that would have been very hard to live up to. Only The Kid did it.
8. Alex Rodriguez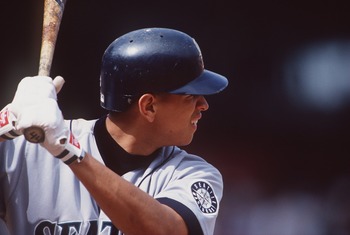 Stephen Dunn/Getty Images
Like Griffey, Rodriguez was a top overall draft choice and a heralded one at that. Shortstop prospects are rarely as gifted at the plate as Rodriguez, who showed flashes of the remarkable power that now defines his career even as a svelte teenager from Miami.
Those who are such good hitters usually struggle to stick at shortstop, but Rodriguez's athleticism there made him a top-tier defender fully a decade into his big-league career.
Mariners fans got so excited for his arrival that, a year before he was even ready to take over, the team shipped a modest glove-only shortstop named Omar Vizquel to Cleveland to clear the way.
7. Darryl Strawberry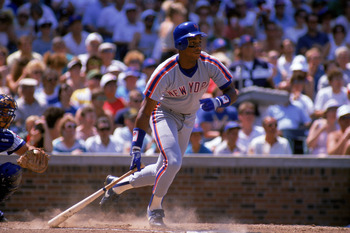 Jonathan Daniel/Getty Images
Being a No. 1 overall selection is always the easy way to receive big-time hype, but it doesn't happen automatically. Safe choices like Gerrit Cole, Luke Hochevar and others do not rate the sort of hysteria that comes with toolsy, high-ceiling gambits like Strawberry.
A slugger whose career was sadly curtailed by drug use, Strawberry had Mets fans buzzing when he came up in the early 1980s. He should have had a Hall-of-Fame career.
6. Mickey Mantle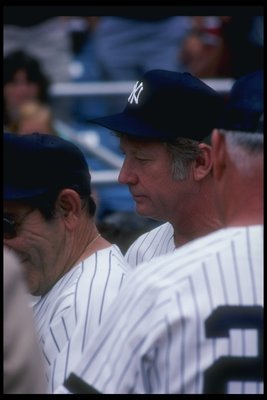 T.G. Higgins/Getty Images
The pressures of great expectations can be unbearable burdens. Strawberry and Hamilton are good examples; Mantle might be the best.
He came up as the heir apparent to Joe DiMaggio but felt slighted and betrayed by DiMaggio and disdained by Yankees manager Casey Stengel. He also felt a certain obligation to be available to everyone at all times, to be the biggest celebrity in the lineage of huge celebrity Yankees stars. He managed to overcome it on the field, but it weighed heavily on him elsewhere.
5. Mark Prior
Jonathan Daniel/Getty Images
Pitchers burn hot and bright. When they shine brightest, they are the best asset a team can hope to have. Frequently, though, they burn out before their position-player counterparts.
Prior, whose filthy stuff, great breaking ball and solid command made him a Cubs legend almost before he took the mound at Wrigley Field, quickly found that out the hard way. He had a season and a half of peak performance before his can't-miss mechanics misfired and left him reeling from one injury to the next.
4. Bo Jackson
Tim DeFrisco/Getty Images
To help their bosses better envision the prospect they're watching, scouts frequently draw comparisons between those on whom they report and current or former big-league players. However, each organization has a few players who are off-limits for those purposes, whose skills are unique and impossible to truly duplicate for future athletes. For virtually every organization, Bo Jackson is one such guy.
Jackson had fans itching before he came close to Kansas City, with an unprecedented blend of speed, strength, ball-hawking body control and a rocket arm. He tried to do too much by playing both football and baseball and paid the price with a string of tough injuries, but Jackson's skill set—and the mania it inspired—remains unique in MLB history.
3. Jackie Robinson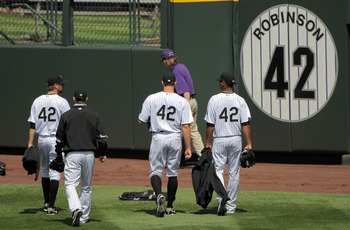 Doug Pensinger/Getty Images
Robinson's debut is trumpeted as a sort of breakthrough day in and of itself, and of course it was.
But Robinson did not merely show up and rent a pair of cleats that day. He spent all of 1946 in the minor leagues with the Dodger organization, and while many were skeptical it would ever bear fruit, the experiment was underway.
Robinson cut his teeth, played singularly well and had a ton of people talking long before he stepped onto Ebbets Field.
2. Bryce Harper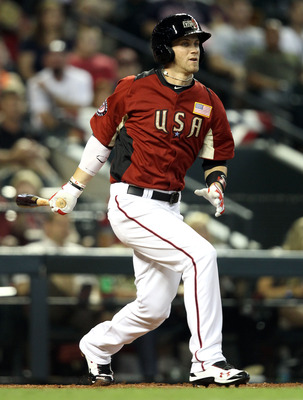 Christian Petersen/Getty Images
Harper's power upside is 800 home runs. He can hit the ball forever, and it isn't even all that hard for him.
Harper was first on the cover of Sports Illustrated at age 16, and after getting his GED so as to reach junior-college ball a year sooner, he became something of a phenom before he was even drafted.
His inspired debut performance this season has Nats fans even more anxious to see him than ever.
1. Stephen Strasburg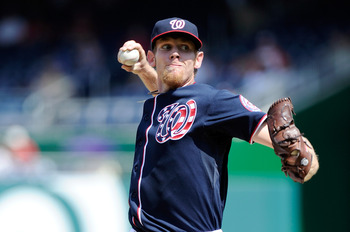 Greg Fiume/Getty Images
It was a toss of the coin, really, to decide which of the Nationals' two current stars-in-waiting ought to top this list.
Strasburg gets the edge, not necessarily on merit, but because it's easier to build hype around a once-weekly event (like a pitcher who starts every fifth day, for instance, and whom fans can watch for more than four plate appearances in a debut) than around the everyday rhythm of a great hitter's life.
Ask the NFL how much easier it is to market stars who control the game and who play less than daily. So it has gone with Strasburg thus far.
Keep Reading