The Detroit Lions Defensive Back Merry-Go-Round Is Slowing Down
September 14, 2011
Mike Ehrmann/Getty Images
Ever since the Detroit Lions lost cornerback Bryant Westbrook and safety Kurt Schulz to injury during the 2000 season, they've been unable to find consistency in the defensive backfield. I did the research and found the Lions have replaced two or more starters in the secondary almost every single season since.
Put another way, the Lions have overhauled their secondary every year for the last decade, and every year they've had to go back to the well for more. A kaleidoscope of mid-round draft picks, high-priced free agents and veteran retreads came and went (and occasionally, returned) during the Matt Millen era, all to no avail.
However, Martin Mayhew has had an incredible batting average as a secondary talent evaluator. Apparently his eight-year career as a starting cornerback for the Super Bowl-winning Redskins lent him insight into what it takes to play back there...
Chris Houston was a second-round pick of the Atlanta Falcons, who gave up on him after he failed to match the promise of his first two seasons in his third. Mayhew snagged him for a mere sixth-round pick, and he responded by being the Lions' first consistent, dependable veteran cornerback in ages.
Houston was brought back after he tested the free-agent waters, and he turned in a very nice performance against the Buccaneers. He displayed excellent ball-location skills while intercepting one pass and breaking up another. If Week 1 is any indication, Houston has picked up where he left off and may be on the way to the best season by a Lions corner in years.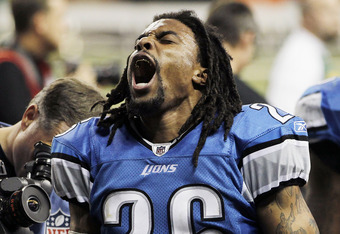 Gregory Shamus/Getty Images
His new partner in crime, Eric Wright, is a similar story. Drafted in the same round (second) of the same draft (2007), Wright looked like a Pro Bowl corner in the making until he was undone by some high-profile failures during the 2010 season. According to the Lions coaches, though Wright was victimized by Anquan Boldin and had a couple of other high-profile failures last year, the film shows he was on point the rest of way.
Wright had a solid first game in Tampa Bay. That Arrelious Benn (at 6'2", 225 pounds, a near-clone of Boldin) was held to one catch for four yards speaks volumes about Wright's progress.
Safety Amari Spievey was drafted with the Lions' 2010 third-round pick to fill the second outside corner spot, but almost immediately the Lions coaches kicked him back to safety. He mixed flashes of brilliance with flashes of, well, not-brilliance in his rookie season.
Apparently the lockout did him good. Spievey showed up to 2011 camp in dramatically better shape than in 2010, and the mental mistakes were greatly reduced. Spievey handily beat out veteran signee Erik Coleman to retain a starting spot, and in the first game fit seamlessly into a Lions secondary that held Josh Freeman to only 5.78 yards per attempt (down from 7.64 in last season's game).
Finally, Louis Delmas. The first pick in the second round of the 2009 draft drew a lot of attention for his dynamic play, big hits, big mouth and occasionally big whiffs in his rookie year. However, hampered by a groin injury throughout 2010, he was solid but lacked the spark that made such an impact the year before.
In the first game back, Delmas was outstanding in coverage, breaking up two passes on three targets. He didn't make any of his trademark hits, but he didn't make any crucial mistakes. He could be seen at the end of every play, jawing and getting in Buccaneers' faces. He also ended the Bucs' last-ditch effort to score an equalizing touchdown by snagging a fumbled lateral.
I'm not trying to say the Lions' starting corners and safeties should all make travel plans for Hawaii in late January. The Lions' backfield has been a shambles for so long, though, that solid, consistent play from a definite starting four is almost shocking.
Wright, however, is on a one-year deal, and Houston on just two. There are young talents coming up behind them in Aaron Berry and Alphonso Smith. Spievey hasn't made any mistakes, but he hasn't made any plays. Delmas has the fire back, but he hasn't lit anyone up yet. One game isn't enough to prove anyone's mettle; anything could happen in the next 15.
However, for right now, the Lions can say they're confident in their starting defensive backfield, and that's more than they've been able to say for 10 years.