Pittsburgh Steelers Season Opener Was a Calamity
September 13, 2011
Larry French/Getty Images
Don't put the nail in the coffin of the Steelers' season yet. The bad news is we lost to a division foe. The good news is there is still 15 games of a 16 game season.
However, the Pittsburgh Steelers were sucker-punched and out-muscled by the Baltimore Ravens, losing 35-7 at M&T Bank Stadium.
The Baltimore Ravens, looking younger and faster, came prepared with a game plan to manhandle a seasoned core of veterans who definitely showed their age.
Ravens QB Flacco accomplished a feat of his own, defeating the Steelers with QB Ben Roethlisberger at the helm. It certainly is a confidence builder that could carry him through out the season, but he will face the Steelers again at Heinz Field, November 6.  It is very unlikely that he will see the same team he faced on Sunday.
It's not that Flacco does not have the intangibles of being a good quarterback. In his fourth year as starting quarterback, he has managed to get his team into the postseason and that's where it stops.
To get the monkey off his back, he still has to defeat the Steelers twice—win the division and achieve a berth to the Super Bowl.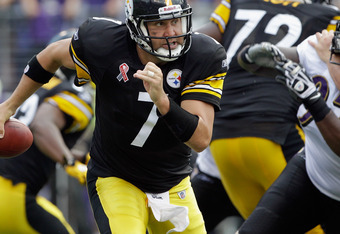 Rob Carr/Getty Images
The Steelers were bad in all three phases of the game. They accumulated as many points on the board as turnovers. All preseason, the Steelers managed zero turnovers. When this debacle ended, there were four fumbles and three interceptions.
Roethlisberger was inefficient, completing 22 of 41 passes for 280 passing yards, one touchdown, three interceptions and he was sacked four times.
In addition to the turnovers, the defense could not stop the run and had too many missed tackles on defense and special teams. They had no offensive rhythm, did not convert enough big plays to make a difference, forced too many plays, had poor ball control, allowed too many third-down conversions and the list goes on and on.
The defense looked old and slow. The defensive line was bowled over by the Ravens offensive line, enabling their offense to rush for 170 yards and allowing the first 100-yard rusher in 18 games, RB Ray Rice.
Pressure on the quarterback from our vaunted linebacking core was almost non-existent. LB James Harrison, who has had issues with his back all preseason, was manhandled by Ravens newcomer T Bryant McVinnie (from the Minnesota Vikings). LB Lamarr Woodley recorded the only Steeler sack compared to four by the Ravens.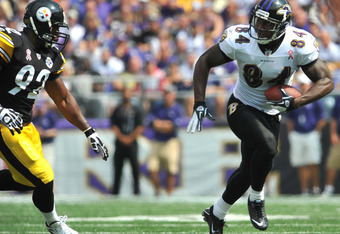 Larry French/Getty Images
Although CB Ike Taylor did his job covering Ravens WR Lee Evans, he and FS Troy Polamalu lost their cool in the heat of battle costing the Steelers valuable territory in penalties
The Steelers are now plagued with offensive line woes with the report that offensive tackle Willie Colon is now out for the season after undergoing surgery for a torn tricep.
So what's next? Their home opener against Seattle Seahawks, who lost their season opener to the San Francisco 49ers, 33-17.
Seattle released QB Matt Hasselback who spent 10 years with the Seahawks for Minnesota's former backup, QB Tavaris Jackson.
He had as miserable a day as Roethlisberger, completing 21 of 37 passes for a 197 passing yards and two touchdowns. He also threw an interception, lost two fumbles and was sacked five times.
Overall, the Seahawks season opener pretty much mirrored the Steelers: poor special teams play, lack of offense, turnovers (a fumble and interception) and a defense giving up 33 points.
Although the Steelers took a whipping in their season opener, I believe we can expect Coach Mike Tomlin to have this Steeler team better prepared for the home opener.