Bryce Harper vs. Ken Griffey, Jr: Who Finishes with a Better Career?
September 13, 2011
Christian Petersen/Getty Images
The legend of Bryce Harper has already captivated followers of baseball, even though the man has never taken an official major league at-bat.
Harper, an 18-year-old phenom who was drafted No. 1 overall by the Washington Nationals in the 2010 MLB amateur draft, no doubt made a big splash as he burst onto the minor league scene in the Nats' farm system.
But when compared to another young phenom who broke into the big leagues three years before Harper was born, several intriguing similarities, yet also some distinct differences, come to the fore.
Ken Griffey, Jr., who will be inducted into the Hall of Fame in a few short years, was one of the greatest ball players of all time, and the fact that Bryce Harper is already being compared with a player of Griffey's caliber is an honor in its own right.
So who will end up with the better career when all is said and done?
Comparison by the Numbers
Baseball is a sport given to statistics, and where better to start in a comparison of Griffey and Harper, than with the minor league stats?
Harper has so far played in 109 minor league games, split between A and AA. While in A-ball with Hagerstown, Harper hit .318 with 14 home runs and 46 RBI in 72 games. He had 17 doubles, a triple, 44 walks, and a .423 on-base percentage.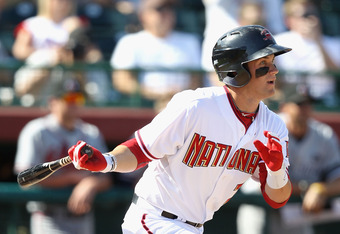 Christian Petersen/Getty Images
Not bad.
At AA-Harrisburg, however, Harper struggled, hitting just .256 with three home runs, 12 RBI, and a .329 on-base percentage in 37 games. On August 18, Harper badly injured his hamstring, ending his season prematurely.
Back in 1987, when Ken Griffey Jr. signed with the Seattle Mariners and broke into their minor league system at 17 years of age, his soon-to-be-coined nickname of "The Kid" would prove to be very apt.
The Kid set the Mariners' farm system on fire, hitting .313 with 14 home runs and 40 RBI in 54 games at Low-A Bellingham. Compared with Harper, Griffey hit the same number of homers and drove in just six fewer runs in 18 fewer games.
After being promoted to High-A San Bernardino, Griffey continued to devour minor league pitching, hitting .338 with 11 home runs and 42 RBI in 58 games. While there, he had a .431 OBP and slugged .575.
Griffey only played 17 games with AA Vermont before getting called up to The Show in 1989. 
Ken Griffey, Jr. had better minor league numbers than Bryce Harper when comparing a similar sample size of games played, but the comparison is not complete, of course, until Harper completes his minor league career.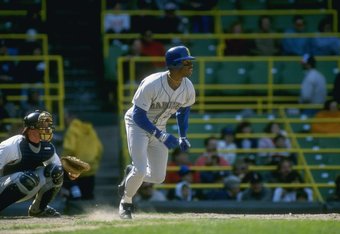 Jonathan Daniel/Getty Images
The Outlook for Harper, Compared with Griffey
Ken Griffey, Jr. was a model ballplayer, both on and off the field. In an amazing 22-season career, Griffey hit .284 with 630 home runs, 1,836 RBI and 2,781 hits. 
He was a 12-time all-star, the 1997 American League MVP, a 10-time Gold-Glove award winner, a seven-time Silver Slugger award winner, and led his league in home runs four different times.
That's quite a life in baseball.
Bryce Harper has the sheer talent to equal, or perhaps even surpass what Griffey has accomplished, as unbelievable as that may sound.
He has the tools Griffey had: speed, the ability to hit for a high average, and, of course, power. Harper allegedly hit a 502-foot home run while participating in a high school home run derby at Tropicana Field in Florida.
While playing in the Western District Finals of the 2010 NJCAA (National Junior College Athletic Association) World Series, Harper went 6-for-7 while hitting for the cycle and driving in five runs. In a double-header the next day, he went 8-for-11 with four (yes, four) home runs, a triple, and a double.
But the biggest obstacle for Harper in reaching or even exceeding the success that Griffey had in his career, is his attitude.
For all his success in that NJCAA World Series in 2010, Harper arguably cost his team the championship because he was ejected after arguing a called third strike. He was suspended for two games because the ejection was his second of the year, and his team lost the game from which he was ejected, as well as the next game, from which he was suspended, being eliminated from the tournament.
Harper was also ejected from an AA-Harrisburg game on August 11, again as a result of his protest over a called third strike.
In addition to the issues with his temper, Harper also appears to be extremely cocky, which can certainly work for some, but can also derail the dreams of others.
When all is said and done, Ken Griffey, Jr. will have finished with the better career
Only time will tell whose career will have been more successful when all is said and done, but Bryce Harper's attitude will in all likelihood be a hindrance, and not a contributor, to his individual goals as a major league baseball player.
One measure of a successful career is what type of teammate you were and what type of leadership you provided to drive your club to success.
By all accounts Griffey, though he never won a World Series ring, was a great teammate and leader for the Mariners and Reds.
It's hard to imagine Bryce Harper will be the same. For Harper, the game, and it's fans, let's hope this analysis is dead-wrong.