Steven Jackson Injury: Cadillac Williams Will Be Able Replacement for Rams
September 12, 2011
Jeff Curry/Getty Images
The biggest loss for the Rams on Sunday afternoon was not the 31-13 loss they suffered at the hands of the Philadelphia Eagles. After all, losing the first game of the season is not generally a death knell for a successful season.
The biggest loss was running back Steven Jackson to a strained quadriceps. Jackson injured his quad on a 47-yard touchdown run on the Rams' first offensive play. He ran the ball one more time, a nine-yard gain, before leaving the game.
The Rams were expected to break through and win the NFC West this season, but most of those expectations were made with the assumption that Jackson would continue to be one of the more productive running backs in the league.
Led by Sam Bradford and a litany of talented young receivers, the Rams have a lot of good offensive talent, but it all came back to Jackson.
A recent Associated Press report says that Jackson's injury will be monitored closely on a day-to-day basis, but that he likely would miss some time:
Spagnuolo characterized Jackson as week-to-week and probably out for the Giants game.
In most other years, the Rams' season would be all but over, but that's not the case this season. Backup running back Cadillac Williams will prove to be more than adequate in replacing Jackson.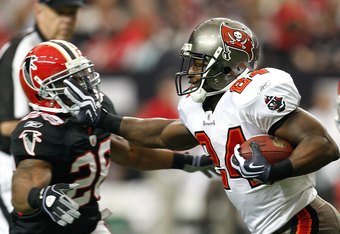 Kevin C. Cox/Getty Images
Williams has fought injuries for much of his career, but he has been a productive running back in the past. He rushed for over 800 yards as recently as two seasons ago and at one point, he rushed for nearly 1,200 yards in a season.
If you're needing Williams to be your top running back for an entire season, there might be reason to worry. As it is, the Rams will likely just need him to give them two or three weeks of solid play. Williams is more than capable of doing that.
He's off to a good start. In relief of Jackson on Sunday, Williams rushed for 91 yards on 19 carries, good for an average of 4.8 yards per carry.
The Rams can't expect to be a playoff team if they are without Jackson for any significant amount of time, but for a game or two, they will be fine with Cadillac Williams running the ball.