New York Yankees: Re-Structured Bullpen Shining Ahead of Mariano Rivera
Jamie Squire/Getty Images
Prior to the 2011 MLB season, the New York Yankees made several significant transactions to solidify an aspect of their team that had been inconsistent over the last few years.
Blessed with the greatest closer in the history of the sport looming to shut down opposing rallies late in ballgames, the Yankees had often struggled in the transition from starting pitching or middle relief to their legendary relief ace, Mariano Rivera.
Relief pitchers are often an inconsistent breed, dictated by the nature of their profession, and the small sample sizes that their body of work reflects. What can look like a dominant performance one day, can appear to be utterly disastrous the next if a few of the results are slightly different.
They don't have the luxury of working out of jams or turning an outing around following a rough beginning. A difficult start to a relief appearance generally ends it rather quickly and defines the outing until the pitcher gets another opportunity, on another day, to wipe the slate clean.
Try as they did, the Yankees couldn't quite get the mix right in recent years. During their dynasty run in the late '90's, they had a lethal combination at the end of games, first Mariano handing the ball to John Wetteland, then various incarnations involving Ramiro Mendoza, Mike Stanton and Jeff Nelson giving way to Mo.
For years, the Yankees attempted to replicate that late-game magic, importing the likes of Steve Karsay, Paul Quantrill, Tom Gordon, Kyle Farnsworth, among others, in an effort to build a stable bridge to Mariano. Never have they been able to solidify that transitional aspect of their bullpen in a manner that they were accustomed to several years earlier.
In recent seasons, the expectation was that Joba Chamberlain, the hard-throwing Nebraska kid with the wicked slider, the one that baited us with his tremendously dominant debut in 2007, would eventually inherit the closer's role. He didn't quite pan out, and the Yankees converted him back to a starting pitcher, the role that he was accustomed to throughout his pitching life. His career is now on hold as he recovers from Tommy John surgery earlier this season.
Phil Hughes had a dominant stretch in 2009, but once the playoffs arrived, he didn't resemble the shut-down reliever he was all season. He too resumed his regular role as a starting pitcher, and after a breakout 2010, has regressed mysteriously in 2011.
There was Kerry Wood in 2010, who arrived as a cast-off from Cleveland, and turned in one of the most dominant stretches of his career. Unfortunately, he didn't want to stay with the Yankees, and returned to his longtime home in Chicago.
This offseason however, the Yankees made all the right moves, signing dominant closer Rafael Soriano to a huge contract in order to serve in the vital setup role. They addressed their left-handed specialist issues by signing the ever-reliable Pedro Feliciano from the crosstown Mets to flesh out their new-look bullpen.
The baseball world looked on in awe as the Yankees flexed their financial muscles and addressed one of their perceived flaws, instantly turning their bullpen into a significant strength.
This is baseball however, and things don't always work out according to plan.
From the outset, the incredibly talented, re-worked Yankee bullpen ran into issues. Feliciano's season was ended in spring training by a significant shoulder injury. Soriano struggled then turned up injured as well, and Joba, who had looked great early, experienced elbow pain, and was eventually lost for the year after it was decided that he required Tommy John surgery.
Somehow though, in the midst of the second week of September, the Yankees are the winningest team in the AL, and their bullpen is one of the best in all of baseball. At 3.07, their bullpen ERA is the lowest in the AL, their 75 percent save percentage is second to only Detroit, and their strikeout rate per nine innings trails only the White Sox relief corps.
Despite the challenges that they've endured, the bullpen has persevered, and has remained a strength for the Yankees, rather than succumbing to the various issues that they have faced.
Let's examine the primary contributors to see if we can determine how the Yankee bullpen has remained a dominant force, despite the numerous injuries to key personnel throughout the season.
Hector Noesi
Ed Zurga/Getty Images
Though 24-year-old Hector Noesi was primarily a starting pitcher throughout his successful minor league career, he has stepped into a relief role with the big league club and filled an important need for Joe Girardi's ball club.
He has proven to be a versatile reliever for the Yankees, pitching in long relief situations, mop-up scenarios, and the occasional late-inning outing.
With Alfredo Aceves now in Boston and Sergio Mitre on the 60-day DL, Noesi has helped eat up innings for the Yankee bullpen, so that the more specialized relievers can focus on their intended roles.
While his overall numbers are not great (his 4.09 ERA and 1.441 WHIP could be lower), they are inflated by a terrible outing last time out in Anaheim, in which he allowed four earned runs in 0.2 innings.
In 27 appearances, spanning 50.2 innings, he has allowed 54 hits and 19 walks, while striking out 41. He's only allowed five home runs, for a very respectable 0.9 per nine innings, and his command has helped him walk only 3.4 per nine. His 108 ERA+ and 7.3 strikeouts per nine are solid marks for a rookie in his first stint as a Major Leaguer.
For his first extended experience as a relief pitcher, Hector Noesi has been a solid contributor to the Yankees bullpen, offering his manager versatility and providing stability in the middle innings.
Luis Ayala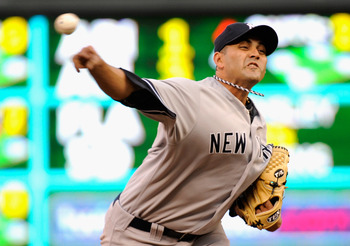 Hannah Foslien/Getty Images
When the Yankees signed the 33-year-old Mexican right-hander with the unique delivery just before spring training this season, they likely didn't envision the impact that Luis Ayala would have on their bullpen throughout the year.
Forced into a regular role after season-ending injuries to Feliciano and Joba Chamberlain, as well as the early season ailments of Rafael Soriano, Ayala has responded well to regular use by Joe Girardi.
Following a promising first few years of his career in Montreal and Washington, Ayala injured his elbow in early 2006, and subsequently missed the entire season due to Tommy John surgery. He returned to pitch well for the Nationals halfway through 2007, but then struggled to duplicate the same success, as he experienced considerable difficulties throughout 2008 and 2009.
The Yankees took a chance on him prior to 2011, and the gamble has paid dividends.
While not particularly overpowering, Ayala's peculiar delivery obscures the ball well enough to cause opposing hitters problems picking up the ball until the last moment.
Overall, he has made 44 appearances out of the Yankee bullpen, striking out 34 and walking 17 in 49 innings. His impressive ERA of 1.89 has been aided by an above-average ground ball to fly ball ratio, as well as nine double plays turned behind him. Ayala's 1.327 WHIP is unspectacular, but he has managed to keep most of those runs from scoring.
After beginning the season as yet another veteran simply hoping to stick on a big league roster, Ayala has made himself an integral member of the Yankees relief corps in 2011.
Corey Wade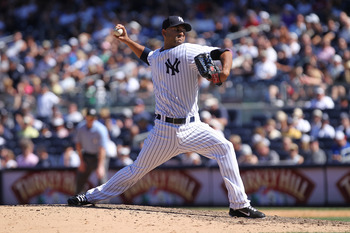 Nick Laham/Getty Images
After not pitching in the Major Leagues since July 2010, Corey Wade seemed like a forgotten man, laboring in Triple-A for the Rays. Though he was pitching very well at Durham, the Rays granted Wade his release, and he signed with the Yankees shortly thereafter.
Immediately, he slotted into a New York bullpen beset by numerous injuries to key pitchers, and has been nothing short of a revelation for Joe Girardi's relief corps.
In 32 appearances spanning 32.2 innings, Wade has allowed only 24 hits, while walking just seven batters. He owns a 1.93 ERA and a stellar 0.949 WHIP, and has picked up five victories late in games, while losing none.
He has been a strike-throwing machine, throwing 66 percent of his pitches for strikes, and though he has been around the zone rather often, opponents are hitting just .200 against him.
Wade may not have begun his Yankees career as more than simply a capable arm that they hoped would eat a few innings while they waited for the return of some of their regular relievers. However, he has blossomed into a critical piece of the New York pen, and could play a crucial role down the stretch and into the postseason if he continues the tremendous success he has experienced thus far.
Boone Logan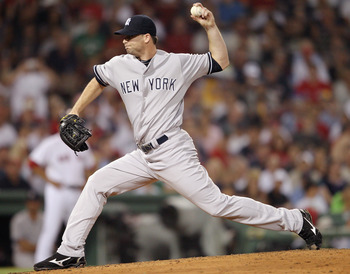 Elsa/Getty Images
As the lone lefty in the Yankees' pen for much of the season, Boone Logan has survived the early criticisms of his difficulties in retiring left-handed batters, and has produced a fine year for Joe Girardi.
Strangely though, Logan has fared much better against right-handed batters, rather than the lefties that he is paid to retire.
Against lefties, Logan has a .261 batting average, and an unacceptable .795 OPS, versus .236 and .591 against right-handed batters.
The intention was for free agent signing Pedro Feliciano to handle a significant portion of late-game situations involving premium left-handed opposition, but Feliciano's preseason injury eliminated him from the equation and placed the burden squarely upon Logan.
Yankees brass had been hoping to alleviate some of that pressure with the return of either Feliciano or the perpetually-injured Damaso Marte. However, both pitchers have experienced setbacks in their rehabilitation and are done for the year.
This misfortune has left Logan to serve alone in the bullpen, prior to the recent promotion of Aaron Laffey, and he has turned in a solid performance, if not necessarily the optimal production in the specialized role he is supposed to serve in.
Overall, Logan owns a 2.92 ERA, a 1.297 WHIP, and has only 2.7 walks per nine innings, while striking out a career-high 10.2 per nine.
While his overall numbers are solid, he has unfortunately allowed all four of his home runs against left-handed hitters, basically nullifying his value as a left-handed specialist.
Logan will have to reverse those outcomes immediately if he is to have any meaningful role for the Yankees in the postseason, where they will face numerous dangerous left-handed hitters.
Rafael Soriano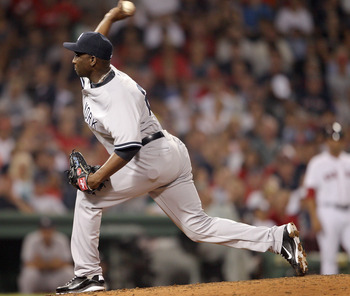 Elsa/Getty Images
The signing of Rafael Soriano to an exorbitant three-year, $35 million contract during the offseason represented a ridiculous embarrassment of riches to many in the baseball world.
Soriano, coming off a stellar 2010 season as the closer for the Tampa Bay Rays, was one of the top available relief arms on the free agent market, and could close for almost any team in the game.
He got his closer money, but it would be to serve as the Yankees' setup man, stabilizing the occasionally shaky bridge to Mariano Rivera.
Upon his signing, combined with the signing of Pedro Feliciano, most observers rated the Yankees bullpen as an astounding strength for an already formidable club.
However things didn't work out as planned, Feliciano never pitched during the regular season, and Soriano stumbled badly out of the gates in the setup role. The usually dominant reliever had lost velocity, was struggling with his command and was suddenly very hittable, not exactly what the team expected for $12 million or so a year.
Then came whispers of his bizarre comments regarding his new teammates, and suddenly the Yankees high-priced relief ace became the subject of questions regarding his mettle and ability to pitch in New York.
When he was placed on the DL with elbow inflammation after an outing against Boston on May 13, fans, media and likely the Yankees themselves began to wonder whether the huge contract was going to be an albatross of Pavanoesque proportions.
Prior to his DL stint, Soriano allowed 15 hits in 15 innings, plus 11 walks for an atrocious WHIP of 1.733. With those 11 bases on balls, he only struck out 10, and owned an ERA of 5.40.
Thankfully, the time on the DL appears to have done him some good, and quietly the reliever has rebounded since returning on July 30.
Though the Yankees have been careful to ease him back into regular action, he appears to have regained his command as well as his confidence.
In 18 games since his return, he has thrown 16.1 innings, allowing only 14 hits, and even more encouraging, only five walks. His WHIP of 1.154 and ERA of 3.31 are considerable improvements over his marks prior to his unplanned vacation.
After using him only 11 times in August, Joe Girardi appears to be increasing Soriano's workload, as he has already used him six times in September.
With a seemingly refreshed Soriano added to the late-inning mix of Robertson and Mariano, the Yankees bullpen is finally resembling the force that it was expected to be.
David Robertson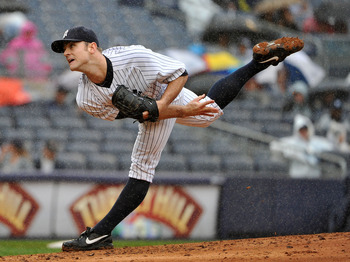 Christopher Pasatieri/Getty Images
In one of the most impressive seasons from a setup man in Yankee history, David Robertson has confirmed his status as an elite Major League reliever, and may very well have established himself as the new heir-apparent to the indomitable Mariano Rivera.
Robertson has had an electric arm with late life on his fastball and a wicked breaking ball for a few years, but command issues have always plagued him. Able to rack up huge strikeout totals, yet always haunted by walks, the 26-year-old righty has discovered a secret in 2011.
Though still struggling to lower his walk rate of 4.6 per nine innings, Robertson has found that free passes don't harm you as significantly if no one can hit you.
Over the course of 60.1 innings, in 63 appearances, Robertson has allowed a mere 37 hits, only nine of which have gone for extra bases. Opponents are hitting .172 against him, with a meager OPS of only .504.
Of course, he'd like that walk rate to come down, and his WHIP of 1.127 is inflated by too many walks, but his strikeout rate of 13.6 per nine innings, and stellar hit rate of 5.5 per nine both help to mitigate damage.
His 32 holds are tied with former Yankee Tyler Clippard for the most in Major League Baseball, as Robertson has established himself ahead of the absurdly well-paid Rafael Soriano in the New York bullpen hierarchy.
He is increasingly being mentioned as the potential in-house replacement for Mo, whenever the future Hall of Famer decides to retire.
In a perfect world, the Yankees would love to see him reduce that walk rate if they are to legitimately consider him as a candidate for that position, but both Frankie Rodriguez and Brian Wilson own career walk rates of four per nine innings, and it hasn't prevented either from maintaining elite closer status throughout their careers.
However, we'll cross that bridge when we get to it. The Sandman isn't finished yet.
Mariano Rivera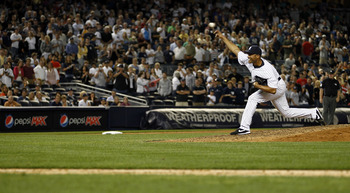 Jeff Zelevansky/Getty Images
Of course, any discussion of the Yankee bullpen begins and ends with one man, Mariano Rivera.
He may have lost a couple of miles per hour on the cutter, and has displayed the occasional signs of wear, but nothing unreasonable for a man nearing his 42nd birthday.
With an unshakable poise and impeccable command, the man known as simply Mo has continued to end games for the New York Yankees, and now stands only two away from the all-time saves record of 601 established by his contemporary, Trevor Hoffman.
Still converting saves at an 89 percent success rate, Mo has thrown in 58 games, completing 56 innings. His ERA of 2.09 is better than his 2.22 career mark. His unerring command has enabled him to walk only 1.1 per nine innings, also better than his career rate of two per nine. The 8.5 strikeouts per nine innings rate also beats his career average of 8.2.
Opponents are hitting only .222 against him, barely higher than his .211 career mark. Their .553 OPS is right near his .552 career rate.
Strangely, the dominant relief artist has been hittable with men in scoring position, allowing a .350 average and an OPS of .916 in such situations. That could be a troubling sign, or merely an anomaly associated with small sample sizes, something that is always a consideration when evaluating relief stats.
So, while he won't be used to toss 75 or 80 innings any longer, with a careful eye on his usage, Mariano is once again proving that he is capable of defying the rigors of age, while still performing at an elite level.
As the bridge to him has once again been strengthened, Mariano lies in wait for his bullpen mates to subdue their opposition before handing him the ball to finish the job with a surgeon's precision and the ice cold demeanor of an assassin.
Keep Reading

New York Yankees: Like this team?