2011 Fantasy Football: Week 2 Start 'Em
September 13, 2011
Rick Stewart/Getty Images
Whether Week 1 didn't pan out or you're still on track for that undefeated season, these are some guys who will bring success in Week 2.
I'm not in the business of naming the obvious, so I won't be listing guys like Aaron Rodgers, Adrian Peterson, Roddy White—players you should be starting on a weekly basis.
Here it goes:
Start 'Em QB
Matthew Stafford vs. KC—If Stafford can do what he did against the Buccaneers secondary (305 yards, 3 TD), he can certainly do at least that against a Chiefs secondary minus Eric Berry that gave up four passing touchdowns against the Bills.
Ryan Fitzpatrick vs. OAK—The Harvard alum went off against the Chiefs in Week 1, throwing for 208 yards and four touchdowns. It should be about the same story against a suspect Oakland secondary.
Rex Grossman vs. ARI—We saw what Cam Newton did against the Arizona defense last week. Grossman won't be as successful, but you should still start him with utmost confidence.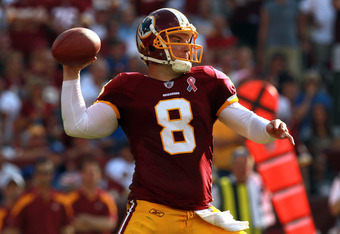 Ronald Martinez/Getty Images
Sleeper: Chad Henne vs. HOU—Henne exceeded everyone's expectations against New England on Monday night. The Texans defense probably isn't as good as the Patriots defense, so Henne should be a good start this week.
Start ' Em RB
Jahvid Best vs. KC—Best is a versatile running back who gained 114 total yards against a pretty solid Buccaneers defense. We all saw what happened to Kansas City's defense in Week 1, so Best should have a lot of success this week. 
Tim Hightower vs. ARI—Hightower had 100 total yards and a touchdown against the Giants in Week 1. Arizona still has a lot of work to do on their defense and Hightower will see a lot of green grass in front of him this Sunday.
James Starks @ CAR—Let's face it, Starks is a better option than Ryan Grant at running back for the Packers. He showed that against the Saints last Thursday. Even without Jon Beason, the Panthers defense wasn't very impressive. Starks should put up some nice numbers this week.  
Sleeper: Cadillac Williams @ NYG—With Steven Jackson out this week, Williams gets his chance to show that he can still succeed in the NFL. Start Williams as a flex if you don't have any better options.
Start 'Em WR
Plaxico Burress vs. JAC—Burress was surprisingly productive in his debut with the Jets against Dallas. The Jaguars defense is a good deal worse than the Cowboys, so Burress is a nice option in Week 2.
Santana Moss vs. ARI—Suddenly it's a good thing to be Rex Grossman's favorite and most reliable target. Arizona was terrible against Carolina's passing game on Sunday. Look for Moss to have a lot of opportunities in their secondary this week. 
Nate Burleson vs. KC—Burleson doesn't get a lot of attention because of Calvin Johnson, but he's still Matthew Stafford's second favorite target. The Bills had great success against Kansas City's secondary, and now that Eric Berry is gone, Burleson should put up some nice numbers in Week 2.   
Sleeper: Mario Manningham vs. STL—Manningham will be much more than a sleeper start if Nicks misses Week 2. He underachieved in Week 1 with four catches for 49 yards, so look for him to bounce back this week, even if an injured Nicks does play.
Start 'Em TE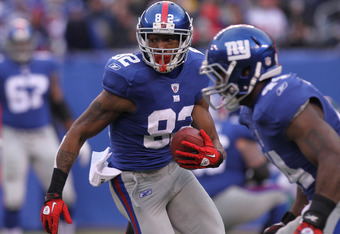 Nick Laham/Getty Images
Jermaine Gresham @ DEN—Gresham was one of the biggest pleasant surprises in Week 1, catching six balls for 59 yards and a score. He might not have that good of a game this week, but he's still a good start against Denver.
Dustin Keller vs. JAC—Despite the presence of Plaxico Burress and Santonio Holmes, Keller still saw his fair share of opportunities against Dallas in Week 1. He should continue his success against a mediocre Jacksonville defense.
Fred Davis vs. ARI—Davis surprised everyone in Week 1 with 105 receiving yards on five catches. He seems to be more involved in Washington's offense than we had originally anticipated. Pick up Davis and put him in your lineup against a week Arizona defense.
Sleeper: Evan Moore/Ben Watson @ IND—These tight ends scored the only touchdowns for the Browns against Cincinnati. They'll get their chances in the red zone this season and we all know the Colts defense can't stop anyone.
Start 'Em D/ST
Cowboys @ SF—The Seahawks defense actually did a pretty good job against the 49ers offense on Sunday. Most of San Francisco's production came from Ted Ginn Jr. on special teams. Dallas will put a lot more pressure on Alex Smith and have a chip on their shoulder after losing to the Jets in Week 1. 
Lions vs. KC—The Lions, for the most part, were impressive against a pretty good Tampa Bay offense. If the Bills defense can hold the Chiefs to seven points, then Detroit can certainly cause problems for Matt Cassell and Co. 
Sleeper: Broncos vs. CIN—The Broncos weren't very impressive on Monday night, at least against Oakland's running game. The Bengals will, at best, have Bruce Gradkowski under center, which doesn't really strike fear into the heart of many defenses. Denver will be focused on running back Cedric Benson and should be able to contain a young Cincinnati offense.