Cowboys vs. Jets: 5 Worst Parts About the Cowboys' Loss
Elsa/Getty Images
Last Sunday night's game drew the largest overnight ratings in the history of NBC's Sunday Night Football, meaning that many NFL fans watched as the Dallas Cowboys blew their two touchdown lead over the New York Jets.
For as many high points there were for the Cowboys to be proud of during this bout, there were just as many low points that cost them a Week 1 victory in the Meadowlands. Here are the five worst parts about the 'Boys opening game defeat.
Offensvie Line Breaking Down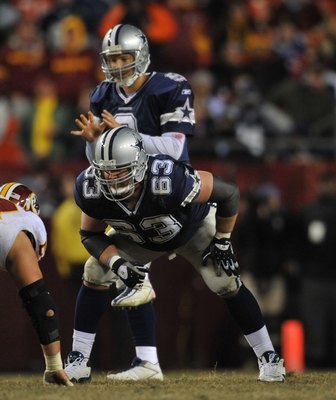 Larry French/Getty Images
In a game where the Cowboys offensive line was supposed to play mediocre based on inexperience, they came out and protected their quarterback throughout the majority of the first half.
Tony Romo had time in the pocket and made smart decisions through the first two quarters, but once halftime was over and the game became closer, the Dallas front-line began to crumble.
The line gave up four sacks last night and let the pressure get to Romo, when the Cowboys were in need of big plays from their offense. Rookie Tyron Smith's false start penalty on a crucial down didn't help much either.
Injuries to the Secondary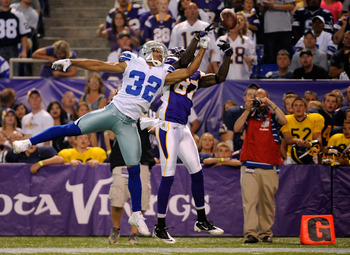 Hannah Foslien/Getty Images
To their credit, the Cowboys much criticized secondary came in and shut down Plaxico Burress, Santonio Holmes and Derrick Mason for much of this game.
When the injuries began to pile up however, the Jets passing attack began to become too much for the backups to handle.
Mike Jenkins was in and out of the game several times last night and Orlando Scandrick missed much of the second half due to an ankle injury. It's been reported that Scandrick will be out at least three to four weeks with a high ankle fracture.
The secondary was thin before coming into this Week 1 game, and now heads into next week even thinner.
Tony Romo's Miscues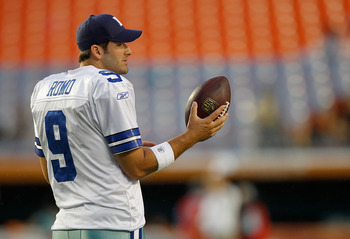 Mike Ehrmann/Getty Images
Ever since his first career playoff game against the Seattle Seahawks with the infamous botched field goal snap, NFL fans and analysts have pegged Tony Romo as the opposite of clutch.
Romo could have had all his naysayers eating a nice slice of humble pie this morning, but ultimately gave his haters more ammo with his fourth quarter meltdown.
The Eastern Illinois alum fumbled the football on New York's one yard line on a drive where the Cowboys needed to put at least three points on the scoreboard to theoretically seal the game.
Then, when Dallas was showing signs of life and perhaps a chance at still pulling out a victory, he chose to throw in the vicinity of Darrelle Revis.
The Cowboys quarterback was putting on a show throughout much of the game, posting 342 yards, two touchdowns and a 102 quarterback rating in his first game back since Week 6 of 2010, but his costly miscues will be all that people remember from this match-up.
Nick Folk Kicking the Winning Field Goal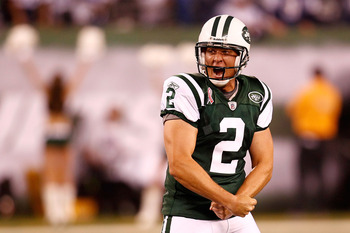 Jeff Zelevansky/Getty Images
Back in 2008 when Nick Folk had his 91 percent field goal conversion rate for the Cowboys, Dallas fans thought their kicker woes were finally over.
Folk came back in 2009 to convert just 18 of 28 kicks for the Cowboys, leading to his team dismissal. Two years later, he hits one of the most clutch kicks in his career against his former team.
As the Jets' kicker took his place on the field for the 50-yard attempt last night, many Cowboys faithful thought back to his several misses that cost their team games back in 2009, believing he would do the same Sunday night for the Jets.
Folk then hit the game winning field goal with less than 30 seconds left for his former team to respond.
Losing on National Television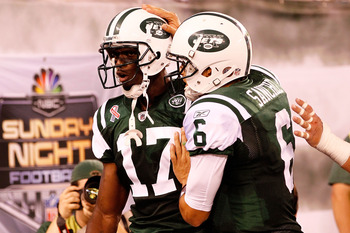 Jeff Zelevansky/Getty Images
It seems as if every time Dallas finds themselves on Sunday Night Football, some wacky, unfortunate play happens that costs them a victory.
Last night after dominating the first half, they had a fumble on the Jets' 1-yard line and had a punt blocked and returned for a touchdown.
In their three Sunday night game's last season, Dallas went 0-3 and have lost four of their last five overall.
For whatever reason, the Cowboys have had no luck winning their games on NBC in recent years.
Following the prime-time loss, Romo and the rest of the Cowboys should steer clear of newspapers and ESPN, as their loss is sure to get over-analyzed as this week goes on.

Keep Reading

Dallas Cowboys: Like this team?