7 Bold Predictions for the 2011 Jacksonville Jaguars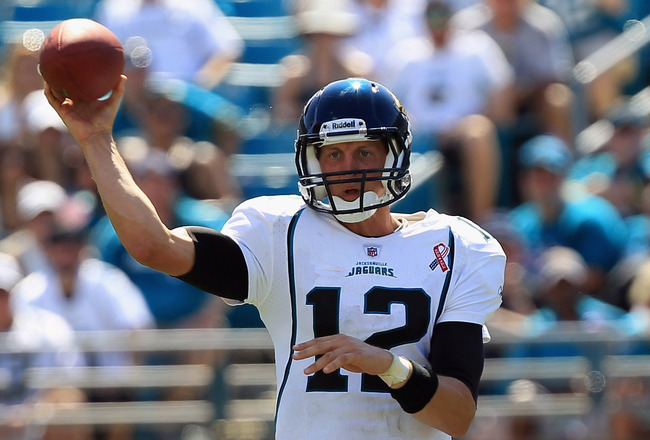 Streeter Lecka/Getty Images
The 2011 season promises to be one of change for the Jacksonville Jaguars. The team promised as much with the addition of numerous free-agents, the drafting of Blaine Gabbert, the releases of David Garrard and Vince Manuwai, and the stated expectations of owner Wayne Weaver that this must be a playoff team. Personally, I expect a mixed bag from the Jaguars this season. They will be a team that wins a few games they shouldn't win, and will also lose a few games they shouldn't lose. While you shouldn't expect the Jaguars to be a playoff team in 2011, you should expect this season to be one in which the future of the franchise is placed firmly in Blaine Gabbert's hands, many changes will be made, and the Jaguars firmly lay the foundation for what they expect to be in 2012 and beyond.
The Beginning of the End for Maurice Jones-Drew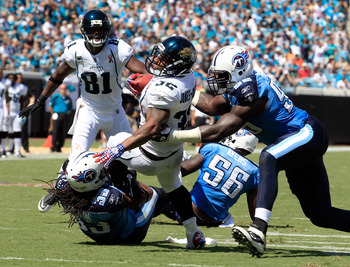 Sam Greenwood/Getty Images
Coming off a knee injury that caused him to miss two games in 2010 and nearly all of training camp in 2011, Maurice Jones-Drew may start to show signs of decline. The Jaguars have simply leaned too heavily on Jones-Drew, who has nearly 700 total touches in his last 30 games.
Furthermore, the player said by Jack Del Rio to relieve Jones-Drew's workload, Rashad Jennings, has found himself on injured reserve and out for all of 2011. Also, I find it interesting to note that Jones-Drew lost 15 pounds during the off-season. Is this a sign of his own admission that the 2010 knee injury caused him to lose a step, and his attempt to get it back?
Unfortunately, if this is the case, any speed he picks up by losing weight will be difficult to notice as he gets battered behind one of the most disappointing offensive lines during the 2011 training camp.
Cecil Shorts Will Supplant Jason Hill as a Starter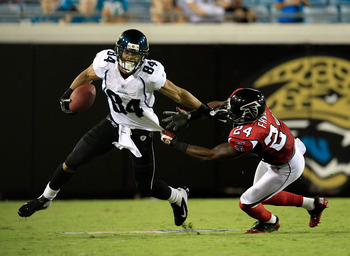 Sam Greenwood/Getty Images
Cecil Shorts, the Mount Union product selected by the Jaguars in April's draft, will have an opportunity to see the field early and often.
In fact, look for him to take Jason Hill's job alongside Mike Thomas as the Jaguars' number two receiver. While Hill hasn't necessarily played poorly, Shorts is clearly the better route runner and arguably has the best hands on the team.
Add into the equation that Blaine Gabbert has developed excellent rapport with Shorts, and it is easy to believe he may even be the Jaguars number one weapon by season's end.
Even as a rookie, Shorts is clearly much more polished than any other receiver on the roster.
Jeremy Mincey Will Lead the Team in Sacks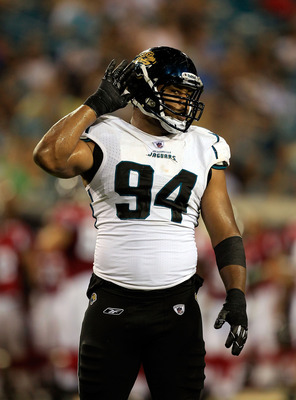 Sam Greenwood/Getty Images
The feeling in Jacksonville is that 2011 could be a breakout season for Jeremy Mincey. The former Florida Gator and New England Patriot showed signs of vast improvement in the preseason, having harassed both Matt Ryan and Sam Bradford in games where he had the most action. The Jaguars need another defensive end to emerge opposite Aaron Kampman, and Mincey will be that player. Look for Jeremy Mincey to lead the Jaguars with 8-10 sacks in 2011.
Eugene Monroe Will Prove to Be a Bust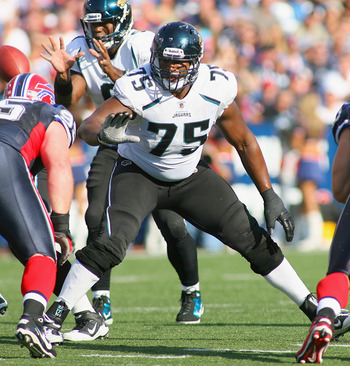 Rick Stewart/Getty Images
Eugene Monroe dropped to 275 pounds during the off-season, and may likely only be 285 or 290 by opening day. While the reason for this is unsure, some believe Monroe felt he would play better at a lighter weight.
The opposite occurred.
Monroe could have used the weight during the preseason as he was clearly dominated in every game by an assortment of pass rushing moves than make fans in Jacksonville wonder if he is truly capable of being the Jaguars left tackle. Monroe has reportedly been told to gain additional weight by Gene Smith, but the concern remains whether Monroe can block anyone regardless of his weight.
Tyson Alualu Will Be in the Pro Bowl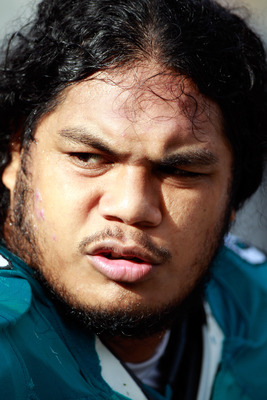 Sam Greenwood/Getty Images
Tyson Alualu was clearly the most improved player in Jaguars' camp, and is showing signs of being a truly dominant defensive force.
While Alualu's playing time was limited, when he was present in the starting lineup the Jaguars' defense looked completely different. Jacksonville hurried and pressured Matt Ryan, with Alualu and Jeremy Mincey battering him before giving way to second-teamers.
If this is any indication, look for Tyson Alualu to assert himself as a top five defensive lineman in the AFC, and a likely Pro Bowl selection.
Blaine Gabbert Will Start at Least 10 Games
Sam Greenwood/Getty Images
There are two ways Blaine Gabbert can supplant Luke McCown as the starting quarterback in Jacksonville. I believe both will happen. Not only will Blaine Gabbert be capable of out-performing McCown by week six, but McCown has also shown the propensity for injury during much of his career.
I look for the trend to continue, and Blaine Gabbert to be under center by week seven. While this may not be the best thing to happen for immediate success in Jacksonville, look for an improved offense behind Gabbert's leadership to emerge in the second half of the season.
Jack Del Rio Will Keep His Job Despite a Losing Record
Streeter Lecka/Getty Images
Prior to the lockout, owner Wayne Weaver stated that changes would be made if the Jaguars failed to reach the playoffs in 2011.
I don't buy it, and neither should you.
With the strangeness of the off-season due to the lockout, the release of David Garrard, a difficult schedule, and an eventual transition to Blaine Gabbert under center, Jaguars' owner Wayne Weaver will hesitate to send Del Rio packing. There will be enough unique circumstances surrounding 2011 that Weaver will feel obligated to give Del Rio one more season, with an experienced Gabbert, to make good on his playoff promise.
While regime changes typically coincide with new quarterbacks, it makes little sense to fire a coach after only one season with a franchise quarterback. While many thought drafting Gabbert was a death knell for Del Rio, it may end up being the biggest factor in Weaver's decision to bring him back in 2012.
Keep Reading

Jacksonville Jaguars: Like this team?