The NFL Was Right. Everyone Came Back to Football.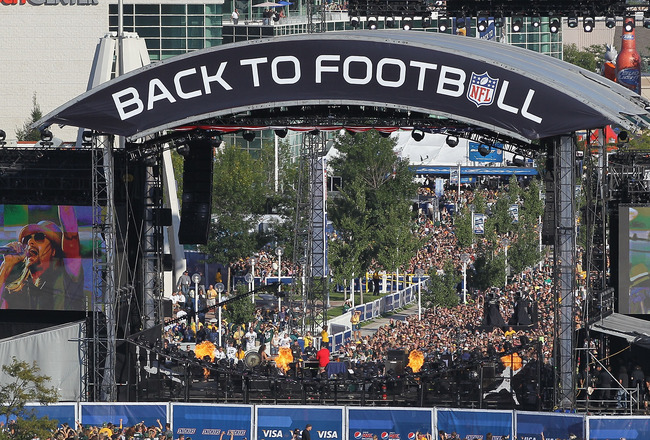 Jonathan Daniel/Getty Images
When the NFL rolled out its marketing campaign in advance of the 2010 season, they touted a series of commercials with the catch phrase "Back to Football."
Simple as it sounds, the original Back to Football campaign was brilliant marketing, getting people focused on football at a time when so many kids (and parents) were preparing for back to school. It's September, which means the summer is over and it's time to go back.
One of the original Back to Football commercials, seen below, made us feel like the start of football season was fans' collective Christmas, going up into a box in the attic to get the decorations out.
Last season, the concept of Back to Football was focused on the mentality of the fan. As much as we (read: kids) hated going back to school, heading back to football at the same time of year made it tolerable, if not even more exciting. September isn't ever as bad as we remember it during the summer, especially when football is back! It flipped the whole back to school malaise upside down, turning Back to Football into something we longed for, not dreaded. The first week of the season; where everyone is undefeated. It was genius.
This year, Back to Football had very little to do with the fan mentality heading into September. Sure, they used the same words, but Back to Football didn't mean nearly the same thing after the long, protracted, public offseason battle between the league and players' association. Back to Football wasn't a fun play-on-words to rekindle the spirit of September. Back to Football was a political slogan. Back to Football was "Yes We Can," with each word underlined in eye black.
During the lockout, all you heard from the league side (okay, not all you heard, but a lot of what you heard) was talk about getting "back to football." They kept pounding that mantra home, and the marketing slogan somehow took root inside the public debate between players and the league. Look at how the advertising changed between last year and this year.
Simply adding, "it's good to be back" to the Back to Football commercials completely changed the campaign, and the entire point of the slogan. Back to Football was no longer about fans, it was about the players being back and the league being back and the business of football being…back.
But was it ever gone?
To most NFL fans, did football really go anywhere? There was more attention paid to this off-season than ever before. They still held the NFL Draft in all its pageantry. They still opened up free agency, albeit later than in previous years, which actually created more excitement around that time in the league calendar. Sure, we missed some off-season programs, which the players hate anyway. And yes, the preseason was truncated, something both the players and fans hate, as well.
So if you think about it, football was really never gone, and it really never was going to be gone. In fact, the public negotiations between the NFL and NFLPA seemed to be less about the actual terms being negotiated and more about reminding the fans that the world would be worse off if they weren't able to get back to playing on time. It was like two bullies fighting in the schoolyard over our lunch money, and it feels more and more like we're happy to willingly hand it over day after day, knowing that eventually they'd figure out a way to split the money and go get milkshakes together.
This lockout felt different the entire time. Sure, it was odd to see Tom Brady and Drew Brees in suits instead of pads, but this didn't feel like past labor stoppages. This certainly didn't feel like the current NBA lockout and it didn't feel like any of the work stoppages from decades past in the NFL, NBA, NHL or MLB. Those work stoppages cost us (fans) games. We had to watch Scabs play. We lost a World Series. We lost nearly half an NBA season and an entire NHL season. You can't blame fans for being slow to return to a product that wasn't there for them.
Throughout all the public grandstanding, this lockout never felt like that. Maybe those with knowledge of the negotiations feel differently, but it never felt like the NFL was going to let fans miss real games. Back to Football always felt more like political stumping than negotiating.
The NFL was never not going Back to Football. There was too much at stake.
Thursday night's season opener between the Packers and the Saints drew the second-largest crowd for a season opener in NFL history and was the second-most watched regular season game in the last 15 years. Thursday night's game had 27.2 million people come Back to Football. From a ratings standpoint, there was no backlash at all following the off-season of turmoil.
It was really never about being Back to Football as much as it was about being back to the business of making money, through football. How hilarious was the visual of an enormous music stage a few hundred yards from Lambeau Field with a giant sign overtop proclaiming we're "Back to Football" while Kid Rock performed underneath. What about that speaks to be back to anything resembling football, exactly?
They could have put Kid Rock on that stage or a bunch of kids playing with rocks (note to NFL: that would have been more entertaining) and everyone would have watched. Everyone came Back to Football.
If this week's Sunday and Monday ratings are any indication, there's a case to be made that not only did the lockout have zero negative impact on people coming back to watch games, the lockout may have created more buzz and generated more excitement about the start of the season. We could be looking at a lockout ever year if it means more attention going to the NFL. Back to Football could never be so valuable.
This article is
What is the duplicate article?
Why is this article offensive?
Where is this article plagiarized from?
Why is this article poorly edited?