2011 Tampa Bay Buccaneers: The Good, the Bad and the Ugly Versus Detroit Lions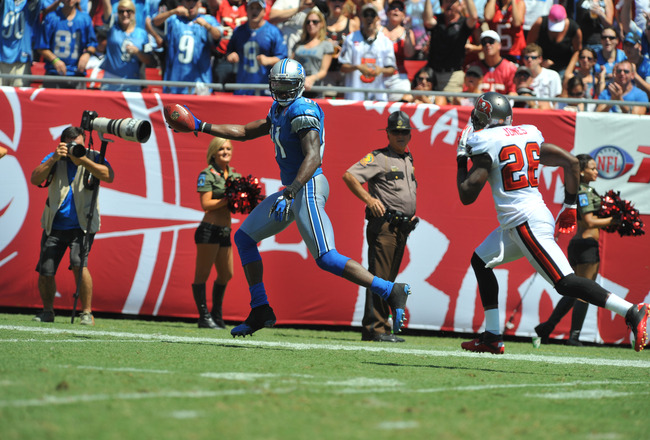 Al Messerschmidt/Getty Images
The final score is nowhere near indicative of the bashing the Tampa Bay Buccaneers received at the hands of the Detroit Lions, losing 27-20 in front of a crowd of 51,274.
Both the offense and defense looked uninspired, lethargic, and unprepared to play against a Lions team many are predicting will finally break into the postseason.
For the Buccaneers' sake, they ought to hope for Detroit to earn a playoff berth, or else this loss looks much worse than what's already presented.
While no one really stood out, there were a few positives—namely wide receiver Mike Williams and his spectacular touchdown grab in the fourth quarter, as well as Kellen Winslow, who snagged six catches for 66 yards.
But there were too many mistakes and miscues, and the Buccaneers are quickly in the loss column.
Who were the Good? The Bad? And the Ugly in Sunday's loss?
The Good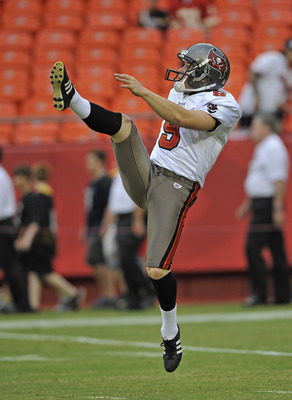 Peter Aiken/Getty Images
Michael Koenen
This one can't taste good, Bucs' fans.
The punter/kickoff specialist is in the "Good" column?
If not for Michael Koenen, the Lions might have been playing with a much shorter field, and the Bucs' defense could ill-afford having them start a drive near or on the 50-yard line. Not that it mattered much anyway, but we'll discuss the defense a little later on.
Koenen was 3-for-3 in touchbacks and averaged 52.2 yards per punt, laying one inside the 20.
He did what he was paid for. And that's all fans can ask of Koenen.
Pass Rush
Although Lions' quarterback Matthew Stafford was never sacked, he was pressured the majority of the game.
The Bucs' front four looked much more violent and played with more purpose than a season ago.
Buccaneer fans got to witness rookie defensive end Adrian Clayborn either put pressure or hit Stafford multiple times throughout the contest, but there's no recognition for coming close.
Still, it's something for the young rookie to build on—as well as the rest of the defensive line.
Michael Bennett, Dekoda Watson, and Gerald McCoy all had a hit or a hand in Stafford's face, but Stafford's instincts kicked in and he was able to release the ball every time.
Honorable Mention: Aqib Talib
Remember, Aqib Talib barely participated turning training camp and didn't play in any of the Bucs' preseason games due to a bad hamstring.
Taking an interception to the house and doing what he did against Calvin Johnson is admirable. He'll get better as the season goes on.
The Bad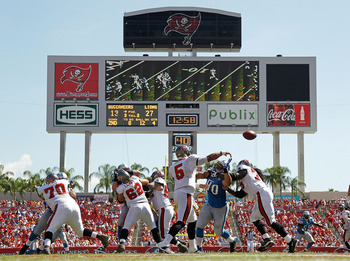 Mike Ehrmann/Getty Images
Offensive Line
Everyone's fear came true: the Bucs' offensive line was below average—if that—against Detroit.
Quarterback Josh Freeman was sacked twice, and the running game was nonexistent, gaining 56 total rushing yards—26 of them by Freeman.
The running lanes weren't created, and Freeman threw off of his back foot on a few occasions, was knocked to the ground multiple times, and the pressure didn't let up until Detroit had a comfortable lead.
Could Freeman have been a little quicker with his decision making? Absolutely. He doesn't get much of a pass on the loss, but the offensive line needs to do a better job protecting its quarterback.
Is the Lions' secondary better than a season ago? Possibly. Detroit game-planned better, and the proper adjustments weren't made to the offensive line. Offensive line coach Pat Morris has to shoulder some blame.
LeGarrette Blount
Why wouldn't LeGarrette Blount be part of the Buccaneers' passing game? Is he having that much difficulty learning how to pass protect?
Defenses now know Blount is a liability on passing downs, which is a major offensive deficiency. Allowing Earnest Graham to get all of snaps in passing situations is such an schematic oversight that an adjustment needs to be made immediately.
Forget Blount missed holes when they were available on first and second downs. The concern here is Blount isn't allowed on the field on passing downs. He caught the ball well in a preseason game against the Miami Dolphins, so why isn't he available next to Freeman in the shotgun formation?
I'm guessing he cannot grasp how to pass protect. If that's the case, opposing defenses will have an easier time planning against Tampa Bay's offense.
Honorable Mention: Secondary
Talib did his job. He didn't do the greatest job, but the rest of the secondary didn't help him either.
Sean Jones was out of position when Stafford hit Johnson directly over Talib's fingertips in the second quarter, and Cody Grimm was a yard away, staring at Tony Scheffler when he crossed the end zone.
The Ugly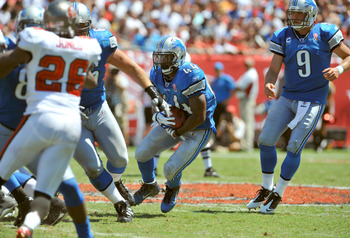 Al Messerschmidt/Getty Images
Defense
Giving up drives of 76, 70, 80, 84, and 70 in five of Detroit's seven first-half possessions means the defense has a ton of room for improvement.
Check that: the defense is awful.
Blaming youth is a bad excuse. Whose fault is that? The organization had its chances of bringing veteran defenders in to fill important roles.
The NFC South
Went 0-4 opening weekend. Definitely ugly.
Honorable Mention: First Half Time of Possession
Detroit: 21:45.
Tampa Bay: 8:15.
'Nuff said.
Next Up: Minnesota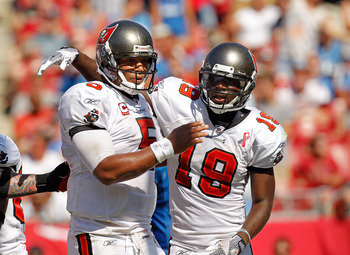 Mike Ehrmann/Getty Images
No one ever won a Super Bowl in September, and the Buccaneers are far from pushing the "panic" button, but there are concerns that need to be addressed or else this will be an extremely long season for the Pewter Pirates.
Keep Reading

Tampa Bay Buccaneers: Like this team?