2011 NL MVP: Justin Upton Deserves the Hardware, Not Matt Kemp
September 11, 2011
Christian Petersen/Getty Images
I published an article yesterday in which I attempted to make a case for each NL MVP candidate. To my surprise, I received plenty of backlash regarding comments I made stating that Matt Kemp does not deserve to be the MVP.
I firmly believe that the MVP Award should go to a player that leads his team at least into contention down the stretch. The Dodgers haven't played a meaningful game since May.
This doesn't mean that Kemp needed to take the Dodgers to the playoffs to earn MVP consideration, but at least have them in the running heading into September.
Back in 2006 after losing out to Ryan Howard for MVP, Albert Pujols had this to say. "I see it this way: Someone who doesn't take his team to the playoffs doesn't deserve to win the MVP."
While I understand his point, I don't necessarily believe a player needs to lead his team to the playoffs—but a true MVP can lead a bad team to a decent record while at least having a chance at the postseason.
I had no issues with Ryan Howard taking home the hardware over Albert Pujols in 2006, even though Pujols went to the playoffs while Howard and the Phillies had an extra-long winter. However, the Phillies finished only three games back of the NL Wild Card, so they were actually in the race until the very end.
The same happened with Pujols getting the honors over Howard in 2008. The Phillies would win the World Series while Pujols' Cardinals finished just four games back of the Wild Card spot.
Do you see a trend here?
Matt Kemp is having a phenomenal season, there is no denying that fact. Yet, the Dodgers have been at least 10 games back of a playoff spot for most of the season, and they just got their record back to .500 yesterday. To me, that does not make a player MVP-worthy.
People will say it's not Kemp's fault that he plays on a poor team, but how many of you can honestly say that you picked the Arizona Diamondbacks to finish ahead of the Dodgers in the NL West? And in first place, nonetheless? As far as I was concerned, the Diamondbacks were still in rebuilding mode heading into the 2011 season.
If the panel votes for the MVP based solely on statistics, then the award should really go to the Milwaukee Brewers' Ryan Braun. Kemp and Braun have strikingly similar stats on the season, with Kemp narrowly leading in home runs, RBI and stolen bags.
Braun, however, has a shot at the batting title, along with more doubles and triples. Braun is also far and away leading the National League in slugging percentage and OPS.
Based on those stats, how does Kemp deserve it over Braun, especially seeing Braun has the Brewers all but guaranteed to win their first division title since 1982? It's simple—he doesn't. That is why the MVP should not be determined solely on stats.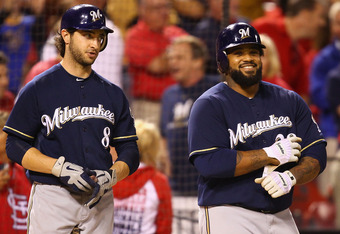 Dilip Vishwanat/Getty Images
If we look deeper into each MVP candidate, we can see that Braun has the benefit of batting in front of another MVP candidate in Prince Fielder. Without Prince in the lineup, Braun surely wouldn't be getting some of the pitches he's getting. That's not to say he's not deserving of the award, but it all depends on the competition he's up against for the award.
This is where Justin Upton comes into play. Similar to Braun and Kemp, Upton is a five-tool star who helps his team in every possible way. He's reached 30 home runs for the first time in his career and has passed the 20 stolen base mark on the season.
Upton leads his team in every offensive category, and it's not even close. He truly is the Diamondbacks offense. If you take him out of their lineup, the Diamondbacks go from first place to last place. That's what makes someone a Most "Valuable" Player, isn't it?
Sure, if you take Kemp out of the Dodgers lineup then they fall from third place to last place—but in no way is that the same. How "valuable" is a player, actually, that "leads" his team to a third place season with a .500 record? Again, that's not to take anything away from the season Kemp is having, but that is a real question that needs to be asked.
Looking back at Pujols' MVP seasons, it's fairly obvious that if he's not in the Cardinals lineup, they are by no means a competitive team. That is the effect Upton has had on the Diamondbacks this season, and it would be a shame if he's not rewarded for it.
Jeffrey Beckmann is a MLB Featured Columnist for Bleacher Report. Follow Jeffrey on his new Twitter account for all of his latest work. You can also hear him each Friday at 1 p.m. EST on B/R Baseball Roundtable.