Philadelphia Eagles Dream Team: 4 Reasons They're Still a Year from Super Bowl
Jim McIsaac/Getty Images
The Philadelphia Eagles are regarded as a "dream team" and the team to beat these days. But while their talent is undisputed, it does not guarantee them a championship. Super Bowls are not won on paper but on the field, and the Eagles must truly cooperate as a team if they wish to hoist up the Vince Lombardi trophy.
And as much as I'd like to see the Birds finally win a Super Bowl, there are signs that this season, while a contending year for sure for the Eagles, may not yet be the year.
Here are four reasons why the Eagles are still a year away from the Super Bowl.
1) Shortened Offseason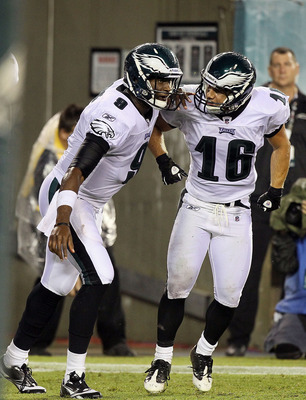 Jim McIsaac/Getty Images
The lockout has ended, but it has taken up a significant chunk of time away from training camp. And while this hurts young teams with young quarterbacks, it also hurts teams like the Eagles.
The Eagles have went on a free agent spending spree, but all the talent in the world means little if the team does not have enough time to gel and develop rapport.

It is very possible that the Eagles, similar to the Green Bay Packers last season, will start slowly and then pick up in time to make a deep playoff run (and win the Super Bowl). But it is more likely that the team will need a full season to develop chemistry and be primed for a run in 2012.
2) Many Rookies in Key Roles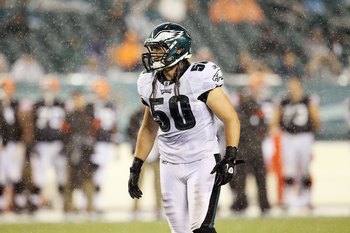 Jim McIsaac/Getty Images
What many do not realize about this "dream team" is that for all the veteran stars, there are many inexperienced rookies playing a key role on the roster. Danny Watkins is playing the right guard spot, Jason Kelce is playing center and Casey Matthews is manning the middle linebacker position.
As shown by the 2009 season, a center can make a huge difference to the continuity of an offense, and the right guard position is crucial as well, as it is near Vick's blind spot. Middle linebacker too is a very crucial position, particularly as the Eagles appear to be a bit thin on run defense.
These rookies all have potential but are still rookies. They may need a year under their belts to weed out bad habits and gain experience.
3) Still Holes on Team That Must Be Fixed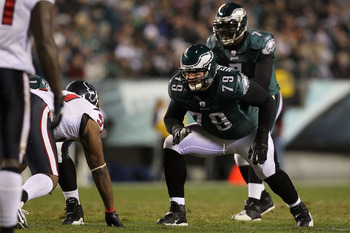 Jim McIsaac/Getty Images
Yes, the Eagles beefed up the defensive line with Cullen Jenkins and Jason Babin. Yes, the Eagles now boast three Pro Bowl cornerbacks on their roster. But other than that, the Eagles still have many holes to be filled.

The linebacker corps is mediocre, if not weak. The offensive line has many problems, with a borderline Pro Bowl left guard Todd Herremans now being asked to play right tackle. And as great as the cornerbacks are in the secondary, the safeties are still cause for concern.

Every team has weaknesses, but those are very crucial ones, especially when a good offensive line can be the difference between a healthy Vick and a hurt Vick. Another offseason to fix those holes would make the Eagles a truly formidable team.
4) Overall Lack of Experience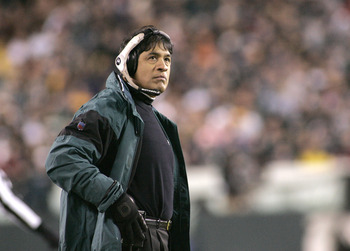 Joseph Labolito/Getty Images
In the end, despite this team being one of the most talented in the NFL, this Eagles team is still weaker than the 2004 Philadelphia Eagles team that made the Super Bowl due to the overall lack of experience.
While Donovan McNabb and Co. were making consistent deep postseason runs, Vick has only been on the Eagles for one season. There are many young players on the roster still. Defensive coordinator Juan Castillo is in his first season as defensive coordinator.
The best talent often cannot beat years of veteran experience. While the team may not require four years of postseason appearances that McNabb's teams had back in the day, they will likely still require a bit more baptism under fire to truly become a Super Bowl caliber team.
Keep Reading

Philadelphia Eagles: Like this team?