Houston Astros and a shortcut to competitiveness in 2012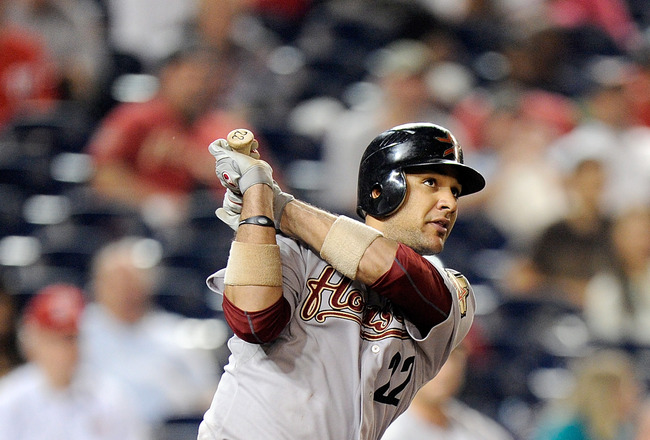 Competing may seem like a pipe dream now, but there are shortcuts that are within their reach.
Greg Fiume/Getty Images
Most fans and analysts believe the Houston Astros will be bringing up the rear in the NL Central again in 2012. Honestly, the odds weigh heavier there than in a rebound. However, there are some things the Astros can do within their budget to compete sooner than you think. In fact, they are already on the right track with many of the moves they've already made.
However, before we can move onto the slides we have a few things to iron out. The Astros have had four bad seasons in five years. The mistake they made earlier was believing that 2008 was a promising campaign. It was a mirage in more ways than one. For a team with a $60 million payroll, big arms and big bats are probably out of reach. However, there are a few small things they can do to improve their odds. First, let me throw in some stats.
Year DER Rank ERA Rank
2007 .685 11 4.68 12
2008 .697 4 4.36 8
2009 .677 16 4.54 13
2010 .680 14 4.09 10
2011 .681 15 4.49 16
For the uninitiated, DER stands for defense efficiency rating. It is the inverse of batting average on balls in play (BABIP). Unlike some other advanced metrics, it is not doctored at all. It is a simple percentage of the balls in play (not home runs, strikeouts, or walks) that turn into outs. It cannot be manipulated. As the kids say, it is what it is.
Well, the last five years have demonstrated that the Astros are not good at fielding. If their fielding were even league average, they would be better than average in terms of team ERA. So, if you want an average pitching staff, then get to more balls. Well, let's see how next year stacks up.
Catcher: Humberto Quintero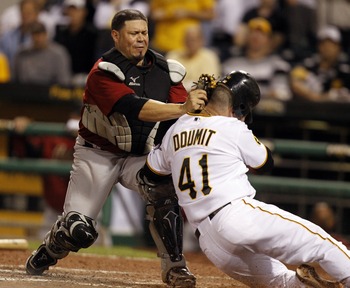 Quintero may not be much of a hitter, but he has always been a plus defender.
Justin K. Aller/Getty Images
Humberto Quintero is a backup catcher masquerading as a regular. Jason Castro is supposed to be the everyday catcher, but he is returning from an ACL tear. He should be ready, but that is a serious injury for someone that has to squat for a living. If Castro returns to form, he should be a great defensive catcher. Having Quintero as a security blanket is great.
First Base: Carlos Lee vs. Brett Wallace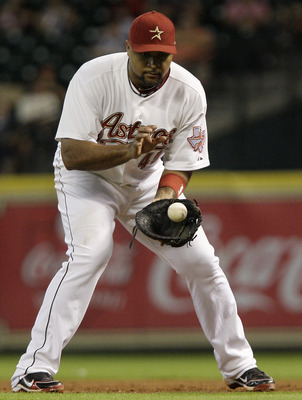 Carlos Lee actually is a decent defensive first basemen.
Thomas B. Shea/Getty Images
Brett Wallace has been a neutral defensive first baseman this season, but his minor league history suggests he should be below average. Carlos Lee has been a butcher in left field (save for this season), but he has been above average in two different trials at the position. His lack of speed is minimized and he always has had decent reflexes. Wallace is also big, so quickness is probably a wash.
Second Base: Jose Altuve vs. Jeff Keppinger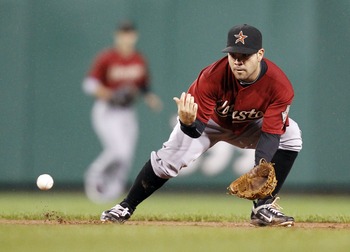 Jose Altuve won't make anyone forget Roberto Alomar, but he is solid defensively.
Justin K. Aller/Getty Images
Jose Altuve has been neutral defensively since coming up. He has been up for over a month, so it is time to take the results and extrapolate something. Jeff Keppinger could possibly be the worst fielding second baseman in the National League. He had a minus-10 rating according to John Dewan's fielding bible while in Houston. Jose Altuve has a zero rating so far.
Of course, Keppinger is the Giants' problem and Altuve has a promising career in front of him.
Third Base: Jimmy Paredes vs. Chris Johnson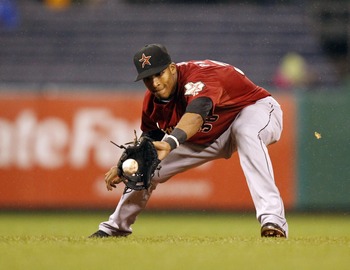 Jimmy Paredes has only been playing third base for a few months, but he's already better than Chris Johnson.
Justin K. Aller/Getty Images
Sometimes it's hard to imagine what Chris Johnson brings to the table. He hits for a little power, but he strikes out a lot, doesn't draw walks, and looks like a stunt double from Edward Scissorhands. His minu-24 rating is only better than Mark Reynolds in the big leagues and is worse than any regular third sacker in the National League.
Johnson had a .386 BABIP last year before he crashed to earth this season. He has a very respectable .307 BABIP this season. Why is this important? Paredes has a .386 BABIP this year in Houston. So, is he destined to go down a similar road? Well, at least he will likely play a solid third base.
Shortstop: Clint Barmes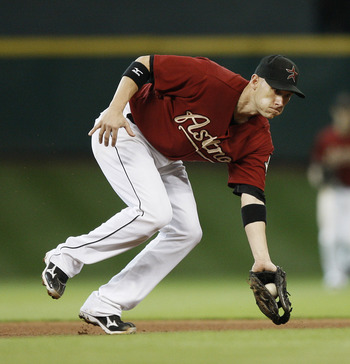 Barmes has quietly put up a brilliant year with the leather.
Bob Levey/Getty Images
Clint Barmes is a great example of why the new defensive metrics are so valuable. Ask anyone who the best defensive shortstop is in the National League and no one will mention his name. However, the fielding bible data has him on pace to reach plus-20 in plays. His former teammate Troy Tulowitzki might be the Gold Glove winner this year. However, Barmes has been better this year and arguably should be the winner. He also has a .700-plus OPS. Mark one down for Ed Wade.
Left Field: J.D. Martinez vs. Carlos Lee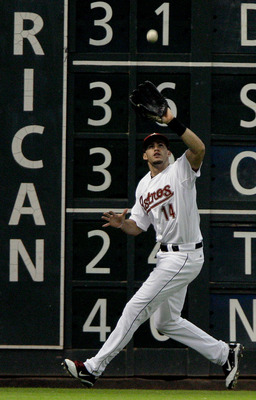 Martinez isn't known for his defense, but he has been a pleasant surprise.
Thomas B. Shea/Getty Images
Carlos Lee has quietly had his best all-around season in Houston. His 2007 and 2008 seasons were better campaigns with the bat, but he currently has a plus-6 rating in left field. He also has been above average at first base. Let's just say that the odds are slim that he will repeat that.
J.D. Martinez, on the other hand, is on pace to have a plus-10 rating if he were to play a full season. That isn't likely either, but if you had to pick one that could at least be neutral in 2012 you would have to go with Martinez.
Center Field: Jordan Schaefer vs. Michael Bourn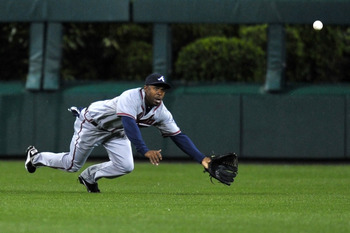 Michael Bourn will actually win a third Gold Glove, but he hasn't deserved it this year.
Drew Hallowell/Getty Images
Jordan Schaefer won't be able to duplicate what Bourn typically does with the glove, but Bourn has been neutral this year. Schaefer should be able to be to do that next season, so in terms of 2011 performance, they shouldn't lose anything.
It should also be mentioned that the Gold Glove awards are poor indications of fielding because voters often go by past performance. Bourn has been one of the best defensive outfielders in the National League, but not this year.
Right Field: Brian Bogusevic vs. Hunter Pence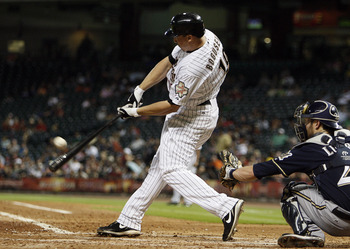 Most thought Brian Bogusevic would be a reserve, but he is the prohibitive favorite to be the right fielder.
Bob Levey/Getty Images
If the Astros finally jettison Jason Michaels after the season then it will be a three-way battle for playing time in right field. Brian Bogusevic looks like the guy right now, but it could just as easily be Jason Bourgeois or J.B. Shuck. Bourgeois would probably be above average in right field and Shuck should be solid as well. Hunter Pence was normally very good, but Dewan had him as below average this season. Sometimes people go through fielding slumps as well.
Keep Reading

Houston Astros: Like this team?