Denver Broncos' Running Back by Committee Benefits Willis McGahee
September 10, 2011
Christian Petersen/Getty Images
The recent decision by Broncos offensive coordinator Mike McCoy to utilize the running back that is more effective given the circumstance has created an issue for fans and fantasy owners alike after Knowshon Moreno was assumed to be the featured back in his system.
This new approach has created a running back by committee situation in Denver that will severely effect Moreno owners more so than those who have McGahee filling a roster spot.
This new approach is one that is never welcomed by fantasy owners and fans should also show reason for concern.
In the real world what this decision has accomplished creates an imbalance and uncertainty in the offensive system and could prove more problematic for the Broncos than other teams playing them.
Coming into this year, John Fox has intended to rattle the cages and bring this team out of the neutral state they have been in and lead them back to their former winning ways.
Separate from the Tim Tebow soap opera that he has been a part in, Fox has made it known that he has high demands from his players and will look to incorporate a more rugged "smashmouth" type of attack on both sides of the ball.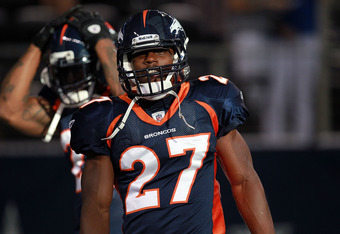 Ronald Martinez/Getty Images
In this case, although both backs are capable players, it prevents a player like Moreno from getting into a rhythm which lends itself to ineffectiveness and higher probability for injury.
Willis McGahee was brought in to provide a player who would be capable of handling third down work, receiving duties and goal line touches to help an ailing Broncos red-zone offense.
This preseason, McGahee has shown that he has plenty of tread left on his tires and could handle an increased workload to help the Broncos win.
Knowshon Moreno has also proved effective  in rushing this preseason and although he did not reach the end zone, showed he was primed to be the main rusher for the ground game.
I don't disagree entirely with the approach, but I do have concerns about the behind the scenes effects that it has.
The psychological aspects could do more damage than benching a player outright, and a reversal in offensive philosophy by the coaches can lead a player to question himself and the trust he places in the coaching staff.
While competition does foster the environment which encourages players to improve and perform, in some cases it has the reverse effect, and for Moreno I have a concern that this may apply to him.
Willis McGahee is a proven veteran and should be the player that benefits from this move and it may allow him to establish a campaign to overtake Moreno as the feature back.
McGahee fits the John Fox "smashmouth" attitude and Fox is known to favor veterans over his younger staff as we had seen in Carolina before his dismissal.
McGahee has averaged over 125 carries a year in the past three seasons and should see closer to 200 this year in Denver.
If this committee work fails, you can thank the coaching staff for another case of imposing their preferences onto this team.
It remains to be seen how this will pan out, but if it fails it will cost the Broncos games that they could have won and they may not be able to recover if they plan on pushing for the playoffs.