Philadelphia Phillies: 25 Things They Must Figure Out Before End of Season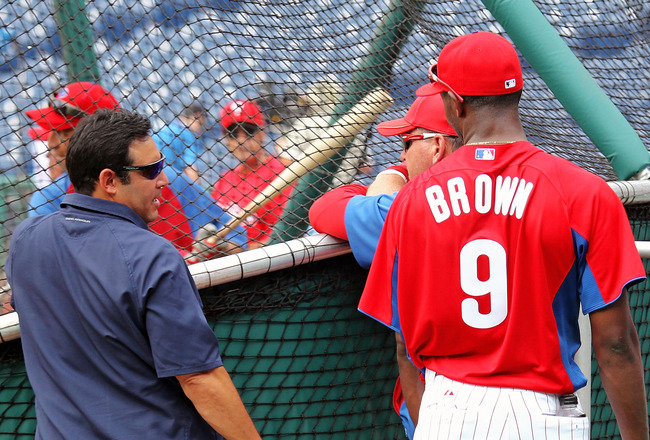 Len Redkoles/Getty Images
The Philadelphia Phillies are on a roll. They're the best team in the majors at 94-50 and their magic number to claim their NL East division title for the fifth straight year is five, the lowest in any division in baseball.
Since day one of spring training, Phillies fans have been anticipating the season and what it would bring. Their ace-studded rotation consisting of Roy Halladay, Cliff Lee, Cole Hamels, and Roy Oswalt has lived up to the hype despite Vance Worley taking the place of the oft-injured Oswalt.
While the question of right fielder Jayson Werth's replacement has been answered, albeit with the initially-unexpected Hunter Pence, there are still many lingering questions that the Phillies and their fans want answered by the end of the season. Whether on or off the field, these questions must be answered, and today we'll try our best to answer them as accurately as possible.
Here are 25 questions the Phillies must figure out before the end of the season.
Who to Bring Up from the Minors for the Month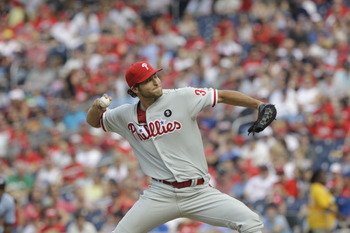 Rob Carr/Getty Images
Although the Phillies are cruising along and are close to clinching their division, many players are gradually wearing down and need rest. Players like Ryan Howard, who has bursitis in his foot, have been receiving plenty of rest recently in order to be ready for the postseason.
While John Mayberry, Jr. and Ross Gload have filled in for Howard at first base during his occasional time off, both Mayberry and Gload are also potential postseason roster players. That means that they could possibly need yet another replacement, and that guy could come from within the organization.
Sure, I'm using first base as an example, and the Phillies don't have major-league ready talent at first base in their system at the moment. However, at positions such as shortstop, third base, the outfield, and the bullpen, there are some players who we could see make their major-league debut or simply return to the majors once again.
We've already seen bullpen pitcher Michael Schwimer called up from Triple-A, and he might not be the only call-up we see this month. Shortstop Freddy Galvis, third baseman Carlos Rivero, outfielders Domonic Brown and Scott Podsednik, and bullpen pitchers Justin De Fratus and Phillippe Aumont are very close to major-league ready (aside from Brown and the veteran Podsednik, who have both played in the majors before). Should the Phillies clinch their division soon, any combination of these players could be called up for the remainder of the month and used down the stretch to give the regulars rest for the postseason.

The State of Chase Utley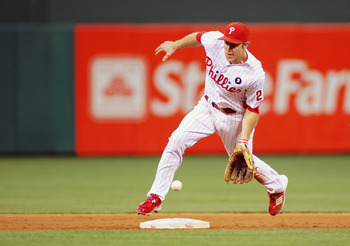 Len Redkoles/Getty Images
The fact that Chase Utley has even played at all this year has been a pleasant surprise.
Utley, who started out the season on the DL with patella tendinitis in his right knee, was not sure he'd get the chance to play at all this season. It would all depend on how his knee felt, and how it reacted to baseball activities. And even if Utley would play, it would most likely not be at full strength.
Yet this season, Utley has defied the odds. He's played in 88 games this season and is on pace to play in exactly 100 games on the year. His knee has held up much better than anticipated, and while his offense hasn't been as good as in past years, his defense is still superb and anything Utley can contribute at this point helps.
The issue at hand is that Utley is currently day-to-day with a mild concussion caused by an Eric O'Flaherty pitch that hit him in the head against the Atlanta Braves on September 7. Utley has been out since, but he has responded well to concussion tests and will be back sometime later this week if all goes according to schedule.
But what if his concussion symptoms act up later in the year? What if his knee becomes inflamed again? Will he be able to play in the postseason, where he's been fantastic through the years?
Time will tell with Chase Utley, and we all hope that he's able to play. If he's ready for October, that's all that counts.
The State of Jimmy Rollins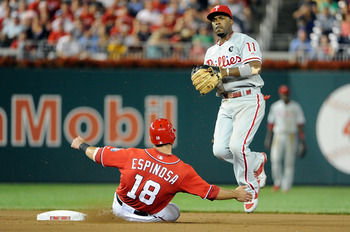 Greg Fiume/Getty Images
Jimmy Rollins is no doubt the leader of the Phillies. He's been with the team all 11 years of his MLB career and he's broken a handful of Phillies records due to his long tenure with the team. He's won an MVP award and a handful of Gold Gloves. Rollins is invaluable to this team.
However, the Phillies have been without Rollins for the last few weeks due to a groin strain that landed him on the DL on August 21. He's back now and started last night, which helps the team greatly, but with his injuries the last two years, the Phillies can't be risky with J-Roll.
He's played 124 games and has been a vital member of this year's success. Although his offense isn't what it used to be (.267/.341/.399, 14 home runs, 58 RBI), it's still among the best on the team. His defense is still practically flawless, and his presence alone keeps the team and the fans going. His spirit energizes everyone, and that's a big reason why the Phillies have been able to remain on top.
There is always a chance that J-Roll gets hurt again from now until the postseason and even beyond. He hurt himself on a great defensive spin move, taking an awkward step and straining his groin in the process. While his defense is excellent, there's always the possibility that he could use more rest. I'm no doctor, but I can tell you that rest never hurt anyone.
The Phillies should take things slow with Rollins and make sure he's healthy for the postseason. If he isn't, the Phils could have a major problem. Wilson Valdez is a good backup, but compared to Rollins...well, he doesn't.
The State of Ryan Howard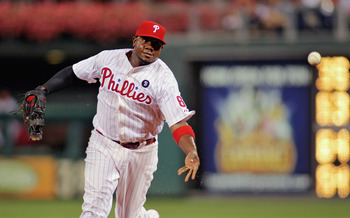 Len Redkoles/Getty Images
The Big Piece has been a big reason why the Phillies have succeeded this season. His .252 batting average isn't necessarily what's been pulling the team along, but his 33 home runs and 112 RBI have certainly been a huge factor in this team's success. And with Hunter Pence backing him up, pitchers no longer can pitch around Ryan Howard to get to a weaker batter.
Howard has been a key player in all that the Phillies have done. Being tied for second on the NL home run list and holding first place in the league RBI standings, Howard hasn't been given much of his due this season. He's still an elite power hitter in the NL. Whether he's worth the contract extension he was given is a debate for another day, but his production (.345 OBP, .497 SLG) has been huge. Not to mention that his defense has improved significantly this season, and continues to do so every year. He's far from Gold Glove worthiness, but he's learning more and more.
There is a bit of a problem, though, and that's his bursitis I mentioned in the opening slide. It's been an issue he's had since he sprained his ankle last season. Not this season, last. It's definitely been a reason why his numbers have gone down, and he's needed more rest for it recently due to season wear on the ankle. While his numbers are still fantastic in comparison to everyone else in the league, imagine how good they would be if he was healthy.
The lingering question is whether his ankle will prove to be an obstacle in October. Whether it will be is yet to be seen, and resting him is the best move right now. Keep him healthy and strong, and make sure he's available in the playoffs.
The Big Piece's time to shine will be when he's needed most—in the postseason, and the Phils need to make sure he's able to be there for it.
Will Domonic Brown Make the Postseason Roster?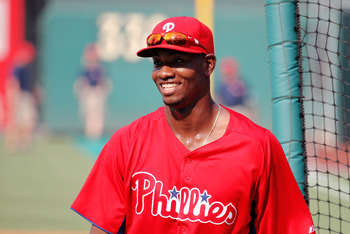 Len Redkoles/Getty Images
Smile while you can Mr. Brown, because it might not be all smiles for you down the road.
Domonic Brown, the team's number one, highly touted prospect entering the season, has not lived up to his expected performance. The player, who was thought to be a Rookie of the Year candidate and the replacement for the departed Jayson Werth that would make it seem like Werth never left, was underwhelming during his time in the bigs this year.
Having started out in spring training hitless through the first few games, he finally got his first hit, except it came off his hand, breaking his hamate bone and benching him for weeks. When he got his chance to play, he hit only .246 with five homers, 19 RBI, and a .728 OPS (.335 OBP, .393 SLG) in 54 games. He had his chance to win the job, and he blew it. His horrific performance called for the need of a replacement for the replacement, who ended up being Hunter Pence, who has been brilliant since joining the Phillies.
Brown was expected to be called up this September, yet it's the 13th and he hasn't been seen on the major league roster this month. Not only does the question of him making the postseason roster stand, but the question that is even more prevalent is will Brown even garner a September call up?
He's being groomed to take the place of impending free agent left fielder Raul Ibanez after the season, yet he's not understanding the role of playing left field and he didn't hit well to end the minor league season. Will Domonic Brown even be a starting Phillie next season?
And that's where we come to...
Will Domonic Brown Be Ready to Play Left Field Next Season?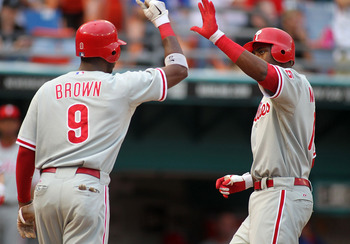 Marc Serota/Getty Images
Domonic Brown has had some issues this season. He struggled at the major league level and struggled at Triple-A while being groomed to take the place of Raul Ibanez in 2012.
Not only was Brown's offense at Triple-A Lehigh Valley bad (.261/.391/.370 slash line, three home runs, 15 RBI in 41 games), his defense was atrocious. His fielding percentage in left field was .905, and his range factor per game was 1.41.
In his defense, he did steal 12 bases and posted a 1.000 fielding percentage and 2.18 RF/G in 11 games at right field at Lehigh Valley, yet his left field stats are what count, and he hasn't shown that he can be counted on as a major league left fielder yet. He's got a ways to go, and he'll need some extensive training this coming offseason.
There isn't much to say about this one. It's pretty obvious Dom Brown needs more time before he takes over left field. But is there someone else who's ready right now?
Read on...
Is John Mayberry, Jr. the Better Alternative Than Brown?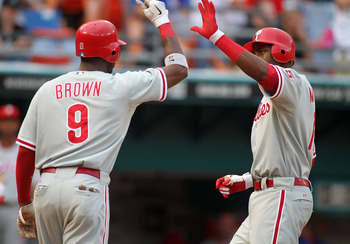 Marc Serota/Getty Images
John Mayberry, Jr. had been a career backup player. Until this season, that is.
Mayberry started out the season by hitting a walk-off single in the season opener for the Phils. He was sent down for most of June, and was called back up in July after modifying his swing and batting stance. Since then, he's been a power threat and has started more games than Raul Ibanez recently.
This season, Mayberry has hit .263 with 13 home runs, 45 RBI, and has posted an OPS of .840 (.331 OBP, .509 SLG) in 89 games. He was mainly used to hit off lefties, yet he's platooned with Ibanez throughout the last few weeks. He's earned his playing time and he's utilizing it well. In fact, 28 of his 59 hits this season have been for extra bases. That's awesome.
Mayberry's production has been fantastic. But it begs the question: could he get the starting job over Domonic Brown next season?
Mayberry's offense has been much better, as is evidenced by this slide and the last, and his defense has been much better than Brown's. He hustles (which isn't necessarily apparent in Brown) and he gets the plays. Why start a left fielder in Brown who doesn't understand the position as well over Mayberry, who's spent most of the season playing there, and has exceeded expectations?
Domonic Brown's future with the Phillies could be in jeopardy. Although he could be a backup outfielder, he's not John Mayberry, and for the time being, it's Mayberry's job to lose.
The Role of John Bowker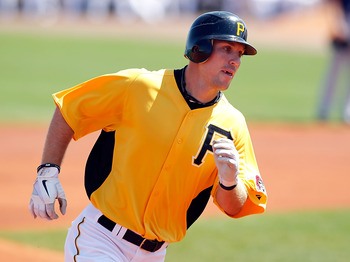 J. Meric/Getty Images
John Bowker was acquired from the Pittsburgh Pirates on August 31 as a left-handed power bat off the bench. Due to the Phillies being unable to acquire Jim Thome from the Minnesota Twins, Bowker was practically the next best thing, so the Phillies took a shot with him.
Bowker, who's spent most of the season in Triple-A, hit .306 with 15 homers and 76 RBI in 106 games for Pittsburgh's Triple-A affiliate in Indianapolis.
However, since joining the big-league club, Bowker has yet to deliver. In his first four at bats as a Phillie, he's gone 0-for-4 with three strikeouts. It's a little understandable, since he hasn't played in the majors since April, yet he should still be hitting regardless. He's basically Ross Gload's replacement, since Gload has a torn hip labrum he's been playing with this season and has been much less effective that last year.
Bowker can play the corner outfield positions and at first base, which could help in the second half of the month when the Phillies rest their starters for the postseason. While Bowker is eligible for postseason play, he might just need some time acclimating to the way the Phillies run, and if he gets that chance, he could become the power bat the Phils need him to be. With his defensive flexibility, he could take the place of Ryan Howard, Raul Ibanez/John Mayberry, Jr., and potentially Hunter Pence.
Let's just hope he starts hitting like his .306 self.
Joe Blanton's Role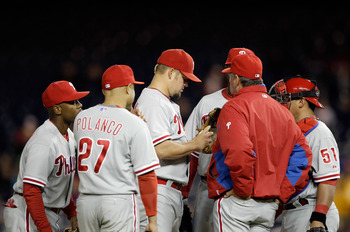 Rob Carr/Getty Images
Having returned from the DL just a few days ago after spending nearly four months on it, Joe Blanton is back. While he's not back as a starter, he's back, and he's willing to be used in whatever role the Phillies need him to play.
That role might be difficult to predict at this point. Although Blanton is healthy, the Phillies will undoubtedly want to move along slowly with him to ensure that he doesn't re-injure his shoulder, which was afflicted with nerve inflammation before.
One problem with Blanton is that he's being paid $8 million to be a bullpen pitcher. He has yet to be used since being activated off the DL and his presence in the bullpen has gone unnoticed. Will the Phillies end up using him out of the bullpen?
Blanton could be used as a spot starter if necessary, and he'll probably be used when the Phillies clinch the division title and want to rest their playoff rotation. Whether the Phillies wish to use him at all is their choice, and whether he's to be included on the postseason roster is still a mystery.
Either way, the Phillies will have to figure out how Joe Blanton will be used for the remainder of the season, if he'll be used at all.
Kyle Kendrick's Role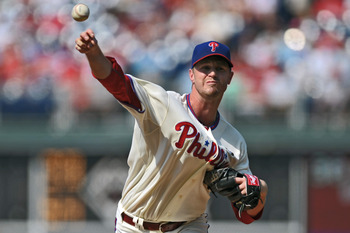 Drew Hallowell/Getty Images
Kyle Kendrick has been an interesting case this season. Serving as the long reliever due to all rotation spots being occupied, Kendrick has made the occasional spot start and has taken places in the rotation of those injured.
However, despite being the long man, it's sort of ironic that he doesn't get the call very often to pitch in the bullpen. He's understandably needed in case an injury of any one of the starters arises, yet how will he maintain his consistency if he's not pitching?
This season, Kendrick's only made 30 appearances (13 of them starts, 101.1 total IP), and he hasn't pitched since August 24. Throughout the season, Kendrick's compiled a 7-6 record with a 3.29 ERA, 47 strikeouts, and a 1.27 WHIP.
It's unclear how the Phillies plan on using Kyle Kendrick throughout the rest of the season. He's been fairly effective and has been decent considering his use. If he pitches at all the rest of the season, it could be in a spot start once the division is clinched, or it could always be in a relief role, whether as a middle man or his traditional long reliever self. He's sure to be included on the postseason roster, but even his potential playoff use is vague.
Whether the Phils use Kendrick or not, he's always an option. But it doesn't make sense for him to just sit out for the rest of the year.
Brad Lidge's Role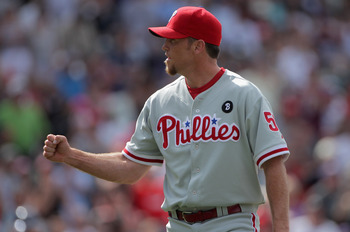 Doug Pensinger/Getty Images
Brad Lidge has been very peculiar this season. Starting out the year on the DL with a partially torn rotator cuff, Lidge made a full recovery and rejoined the team in late July. He's only pitched 13.1 IP in 17 appearances, and he's posted an 0-1 record with a 1.35 ERA, 18 strikeouts, 11 balls, one save, and a 1.58 WHIP.
Lidge's lone save this season was against the Colorado Rockies back on August 3, his 100th save in a Phillies uniform. While he's been decent this season, his WHIP is awful, and his only loss on August 21 came from a bases-loaded bean ball, hitting Jonny Gomes to score the winning run. And though any contribution by Lidge this season is a good one (except for the loss), since he's not closing anymore, there doesn't seem to be a real reason why he should be on the roster aside from his salary. Then again, that's a big reason.
But here's the deal: Lidge is being used about every five days or so in relief, which is a good pace for him if the Phils plan on using him in the postseason. But what if the unexpected happens and they leave him off the roster? Okay, maybe I'm pushing it a bit there, but with Ryan Madson closing games, Lidge's only available role is in the seventh or eighth inning. With Antonio Bastardo primarily pitching the eighth and an array of pitchers pitching the seventh, there might not be much opportunity left for Lidge.
It's almost a known fact that his 2012 club option will be declined, but the Phils should get some use out of Lidge this year. It seems like they're avoiding using him. If it's in terms of consistency or to recover from his injury, I could understand that. But if it's for neither of those two reasons, this is a question that the Phillies need to answer.
David Herndon's Recent Struggles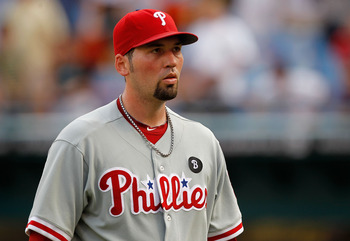 Mike Ehrmann/Getty Images
Last season, rookie reliever David Herndon, the Phillies' Rule 5 Draft pick, was considered to be a bust, a waste of roster space. And it was hard to argue against that.
The beginning of this season seemed to be a repeat of last year. However, Herndon was sent down to Triple-A at the end of April for a month to work on his delivery and his mound presence. It was noted that Herndon would hold his glove at a specific part of his body when throwing a fastball and at another when throwing an off-speed pitch. This was quickly recognized and fixed, and before the end of May he returned.
After returning to the majors, Herndon was extremely effective, his issue having been fixed and pitching well, giving up few runs and lowering his 8.00-plus ERA to below 4.00. He did a lot of work to get better, and things were finally seeming to look up for him.
Recently, though, Herndon has struggled yet again. Aside from his recent one-inning appearance on Sunday, Herndon had given up four runs in 4.2 innings in his last two appearances, including three runs on three hits, all home runs, including allowing two runs earned to Antonio Bastardo, who had been lifted after allowing runners on first and second, on September 3. Herndon was given the blown save, and the next day, he gave up another run in the 14th inning on a bases-loaded walk-off walk to Mike Cameron to end the game, earning the loss.
Does this mean that Herndon needs adjusting again? There isn't a minors for him to be sent down to at the moment, since their season is over. Hopefully it was just that he had been used too much, but if that isn't the case, then there could be a problem. We'll have to wait and see to find out the answer to this one.
The True Closer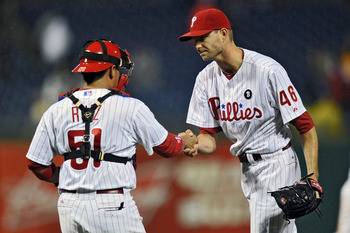 Drew Hallowell/Getty Images
Over the course of the season, the Phillies have intended on using four closers. Brad Lidge started out the season in spring training as the closer, only to fall to a partially torn rotator cuff in his throwing shoulder, benching him until July. Jose Contreras came in to take Lidge's place, and he did very well in April; however, he strained his flexor pronator in his pitching arm, resulting in a DL stint that lasted until May. He lasted another month before re-injuring his arm again, ultimately sidelining himself for the remainder of the season.
Then came in Ryan Madson and Antonio Bastardo, two pitchers dueling for the closer's role. Madson eventually won the battle and Bastardo took over set-up duties. Since then, Madson has saved 30 games out of 32 opportunities, posting a 2.68 ERA, 54 strikeouts, and a 1.16 WHIP in 55 appearances (53.2 IP).
Madson would hold the job with ease if it weren't for the emergence of Bastardo. This season, Bastardo's saved eight games in nine opportunities, and has posted a 1.99 ERA, 66 strikeouts, and a 0.81 WHIP in 59 appearances (54.1 IP). With stats far superior to Madson's (except the saves of course) in about the same amount of playing time, Bastardo has emerged as the better of the two, and he's a lefty. While it is Madson's job to lose, Bastardo is lurking in the shadows, waiting to strike and take the job away from Madson.
Again, it's Madson's job to lose. But will Charlie decide to use the more effective Bastardo in the postseason to close games and use Madson in his regular set-up role? These two have been a very interesting pair of relievers for the Phillies this year, and very good ones as well.
But who will come out on top? That is the question.
Use of Michael Schwimer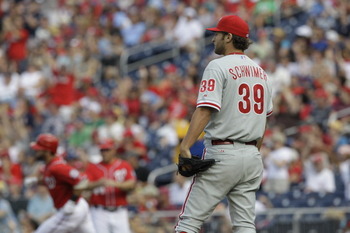 Rob Carr/Getty Images
Of the many potential September call ups, Michael Schwimer was the first to make it to the big leagues. Although he was called up back in August, Schwimer has since been sent down and recalled once again. He's now back with the major league squad.
Making his big league debut on August 21, Schwimer gave up just one earned run to the Washington Nationals, a solo home run to Danny Espinosa. After that, he was lights-out, allowing just one more hit and striking out four in three innings, including striking out the side in one of them. He did blow the save that game, the first of two (the other came on September 4 against Florida that led to the Phils' 14th-inning loss). In total, Schwimer has made five appearances, in which he's pitched 6.1 innings and has posted a 4.26 ERA, a 1.58 WHIP, and eight strikeouts. While his stats are a bit high, he is a new player, so he's got time to learn from his mistakes.
The problem that arises from this is that the Phillies can't afford to make too many mistakes right now. They need to win games and keep winning so they can have postseason success. With a newbie like Schwimer in tow, the Phillies would not be embodying the above statement. Schwimer has virtually no major league experience, and until the Phillies clinch their division, they can't take many chances.
Schwimer is most likely not a postseason roster candidate, but when will he be used for the rest of the season? He's had good amounts of time in between appearances (as long as a week in between outings), so he obviously isn't in the Phils' plans to use often, but when will he be used at all?
The only opportunity Schwimer has is when the Phils clinch the NL East, and then Schwimer could see some more bullpen action, maybe even along with Justin De Fratus and Phillippe Aumont.
Michael Martinez vs. Pete Orr
Mark Hirsch/Getty Images
Since Chase Utley has been dealing with nagging knee tendinitis and more recently a concussion, backups have been needed to fill the void Utley leaves. Those two options have been, for the most part, Michael Martinez and Pete Orr.
Martinez, the Phillies' Rule 5 Draft pick this year from the Washington Nationals, is more versatile than Orr, playing center and left field, shortstop, and third base along with second. In 79 games played, Martinez has hit .209 with three home runs, 24 RBI, and has posted an OPS of .568. His biggest advantage offensively is that he's a switch hitter, yet his offensive production is pretty bad. He has stolen three bases as well.
Orr, who signed as a minor league free agent this past offseason, has hit a bit better than Martinez. In 37 games played, Orr has hit .263 with no home runs, four RBI, and has a .628 OPS. Like Martinez, Orr also has three swiped bags.
Defensively, Orr is much better, with a .989 fielding percentage and 3.76 RF/G, compared to Martinez's .963 fielding percentage and 2.54 RF/G. However, Martinez plays many, many more positions than Orr does, which gives him a slight edge.
My personal choice would be Orr because of his defense, but in terms of a good utility backup, Martinez would be the way to go, as it has seemed to be, given Martinez has played twice the games Orr has.
Ben Francisco's Importance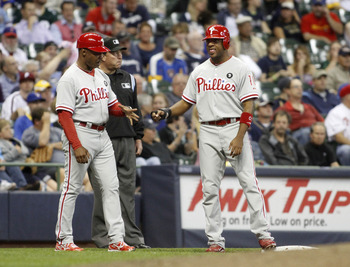 Mark Hirsch/Getty Images
Ben Francisco has had a very odd season in 2011. Starting out the year as the backup to Domonic Brown, Brown broke his hand in spring training, making Francisco the starting right fielder on Opening Day. He started out extremely hot and many Phillies fans thought that they had found their new right fielder in Benny Fran, yet they couldn't have been more wrong.
As the season (and month of April) progressed, Francisco took a tumble and eventually fell off the face of the Earth. On the season, Francisco's only hitting .237 with six home runs, 33 RBI, and has posted a .708 OPS in 91 games. He had his opportunity to be the Phillies' starting right fielder, and like Brown, he blew that chance.
Francisco hasn't been horrendous this season, but he's been pretty close. His defense is also subpar, with a .970 fielding percentage and a 1.55 RF/G this season. There isn't anything Francisco could be doing worse right now, and he's been getting less and less playing time due to his decrease in playing ability.
Not only is Francisco irrelevant to the Phillies now that they have Pence and Mayberry and Brown are the starter/backup (in either order, we'll find out in spring training next year), but there isn't any importance or use for him on the team anymore. The outfielder acquired in the Cleveland Cliff Lee trade could be non-tendered this offseason, meaning that he's cut from the team. There just isn't any role left for Benny Fran.
In some ways it's a shame, yet in others it's a sigh of relief.
Nonetheless, thanks, Ben Francisco.
Vance Worley's Future
Drew Hallowell/Getty Images
Vance Worley has been an extremely unexpected surprise this year for the Phillies. He filled in very nicely for the injured Roy Oswalt when needed, and due to his outstanding performance, he's remained a part of the rotation even though Oswalt has since returned.
Over the season, Worley has posted an 11-2 record with a 2.92 ERA, 1.18 WHIP, and 103 strikeouts. He's held hitters to batting just .233 against him. Not bad for a rookie. He'd probably lead in the Rookie of the Year voting, too, if there wasn't a rookie Braves closer named Craig Kimbrel.
Worley's future with the Phillies is bright. It was thought that Worley could be traded in a Hunter Pence deal, yet he's still hear and Pence has come to Philadelphia. Worley has pitched highly above expectations and has stunned the fans with his dominance and composure on the mound.
Regardless of what happens the rest of the season, Vance Worley is here to stay, and will most likely be a part of the Phillies' 2012 Opening Day rotation,
Postseason Fourth Starter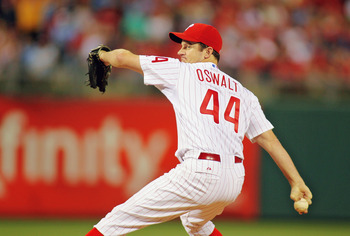 Len Redkoles/Getty Images
Roy Halladay, Cliff Lee, Cole Hamels, Roy Oswalt...no, Vance Worley...no, Oswalt...no, Worley...
With an extremely hyped rotation, the Phillies are ready to head into October baseball. Roy Halladay leads the way, followed by Cliff Lee and Cole Hamels. But who is the fourth starter for the Phillies come October?
The decision is narrowed down to Oswalt and Worley. This season, Worley has been more effective, going 11-2 with a 2.92 ERA, whereas Oswalt is 7-9 with a 3.88 ERA. However, Oswalt is the veteran of the two, and he has pitched in the postseason before as a member of the Astros and Phillies. He knows what to expect in the playoffs, whereas Worley does not.
Worley is a lock to make the postseason roster, but he will probably pitch in the bullpen in the postseason, and due to Oswalt's experience, he will most likely get the call to start in the fourth starter role in October. Unless something miraculous happens, this will most likely stay this way.
Is it necessarily right that the better pitcher doesn't start? Usually no...but when you're talking about Roy Oswalt, it's the right decision.
Chuck LaMar's Replacement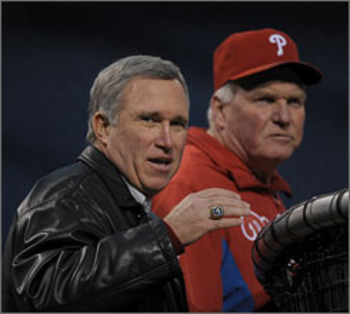 Photo taken by H. Darr Beiser, USA TODAY.
Phillies minor league scouting director Chuck LaMar announced his surprise resignation from the team last week. At first, the reason was publicly unknown, but after a few days the news got out.
LaMar apparently left because he realized that the Phillies were shipping out more top prospects than they had to replace them, and that as a result of the trades, many of the Phillies' minor league teams' playoff races were affected, primarily for the worse. LaMar believed that the Phillies needed to retain their minor league talent in order to succeed in the future, and the fact that they did not do that in addition to their lack of signing late round draft picks ignited his anger and he walked out as a result.
I tend to agree with LaMar. Whether I would have handled it the way he did is very questionable, but he's right when he says that the Phillies need to hold on to their prospects. It's they who will take the Phillies team by storm in the future and keep them playing at the top level.
I don't know how to answer this question myself, but I can say this: the Phillies need a new scouting director as soon as possible. In order to continually achieve success, the Phils need to hold on to their minor leaguers so they have players to call up in the future.
Whoever takes LaMar's position (I don't even know who's out there to take it), good luck.
Raul Ibanez's Replacement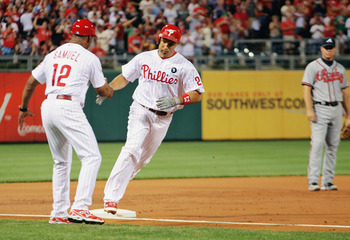 Len Redkoles/Getty Images
Now to one of my favorite parts of baseball...the contracts.
Phillies left fielder Raul Ibanez is off the books at the end of the season, marking the conclusion of his three-year, $31.5 million deal he signed before the 2009 season. He's been an overall good replacement for Pat Burrell, and he will be missed after the season.
Life does go on, as does baseball. But what needs to be solved now is who will replace Ibanez in left field next season. The two most likely candidates are Domonic Brown and John Mayberry, Jr.
Brown has spent most of the latter half of the season in Triple-A conditioning himself to learn the tricks of playing left field and making sure he's prepared for it when he's given the job in 2012. However, as I covered in this show already, he hasn't done well in left field at all this year.
So who says that Brown is the definite replacement? What about Mayberry?
Mayberry has been playing in left field for a good portion of the season now and his defense is pretty good. We've seen what he can do and he hustles on every play. His offensive production is better than Brown's and his defense is better, so why not try Mayberry out in left on day one and see how it goes?
The Phils most likely won't sign a replacement for Ibanez, but if they do it would be a pretty big shock to the team.
Either way, Raul Ibanez will be missed.
Roy Oswalt's Option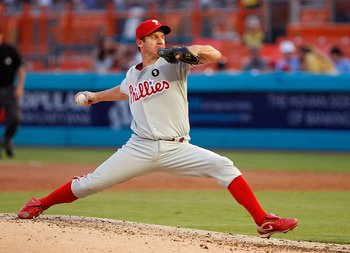 Mike Ehrmann/Getty Images
Now we move on to starting pitcher Roy Oswalt. Oswalt has a mutual option in his contract for next season worth $16 million with a $2 million buyout. This means that if either side declines the option—whether it's Oswalt himself or the Phillies—Oswalt gets the $2 million and becomes a free agent. If both sides agree on the deal, Oswalt remains a Phillie for at least one more season and is paid the $16 million the option is worth.
Unless Ruben Amaro, Jr. sees something we Phillies fans don't, I don't see how he keeps Roy Oswalt in a Phillies uniform next season for such a high price. I could understand him re-signing Oswalt as a free agent after declining the option, but with such a hefty price tag for a deteriorating player, there's no possible way the Phillies pick up that option.
The first and last season of the Four Aces will most likely come to an end following the season. Vance Worley will probably take Oswalt's spot in the rotation if he isn't retained, which would give Worley the golden opportunity: to be a permanent rotation member of the Phillies.
Brad Lidge's Option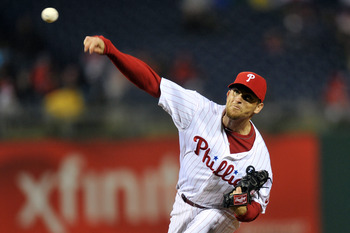 Drew Hallowell/Getty Images
Brad Lidge, Lights-Out Lidge, has a $12.5 million club option in his contract with a $1.5 million buyout. Because it is a club option, only the Phillies decide whether or not to keep Brad Lidge in a Phillies uniform in 2012. Should the Phillies unexpectedly keep Lidge on the hook for the $12.5 million, he stays a Phillie through next season, but if they decline the option, he's paid $1.5 million and becomes a free agent.
Lights-Out Lidge was a great member of the 2008 Phillies team. He went a perfect 48 for 48 on the season in saves, and without him there's a good chance the Phillies wouldn't have won the World Series. We thank you for that, Brad.
However, Lidge's time as an elite closer has passed and his time as the Phillies closer has passed as well. With all the minor league bullpen depth the Phillies have that's close to major league ready in Justin De Fratus, Phillippe Aumont, and Michael Schwimer, Brad Lidge will most likely have his option declined.
Re-Signing Ryan Madson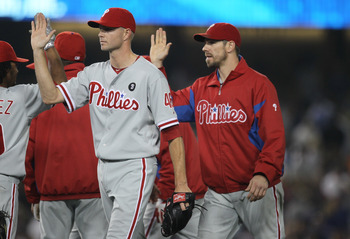 Stephen Dunn/Getty Images
The Phillies have three players who are their top priorities this coming offseason. Ryan Madson is one of them.
Madson, 31, will become a free agent for the first time in his career this coming offseason. Having been an organizational talent, Madson has been a Phillie for his entire MLB career. Now that he's a free agent to be, he can choose to sign with any team.
Madson will most likely market himself as a closer this winter. In a market led by Heath Bell, Jonathan Papelbon, and Francisco Rodriguez, Madson will be a very attractive option in a free agent market chock full of closers. The no-brainer move would be to re-sign Madson at the best price we can, right?
Wrong. And the reason that's wrong is two words: Scott Boras. Boras, who is Madson's agent, has a reputation for landing lucrative contracts for most players he represents. Take a look at Jayson Werth. He signed a seven-year, $126 million deal with the Nationals this past offseason. Sure, Madson isn't worth even close to that kind of money, but Werth wasn't worth as much as he made. Boras gets teams to overpay for players, and if Madson wants more than the Phillies are willing to offer, he'll walk.
And with Boras as his agent, that's extremely likely. The chances of the Phillies retaining Madson after the season are slim unless Madson takes a "hometown discount" like Cliff Lee did. Otherwise, expect Madson to go for the money, regardless of where it is. And don't fret Phillies fans—if Madson leaves, Bastardo would probably take the closer's role from Madson.
Re-Signing Jimmy Rollins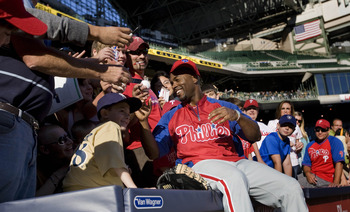 Mark Hirsch/Getty Images
Jimmy Rollins is the life and soul of this Phillies team, and if the Phillies had a team captain, Jimmy would be that guy. That's how much he means to the team.
The former MVP will be hitting free agency for the first time in his career this offseason and behind Jose Reyes, Rollins will be the top shortstop on the market.
J-Roll has been a player the Phillies signed for cheap in the past, but now he's saying that he won't sign for any "hometown discount." This means that the Phillies will probably need to pay Rollins handsomely in order to keep him a Phillie.
If Rollins does leave through free agency, the Phillies do have a minor league alternative in Freddy Galvis, a Venezuelan shortstop whose defense is reminiscent of Rollins, and whose offense has been getting better and better. His problem has never been his defense, but his offense has been terrible—until recently. He went on an offensive tear in the last month or two of the season, which helped him earn the Paul Owens Award from the Phillies for the organization's best (in his case) offensive player.
The only problem with Galvis is that he still needs some more time in the minors, but if J-Roll leaves, the Phillies might have no choice. They need to sign Rollins for whatever he wants so as long as it's not anything crazy. A deal in the three-year, $30 million range would be ideal.
Extending Cole Hamels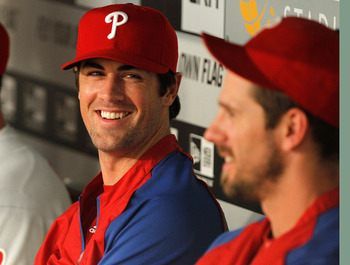 Mike Ehrmann/Getty Images
Cole "Hollywood" Hamels has been a force to be reckoned with on the mound this season. He's gone 14-7 with a 2.60 ERA, 171 strikeouts, and has a 0.95 WHIP, all in 28 starts. He's been a Cy Young candidate throughout the season, and while he probably won't win, he does have a shot.
But what's more important about Cole Hamels is the fact that his three year contract extension runs out at the end of this year. Now now, Phillies fans, that doesn't mean Hamels is hitting free agency just yet. He has one year of arbitration left, but if the Phillies and Hamels go to arbitration, Hamels could be signed to a one year deal worth upwards of $15 million, being a Super Two player (meaning he has an extra fourth year of arbitration eligibility).
Hamels is under team control through the end of next season, but the Phillies will probably want to lock him up fast so there isn't an opportunity for him to leave via free agency. He's the Phillies' only homegrown ace of the four they have (aside from Vance Worley), and he could fetch upwards of $20 million if he hits the market.
Sure, the Phils have all of this offseason and next season to figure out how they'll extend Cole Hamels, and an extension of five years, $80 million would be ideal for the Phillies to offer. But what if he doesn't want an extension? What if he wants to hit free agency?
Then, folks, we could have a problem. But we'll play it by ear and see how it goes. The important thing is that the Phillies need to figure out how to lock up Cole Hamels for the next five plus years. If they can't, they'll need to look for another ace for their rotation next year. And trust me, that wouldn't be easy.
Keep Reading

Philadelphia Phillies: Like this team?