NFL Predictions Week 1: 10 Reasons Pittsburgh Steelers Will Beat Baltimore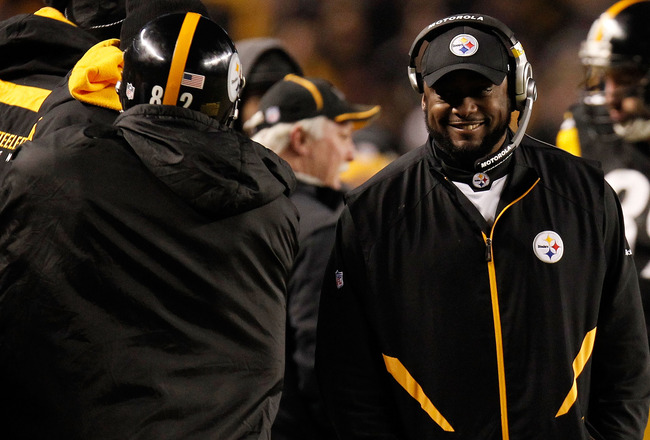 Gregory Shamus/Getty Images
The Pittsburgh Steelers against the Baltimore Ravens is always one of the best games to watch during the NFL season.
These teams hate each other, and every game is a physical, knock-out fight that normally comes down to the last few minutes.
Even though this is going to be a tough match up, here are 10 reasons why the Steelers will beat the Ravens in week 1 of the NFL season.
Troy Polamalu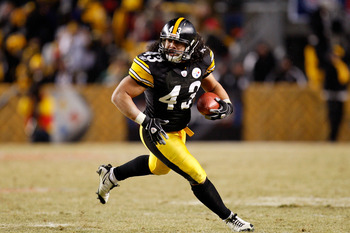 Gregory Shamus/Getty Images
I still say that if Troy Polamalu had been healthy at the end of last season, the Steelers would be the defending Super Bowl champions right now.
Troy is just that important and makes that much of a difference when he is healthy and on the field for the Steelers defense.
The Ravens may have Ed Reed; however, if Troy is on the field, he gives the Steelers' defense an attitude and makes them hard to stop.
Ben Roethlisberger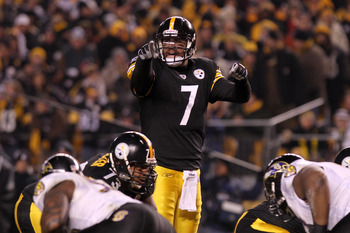 Nick Laham/Getty Images
Ben Roethlisberger is the best quarterback in the NFL and will continue to showcase that fact this season.
He can sit in the pocket and pick a part the defense, or he can put every defender on his back and still launch a 50-yard touchdown.
If the offensive line plays well, that's a plus; however, even if they do not, the defense still has to actually get Ben on the ground before he finds an open guy.
Defensive Line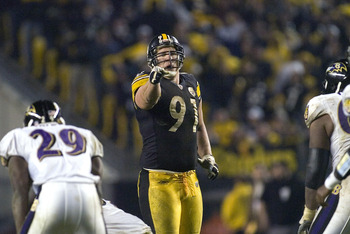 Michael Fabus/Getty Images
If the Ravens want to lean on the running game with RB Ray Rice and FB Vonta Leach, they will have to go through the Steelers defensive line.
The Steelers line is the best and most underrated line in the league, with veterans Aaron Smith, Brett Keisel, and Casey Hampton and young guys Ziggy Hood and Cameron Heyward.
Pittsburgh's defense against the run is either No. 1 or close to that every season, and a huge part of that is because of the stoutness of the defensive line.
Running Game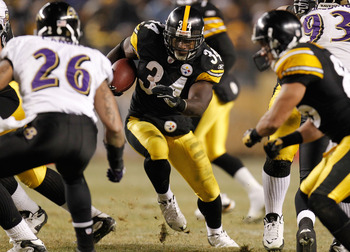 Gregory Shamus/Getty Images
Rashard Mendenhall has become one of the more complete running backs in the NFL, with good power, speed and hands.
If the Ravens thought Mendenhall was all the Steelers had, then they better not sleep on Isaac Redman and Mewelde Moore.
Moore is great out of the backfield, and look for Redman to get a lot more carries this season and to carry over his good preseason play into this game.
Receivers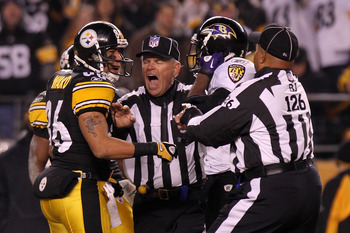 Nick Laham/Getty Images
Hines Ward may not be as young as he used to be, yet I bet Ed Reed will still have his head on a swivel whenever he comes across the middle.
Mike Wallace has the speed to beat any coverage the defense can put out there and does not get enough credit for improving in every other aspect of his game as well.
Then throw in rising star Antonio Brown and second-year receiver Emmanuel Sanders, not to mention a veteran in Jerricho Cotchery—I feel bad for the Ravens secondary.
Maurkice Pouncey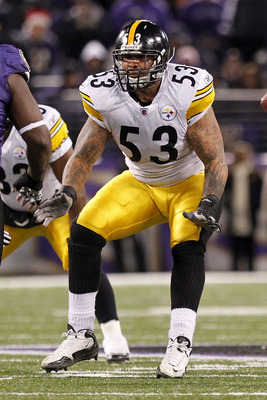 Geoff Burke/Getty Images
Now I am not saying the offensive line is in any way a strong point for the Steelers; however, Maurkice Pouncey is just that good.
I have full confidence that Pouncey will make sure the rest of thee O-line knows what it's doing while taking care of his own business.
The Steelers need the line to open up holes and give Ben at least a couple seconds, and Pouncey will get the line in position to do that.
Linebackers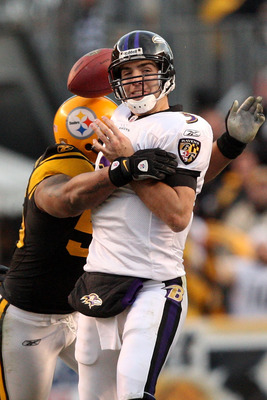 Karl Walter/Getty Images
The Steelers spent the offseason locking up both LaMarr Woodley and Lawrence Timmons to big contracts, and it's finally time to release them on an opposing offense.
That's just half of the Steelers starting linebacking core, which includes James Harrison, who lives in opposing backfields, and James Farrior, who is older but still has gas in the tank.
If any of those guys get tired, let's not forget Jason Worilds and Stevenson Sylvester, who are both ready to contribute more, and Larry Foote, who knows what to do in our defense.
Eight Straight Opening Day Wins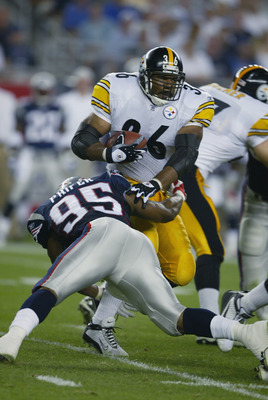 Al Bello/Getty Images
The Steelers have won eight straight season openers, and I expect that streak to continue Sunday.
The last time they lost on opening day was against the New England Patriots in 2002, when they lost 30-14.
That game featured Kordell Stewart at QB and Jerome Bettis at RB, and the offense turning the ball over five times.
Big Ben vs. Joe Flacco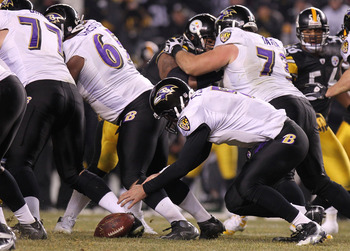 Nick Laham/Getty Images
Ravens QB Joe Flacco is 2-6 against the Steelers, including playoffs, and has never beaten them when Ben Roethlisberger has played.
As stated in a previous slide, Ben is the best QB in the league, and he just knows how to win games in the NFL.
Flacco has come close before; however, something always happens to thwart his efforts, and Ben has come up on top each time.
Anger
Jamie Squire/Getty Images
The Steelers do not need any extra motivation when they go up against the Ravens, as every game is tough and comes down to the end.
The Steelers are coming off a loss in the Super Bowl, though, and have had to wait the entire offseason to finally get back on the field.
I fully expect the entire Steelers team to come out amped up and ready to play in this game—and they will come away 1-0.
The players are ready to redeem themselves after that poor performance in the playoffs, and they are ready to come back this season and bring home the trophy.
Keep Reading

Pittsburgh Steelers: Like this team?