Minnesota Vikings' Quest for a New Beginning Starts in San Diego
September 10, 2011
Hannah Foslien/Getty Images
Here we are on the eve of a new chapter in the Minnesota Vikings history.
The first game of the season minus Favre, Jackson, Rice and Childress.
While the season before this one has seen highs and lows, one thing remains constant; and that is the expectation of winning.
Donovan McNabb is now heir apparent to captain this team toward the division title and beyond, and the Vikings fans and players alike both realize that it has to be now or never.
The Vikings face off against a dangerous San Diego Chargers team that will certainly be a genuine testing of the 2011 Vikings as they offer a multitude of players that are capable of hurting them at any moment.
What will be key in determining if this Vikings team is capable of forging ahead is their ability to overcome adversity when it arises in this game.
If the Vikings can be successful in San Diego, it will validate all of the hard work they have put in this summer and set the tone for the rest of the season.
It is not often that a team can experience changes in personnel and philosophy and still remain capable success. This will be the biggest test but, if anything, the pulse of this team has remained strong and steady, and the Vikings are ready to meet the challenges that lie ahead with great fortitude.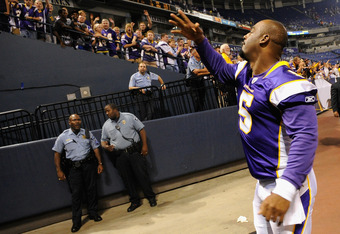 Hannah Foslien/Getty Images
In the upcoming game the team will have many questions answered as to where they stand.
The defensive unit that was so dominate in 2009 has been on hiatus for the last season and is looking to regain its former self.  There are concerning issues that should be easily solved, but in this game they will be forced to find an identity.
Offensively, the ship's new captain, Donovan McNabb, should bring his veteran knowledge to the team and lead them through their challenges like an old general leads his soldiers into war.
There is no escaping accountability now, those days are gone.
The 2011 Minnesota Vikings are a different team now, and with that, the expectations of different results.  In San Diego we shall see exactly where they stand.
Win or lose, the Vikings will be a changed team come kickoff on Sunday, one that will overcome all odds.