Philadelphia Eagles Week 1: 3 Things to Watch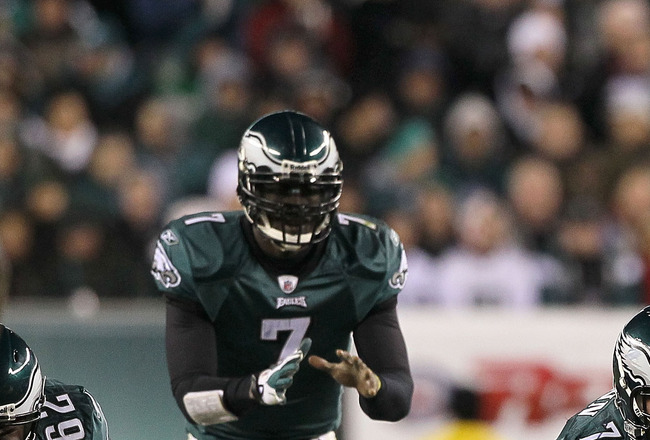 Jim McIsaac/Getty Images
Entering the much-anticipated 2011 NFL season, no team has more expectations upon them than the Philadelphia Eagles.
The combination of massive free-agent signings and the continued epic that is the life of Michael Vick has quickly boosted the Eagles into the conversation of preliminary Super Bowl favorites. With a wealth of talent possibly unmatched by any other team in the NFL and a city starving for its first taste of the Lombardi Trophy, the time has come for this squad to prove itself on the gridiron.
The Eagles will either kick off their season flying high in victory or crashing and burning in disappointment, based upon how the following question marks perform on Sunday in St. Louis.
Casey Matthews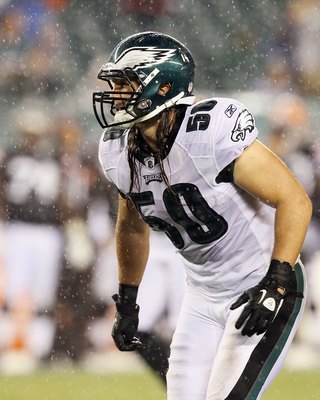 Jim McIsaac/Getty Images
2011's 4th-round draft pick, Casey Matthews has been given a hefty task by Head Coach Andy Reid and Defensive Coordinator Juan Castillo: to quarterback a traditionally vicious Eagles defense with Super Bowl aspirations in his first season in the NFL.
One of the knocks on Reid during his 12-year tenure as the Eagles' head coach has been on his lack of emphasis on the linebacker corps. It will be up to Matthews to finally bring consistency to a proverbial revolving door of middle linebackers in Philadelphia.
Matthews was shaky in his first two preseason games against the Baltimore Ravens in week one and Pittsburgh Steelers in week two. However, in week three against the Cleveland Browns, Matthews seemed relaxed and more comfortable conducting the Eagles' defense. He was able to shoot his gaps effectively and find the ball carrier in the middle of the field.
If Matthews is able to stay as collected and comfortable in St. Louis as he was against Cleveland, he will not only develop as a player, but significantly help to push the Eagles towards a week one victory.
Juan Castillo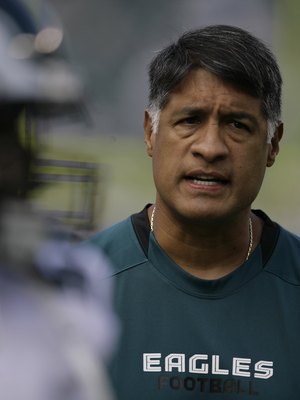 Chris Gardner/Getty Images
After a disappointing first-round exit in the 2010 playoffs, Andy Reid promoted long-time offensive line coach and friend, Juan Castillo, to defensive coordinator. Castillo had been itching for a chance to take a defensive coaching position and finally got his break when the passing of the beloved Jim Johnson and inadequate replacements left a vacancy in the defensive coordinator position, and Andy Reid was able to find an adequate replacement offensive line coach in Howard Mudd.
Castillo has the luxury of commanding an incredibly talented defense, including a loaded secondary featuring three bonafide pro-bowlers in Asante Samuel, Dominique Rodgers-Chromartie, and Nnamdi Asomugha, along with a defensive line highlighted by pro bowl defensive ends Jason Babin and Trent Cole.
The new defensive coordinator's biggest challenge will be effectively utilizing all of the talent on his squad by running schemes and plays designed to get the absolute most out of each player. Only then will the defense be able to reach its lofty potential as a unit. Each player must be incorporated seamlessly into the scheme, and with the amount of talent at his fingertips, Castillo will have a multitude of options when calling plays on Sunday afternoon.
Week one will be Castillo's first opportunity to control the defense in a meaningful game. If he executes an effective game plan and stifles an up-and-coming St. Louis offense, Castillo could set the tone for the rest of the season for a defense with soaring aspirations.
The Offensive Line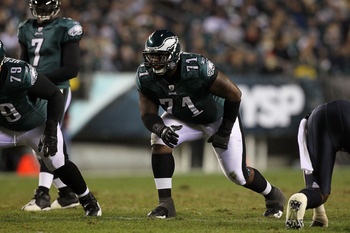 Jim McIsaac/Getty Images
If the Eagles are to be successful in 2011, Michael Vick must stay on the field and healthy; that is the bottom line. Unfortunately, since the departures of Jon Runyan and Tra Thomas in 2009, the Eagles' offensive line has been shaky at best. The Eagles took significant steps during the off-season to fortify the O-line and protect their franchise quarterback.
The Eagles have drafted and since benched their first-round draft pick, right guard Danny Watkins, and replaced him with former Indianapolis Colt and Super Bowl champion Kyle DeVan. Andy Reid also moved the ever-reliable Todd Herremans from left guard to right tackle in an effort to bolster the protection of Vick's blindside.
Journeyman guard Evan Mathis will play alongside pro bowl left tackle Jason Peters in Herremans' absence to shield Vick's frontside. Even nine-year veteran center Jamaal Jackson lost his starting job to rookie Jason Kelce.
The week one game in St. Louis will give the completely revamped offensive line the chance to prove that it can effectively protect its quarterback, and if they fail, Michael Vick may be in for another long season of scrambling to elude opposing pass rushers and avoid injury.
Keep Reading

Philadelphia Eagles: Like this team?