Oakland Raiders: 5 Reasons the Defensive Front Will Be Better in 2011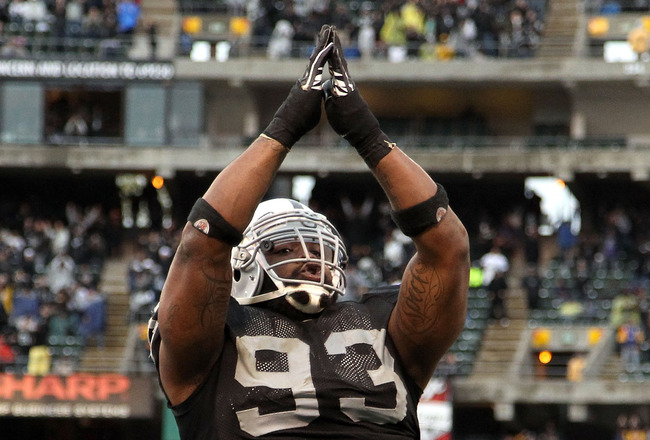 Tommy Kelly does his best Richard Seymour impression
Ezra Shaw/Getty Images
The Oakland Raiders defensive front has been, for want of a better term, a bit of a revolving door in recent years. The turnstile-like personnel and run defense that has plagued them since the 2002 season has been a major factor in the team's overall struggle to win games.
In 2009, the Raiders made a huge, surprising move about a week before the season, trading their 2011 first-round draft pick—which ended up being the No. 18 selection that was used to take Colorado tackle Nate Solder—to the New England Patriots for six-time Pro Bowler and three-time Super Bowl champion Richard Seymour.
Because it was the Raiders, when Seymour didn't report immediately, there was rampant speculation and not-so-subtle laughter from the media that Oakland had wasted the trade and he would refuse to report.
In reality, Seymour is a stand-up family man who was simply in South Carolina getting his kids ready for school. He was ready, willing and able to report to the Raiders, and once he did, he made an immediate impact.
Seymour sacked Philip Rivers twice in his opening game as a Raider, setting the tone for the leadership, play and intensity he was bringing to this team.
Ever since, Seymour has evolved as a team leader, fostering a new attitude on the defense. His professionalism and work ethic have also helped to get the best out of some of his counterparts who occasionally take a play or two off—like Tommy Kelly.
This Raider defensive front can rush the passer. They ranked second in the NFL in sacks last season, so getting to the quarterback isn't the problem; but they still struggled to stop the run.
This year, things will change up front. With Seymour and Kelly bolstered by young talent like Matt Shaughnessy, Lamarr Houston, Trevor Scott and Rolando McClain, the sky is the limit for this unit.
Here are a few reasons why.
Run Defense Within the Division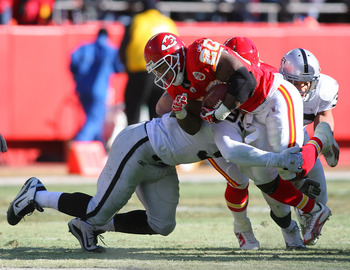 Excuse me, Mr Jones? Ummm.....you aren't going anywhere!
Tim Umphrey/Getty Images
As previously mentioned—and as any football fan who's watched the game for more than five years can tell you—it's been a while since the Raiders could stop the run.
Perhaps the most bizarre statistic I have ever seen shows that the Raiders were actually extremely stout against the run last season—that is, only if the opponent was from the AFC West.
The Raiders hung a bagel on the rest of the division, dominating the Broncos, playing the Chiefs close as always and surprising the Chargers both at home and on the road. The Raiders went 6-0 in the division, but they missed the playoffs. How, you ask? Here's how.
In six divisional games against the Broncos, Chargers and Chiefs, the Raiders allowed a paltry 86 yards per game on the ground. Note that the Chiefs had the NFL's No. 1 running game, just ahead of the Raiders.
Yet, disturbingly, Oakland was unable to take it outside the division, giving up nearly 100 yards more per game on the ground to non-divisional opponents.
That's how a team can sweep their division and still not make the playoffs. Hey, at least the Raiders are still innovating in the NFL. It's just not exactly the kind of innovation you'd like.
Richard Seymour was very clear on this point. He feels very strongly that the Raiders' true, genuine hatred for all things AFC West—from Elway's teeth to A.J Smith's misplaced ego to Matt Cassel's overratedness and Todd Haley's personality—was the key contributing factor in stopping the run.
Stopping the run is a state of mind, and it's a nasty one at that. When you hate your opponent, you want to be nasty to them. Therefore, the Raiders were nasty with the opponents they hate, and the results speak for themselves. They stopped the run. And won the games.
They simply need to hate everyone else a little more. Some other teams the Raiders could, and should, easily hate that they play this year are the Texans, Jets, Patriots and Lions.
The Texans have become a bit of a rival, and the Jets always have been. The Patriots are so smarmy, and the "Tuck Rule Game" essentially sent these franchises in two different directions.
Before Pat fans tell me to stop whining, I'm not. I'm simply pointing out a fact. Also, your own quarterback acknowledges it was a garbage call and that his career probably works out differently if it isn't made.
The Lions? Well, the Raiders have improved, too; but nobody seems to think so or give them any credit. Whereas the Lions, didn't you hear, are going to the Super Bowl? Two long-maligned franchises, one getting rightful praise, the other typical but unwarranted negativity. Time to bring the hate; and time to stop the run.
Another Year Together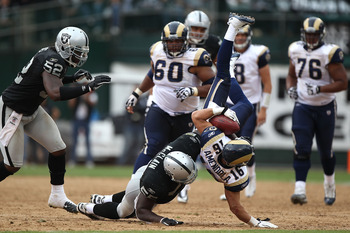 Most Raider fans remember this hybrid clothesline-body slam fondly, even though McClain received a 15 yard penalty
Jed Jacobsohn/Getty Images
Since 2009 the Raiders have experienced numerous changes on the defensive front. Previous years' struggles made this a positive thing, as they replaced ineffective, aging, or ill-fitting players like Greg Ellis, Thomas Howard, Kirk Morrison, William Joseph and Gerard Warren with a mix of rookies and veterans both who can rush the passer and stop the run.
One of the bookends is a young, hungry Matt Shaughnessy, who is stout against the run and has a high motor. He played quite well on the edge last season and big things are expected from him this year. He looked like he was poised for a breakout last year when he recorded seven sacks and held the edge against the run. He should be a star this year.
On the other side is Lamarr Houston, a second-round draft choice last season who started from Day One and showed good upfield burst, a nasty streak and the ability to shed or overpower blockers and set the edge in the run game. And he can rush the passer a little, as well, with five sacks last year.
In the mix at defensive tackle is young, intelligent Desmond Bryant, a Harvard prospect who burst on the scene in preseason 2009 and played so well he earned a roster spot.
Trevor Scott, a pass rushing demon and former college tight end, is back healthy from knee surgery. He gives the Raiders yet another pass rusher to add to the mix for the No. 2 pass rushing team in the NFL.
The Raiders continued their sea change up front by replacing longtime linebackers—and law firm members—Thomas Howard and Kirk Morrison with Quentin Groves and Rolando McClain.
Groves is not quite as athletic as Howard, but he is stronger at the point of attack and showed last season he is better in stopping the run.
McClain came into the league with a massive ego, and it wasn't until he allowed himself to accept that the NFL was different than college and he couldn't just dominate by force of will that he started to show his true potential. He was a defensive stalwart and captain on Alabama's 2009 championship team, and he has the mental and physical make-up to dominate. He seems poised and ready.
Kamerion Wimbley is the other linebacker, and he, too, is a pass rushing specialist.
Opponents will have to pick their poison with a front that has now been together for a full season and is ready to gel together as a cohesive unit. Do they max protect against the stellar pass rush of the Raiders and hope to still run effectively? Or do they run in the hopes it protects their passing game?
In the past the answer was clear: run the ball. But the Raiders newfound attitude and personnel make the question a little muddier this season, and that's a good thing for Raider fans.
Raiders Offense Has Vastly Improved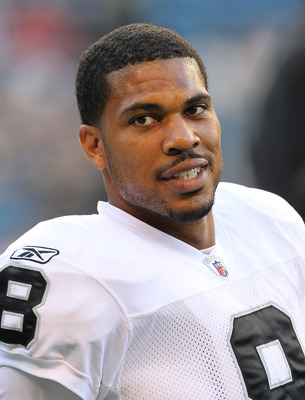 Ive never seen, heard, or witnessed the play of a more confident and poised Jason Campbell
Otto Greule Jr/Getty Images
Jason Campbell is annoyed. You can tell every single time he's asked about whether he can lead this team; whether he's the clear cut starting quarterback; whether this team can succeed on offense; and generally whenever he's questioned about anything.
You see, Campbell has been questioned since Day One of his NFL career. And he's sick of it.
This offseason, Campbell had receivers Jacoby Ford, Louis Murphy and Darrius Heyward-Bey stay at his Virginia home while practicing throws and routes with them. He stepped up as a leader during the lockout and told everybody that "this is my team. If you want to succeed, we need to work together."
Everything he says and does, and even how he carries himself this offseason, speak to a confident, poised and professional quarterback ready to take the next step.
As many people know, Campbell has had to switch offensive schemes yearly since he entered the NFL. He's had little cohesion or continuity with not only the playbook and coaching staff but with his teammates as well.
One year removed from a quantum leap in offensive production, the Raiders have a quarterback who feels better about his team and his situation that he ever has. And it's showing in play, practice and even interviews. Campbell finally has some swagger.
With the Raiders owning the No. 2 rushing offense last year and losing no one of significance who contributes—no, I don't count Robert Gallery, as Loper was pretty much his equal last year and Loper's been cut. Plus, with Darren McFadden, Jacoby Ford and Michael Bush being joined by exciting rookies Taiwan Jones, Denarius Moore and David Ausberry, and with Heyward-Bey finally showing he's capable of NFL level production, this team is poised to score a lot of points. And keep their opponent off the field.
This translates to their opponent playing to the Raiders' strength on defense—the passing game. The Raiders lost Nnamdi Asomugha—but nobody else of significance on defense—and should once again give opposing quarterbacks nightmares throughout the game.
That, coupled with the points they will be putting up will force teams to pass, playing right into their hands and leading ultimately to Raider victory.
Guys Elevating Their Game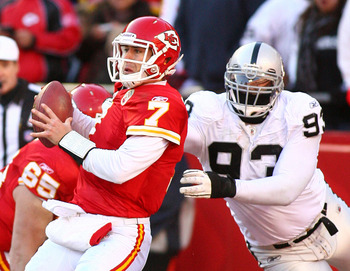 Tim Umphrey/Getty Images
Ever since Richard Seymour arrived, Tommy Kelly has, too.
Once touted as the next, great three-technique tackle by none other than Warren "QB Killa" Sapp himself, Kelly got the money that went with the status.
He just forgot to play up to that status.
Well, since the arrival of Seymour in Oakland in 2009, Kelly has developed into an animal in the trenches. He lost 30 pounds, got quicker yet stronger and emphasized holding his ground and being the first line of defense against the run.
Last season the Raiders stuffed divisional opponents on the ground, but they couldn't stop the run outside of it. Kelly, though, wasn't the problem. He made plays week in and week out, and he did it in ways the team needed him to do it.
If they needed a sack, he rushed the passer. He finished with seven sacks, a full 2.5 sacks greater than his previous career high. But he was no one-trick pony. He also finished with 60 tackles, his most since his breakout 2006 campaign that earned him such high praise from Sapp.
Kelly, though, hasn't been shy about why he's improved. He gives all credit to Seymour's presence and professionalism.
Seymour was just voted defensive captain again today. No surprise there. The players, young and old, talk about him as a coach on the field and that they want to step up their game to impress him.
You get a feeling Seymour is like the father of the defense, and they don't want to disappoint him. Houston, Kelly, McClain, Groves, Scott and Wimbley have all gone on record this offseason about how hard they've worked to improve and how they don't want to let their teammates down, especially Seymour.
With the talent, coaching, and drive this front has, there is no reason to think they will.
Great Coaches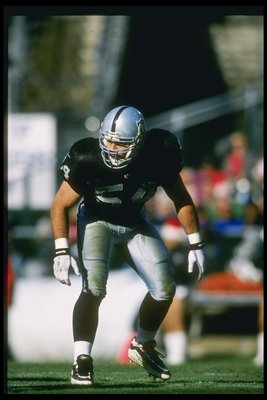 Biekert is now the Raiders linebackers coach; and a good one
Stephen Dunn/Getty Images
Last season was line coach Mike Waufle's first of his now second stint with the Raiders. As such, it took time for him to instill his ideas and aggressiveness on the front. But once he did, the results spoke for themselves.
Waufle has a reputation for producing excellent pass rushing lines—think Giants in the 2007 Super Bowl, also coached by Waufle—and last season they did not disappoint. As previously mentioned, the Raiders ranked second in the NFL in sacks last season. And the sacks came from all over the front.
Tommy Kelly had seven at DT; Shaughnessy—or Sho-Nasty, as he's known in Raider Nation—seven from DE; Houston five; Seymour 5.5. That, right there, from four down linemen, is a total of 24.5 sacks.
Throw in nine from Kamerion Wimbley at the strong linebacker position and four from safety Tvyon Branch and it's obvious QBs didn't know where the rush was coming from last year. But when it came from the defensive line, it usually worked.
Former Raider stalwart and long-loved member of Silver & Black Greg Biekert returned to the mix last season to throw his hat in the ring as linebacker coach. With the presence of McClain and the coaching of Biekert, the middle of the Raiders field is well taken care of. Biekert was a standout run defender when he played for the Raiders, and he's been in McClain's ear about the importance of stopping the run to intimidate your opponent. McClain, by all accounts, is buying in and ready to rock some heads.
Then, we have former Raider and Hall of Famer Rod Woodson coaching the secondary. Now, I know we lost Asomugha, and he's an irreplaceable player. You simply aren't going to replace Asomugha. Many feel the defensive front will suffer, as quarterbacks will have more options when throwing the ball.
I disagree. The Raiders pass defense certainly struggled in the preseason, but the majority of the toasted players were either rookies, undrafted free agents, and/or players have been cut and are no longer on the team. By midseason, Woodson will have these guys playing superlatively, allowing the front seven to run as wild as they like.
Conclusion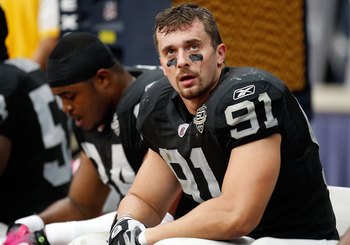 A Healthy Trevor Scott, who is a pass rushing machine but has vastly improved against the run, is a key factor to the success of the defensive front. Ill suited at LB, he's back at home at DE
Ronald Martinez/Getty Images
The bottom line is this is the greatest group of position coaches the Raiders have had on the defensive side of the ball in years, combined with the greatest amount of talent they've had up front in some time.
Add in the leadership of Seymour, the improvement of Kelly, Houston, McClain and Shaughnessy, and the return to health of pass rushing demon Scott, and a year of playing together, knowing each other and getting consistent coaching, and the sky is the limit for this team.
The preseason had some discouraging moments, and on paper the numbers are ugly. However, little of the story is told there, and from what I saw, our first team defensive front is ready to step up into beast mode this year.
It's not enough just to stop the run in your own division against teams you genuinely hate; you have to bring that same level of hatred and disgust to the trenches every game. According to Seymour, and based on the Raiders' schedule and some of the easily hateable teams on it, that shouldn't be a problem.
Hate will make the Raiders defensive front great again. And we love it.
Keep Reading

Oakland Raiders: Like this team?