Should Roger Goodell Fine Chicago Bears LB Lance Briggs for 9/11 Tribute?
September 9, 2011
Jamie Squire/Getty Images
Lance Briggs has unveiled his plans to honor the men and women who lost their lives on the tragedies of September 11, 2001 on the 10-year anniversary this Sunday against the Falcons.
Briggs is planning on wearing gloves and shoes that are against the NFL's in-game dress code policy. The equipment is designed by Reebok and they are made to look like the American flag. 
Briggs openly acknowledged that he could be fined for breaking Roger Goodell's code. Briggs tweeted, "For the anniversary of 9/11 game why is it if I wear shoes and gloves that are the colors of r nations flag..I will be fined by the league." 
Briggs could face fines up to $15,000 for his dress code violations.
The million dollar question is, should he be fined? Absolutely not.
9/11 is one of the most significant tragedies in the history of the United States and will be the largest tragedy in most of our lifetimes.
Lance Briggs is just trying to show that we still remember all the great American lives that were lost, and he wants to honor the men and women who have dedicated their lives to serve our country.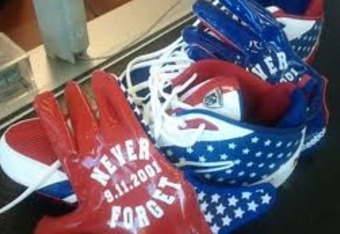 ESPN analyst Skip Bayless argued that Briggs should be fined. Bayless believes that if Goodell does not fine Briggs it will open "Pandora's box." He said that this could be a gateway for NFL players wanting to support other causes, and will regularly violate the dress code policy.
What Bayless fails to realize is there is a difference between 9/11 and anything else that has happened in recent US history.
I am not trying to say that people who have lost their lives in other US tragedies are not as significant as those who lost their lives on 9/11, but the magnitude of 9/11 is different. It changed the lives of every single American citizen, and it has shaped our history as a nation.
I am proud of Lance Briggs. He is showing he bleeds red, white and blue and cares more about honoring his country than money.
All NFL players should follow in Briggs' footsteps and remember those who lost their lives on September 11, 2001.
Update: USA Today reports that Briggs and others will not be fined by the NFL.