September 11th: Not Your Typical NFL Sunday
January 15, 2017
Michael Heiman/Getty Images
At noon on Sunday, all the waiting will be over. The drama of the NFL lockout will seem like an object fading in the rearview mirror, and football will finally be back. 
Sure, we had a taste of NFL life again last night in a masterfully played game between the Saints and Packers, but we as football fans are craving more. The little taste we had last night was enough to get our juices flowing, and like an addict, we need our fix.
Sunday will bring back to us something that, for a short period of time, we thought we might actually lose. In the midst of the bickering that went back and forth between the players union and the NFL owners, all we really wanted was football. 
Sure, some of us may of been disgusted that two groups could not settle on the distribution of billions of dollars, but in the end, all we really wanted was our Sunday ritual back.
What would we have done if this Sunday rolled around, and instead of stadiums full of screaming fans decked out in their favorite teams gear, we were stuck watching professional bowling or old movies on the Sunday "Special Presentation?"
Football, and more importantly the NFL, has become an integral part of our American culture. In a way, it defines all that we as Americans want to be.
With the 10-year anniversary of the 9/11 terrorist attacks, we take a step back and realize that, yes, football really is just a game, but can it also mean more than that?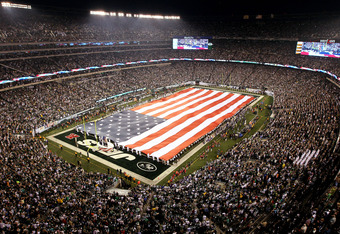 Jim McIsaac/Getty Images
A football team, much like our country, is made up of many integral parts. A quarterback, our leader. The offensive line, our protector. A defense, our defenders. In order for a football team and our country to succeed, both need all of these components working as one.
We are lucky to have those overseas and those here at home that keep us safe day in and day out. We are lucky to have our quarterback making important decisions. We are lucky our offensive line protects our streets and our cities. Lastly, we are lucky our defense rivals anyone else's, with the many brave and women who risk their lives to defend our freedom.
Without those brave men and women, we would not be able to enjoy our Sunday routine.
If the lockout continued, and there was no football, life would go on. However, if our American team gave up, there's no telling where we would be.
When you wake up Sunday morning and put on your team's jersey, remember those who put on their uniform every day without any hesitation to protect their team.