Cleveland Indians: Why the 2012 AL Central Title is Theirs to Lose
September 9, 2011
Jason Miller/Getty Images
The 2011 season is all but lost for the Cleveland Indians, but 2012 may have a better ending for the Tribe.
Most thought the up-and-coming Indians would not contend until 2012 at the earliest, but they stormed out of the gates in 2011 and had control of the division for most of the season before the All Star break. And although they are 10 games out of first place, they remained close with the Detroit Tigers until they were swept in the Motor City at the end of August.
The 2012 campaign should be more difficult because the Tribe won't be able to sneak up on teams like they did this season. But there are some other things working in their favor that could propel them to a division title.
For one thing, only three teams in baseball are younger than the Indians. Although that number may be inflated if they are active in the free agent market, the core of the team will remain young. The Tigers and Chicago White Sox are the 15th- and 12th-oldest teams, respectively.
The suddenly active front office might be another factor that will help the Indians. Tribe fans have complained about the team's fickle management since the end of former general manager John Hart's tenure with the organization. But the club was active leading up to the trade deadline, and are poised to make a move once the free-agency period begins.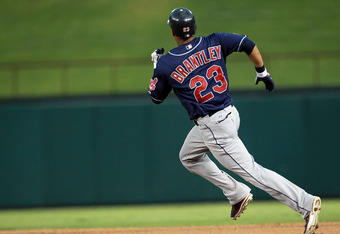 Ronald Martinez/Getty Images
In addition to acquiring new talent, the Indians are also expected to unload some players that are either too old or have not panned out. Matt LaPorta is one of the players the Indians could decide to cut loose. His .238 average and 11 home runs have left much to be desired. He could be gone from the team as part of a plan to move Carlos Santana to first base.
Grady Sizemore and Travis Hafner also have questionable futures in Cleveland. Sizemore, earning a $7.66 million salary, and Hafner, collecting $13 million from the Indians, make plenty of money. But they also miss plenty of games as well. Wildly inconsistent pitcher Fausto Carmona is another player the Indians could rid themselves of.
One thing that will stay the same for the Indians will be their bullpen. Although they couldn't quite maintain their early season dominance for the entire year, they are a young group that should keep the Indians in late games next season. Look for Vinnie Pestano, Tony Sipp and Chris Perez to improve off of their 2011 showings.
But most importantly, the Indians now know that they can win in a relatively weak central division. And they understand the importance of playing meaningful games in August and September. Hopefully they can build off of that experience in 2012.