Tramon Williams Injury: Why Green Bay Packers Will Really Miss Talented CB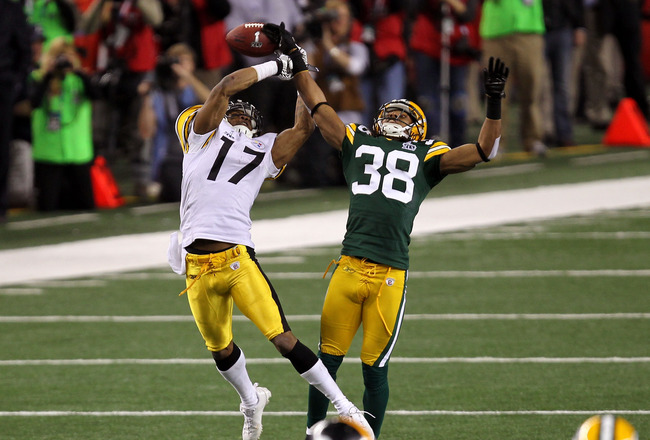 Packers cornerback Tramon Williams (No. 38) left in the fourth quarter of Thursday's game with a righ shoulder injury. No word on how long he will or will not out.
Mike Ehrmann/Getty Images
Packer fans got what they wanted most Thursday night: a season opening victory over the New Orleans Saints 42-34.
But what they didn't want was any Packer player to get injured. And that did happen when Pro Bowl cornerback Tramon Williams departed the game in the fourth quarter with a right shoulder injury.
As of now, there is no information relative to whether he'll play next week.
If the Packers are without Williams it will be a big loss. Here are three reasons why.
Pro Bowl Talent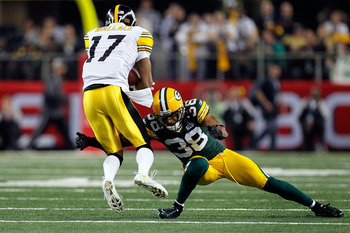 Williams was tied for fifth in the league in 2010 with 6 interceptions.
Kevin C. Cox/Getty Images
Injuries are never ideal for any team in any sport. But the injury is always worse when it is to a player with talent like Williams.
Williams was a member of the 2010-2011 Pro Bowl team—the first honor of his six-year NFL career—and with good reason.
Williams began blossoming into one of the better cornerbacks in the league last year when he posted six interceptions, tied for fifth best in the league.
At 5'11", 191 pounds Williams possesses a good combination of size, speed and as his six interceptions suggest, unlike so many defensive backs in the league he can actually catch a football when it's thrown to him.
More Sam Shields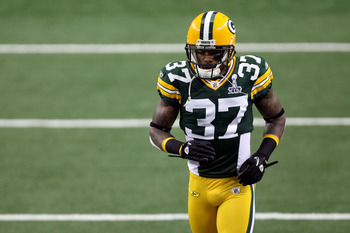 Cornerback Sam Shields isn't a terrible player, but he's no Tramon Williams.
Mike Ehrmann/Getty Images
Williams' possible injury means someone has to fill the void as the No. 2 cornerback to Charles Woodson. And that someone should be Sam Shields.
Shields is similarly sized to Williams, 5'11" and 184 pounds, and is faster (he ran a 4.3 40-yard dash at the 2010 NFL Combine) but doesn't have the ball-hawk skills Williams does.
He is also less experienced than Williams. Shields is a second year player from Miami, where he failed to post an interception in his four-year career.
Last year for the Packers he had two interceptions and 29 tackles in 14 games, primarily as a member of the team's nickel package.
The Packers could have a worse option than Shields to replace Williams, but Shields isn't on Williams' level which means the team should expect a decrease in the productivity of its No. 2 cornerback.
Familiarity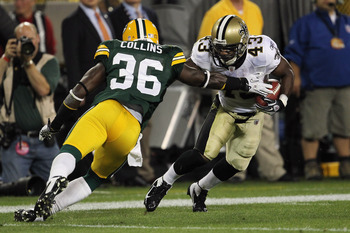 If Williams is out, it means the defensive backfield will have to get better acquainted with Sam Shields.
Jonathan Daniel/Getty Images
Starters have an advantage over reserves not only because they're usually more talented, but also because they've had more reps than the reserves. And that's the case with Shields replacing Williams, if it happens.
Shields doesn't have the practice time that Williams did with the first unit. Williams has a better understanding of what his teammates are doing on the field, more so than Shields. And the other 10 guys on the defense also have a better feel for Williams' tendencies as well.
It is common sense, but it's something that warrants recognition. Often substitutes are expected to produce like they're a starter. And sometimes they do.
But people forget that it can take a while to get comfortable with teammates on the field, especially from a defensive back position where communication and familiarity are vital to the success of the unit.
Keep Reading

Green Bay Packers: Like this team?