Tramon Williams Hurts Shoulder in Green Bay Packers' Win vs. New Orleans Saints
September 9, 2011
Kevin C. Cox/Getty Images
The Packers' 42-34 win over the New Orleans Saints on Thursday night proved bittersweet for Green Bay, who lost their best cornerback, Tramon Williams, to a shoulder injury during the fourth quarter. 
Williams, an integral part of the Packer secondary, appeared to be in a considerable amount of pain and did not return to the game.
According to ESPN's Kevin Seifert, "that pain hadn't subsided by the time he got to the locker room." As of now, the extent of Williams' injury is unknown.
Losing Williams would be devastating for a Green Bay secondary that defensive coordinator Dom Capers relies upon to execute his relentless blitzing schemes.
However, it's the elite coverage skills of defensive backs like Tramon Williams that allow Capers to freely attack opposing offenses without sacrificing any weapons to assist in coverage.  Williams' true worth is further quantified below.
In 2010, Williams not only nabbed six interceptions, but dominated more advanced statistics:  
He ranked first among the top 20 cornerbacks in catch percentage per coverage snaps.  Essentially, of the 792 cover snaps he had, he was thrown at 123 times and only allowed 56 receptions, resulting in a league-leading catch percentage per cover snap of .0575 percent.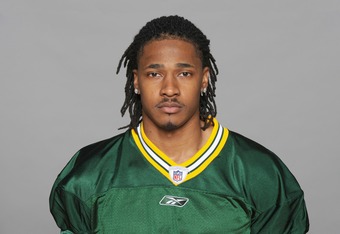 Handout/Getty Images
To help put that into better perspective, Darrelle Revis ranked a few spots below Williams, trailing with a catch percentage per cover snap of .0706 percent. 
Additionally, Williams ranked fourth in success rate* (66 percent) and ninth in yards per pass (5.5). 
(*Success rate is the percentage of passes that don't manage to get at least 45 percent of needed yards on first down, 60 percent of needed yards on second down, or 100 percent of needed yards on third down.)
Meanwhile, fellow Packer defensive back Charles Woodson failed to break the top 10 of any of these rankings. 
Tramon Williams is the Packers best corner. A potentially prolonged absence would place a lot of pressure on the aging Woodson, while having an overall deleterious effect on the pass defense that caused the most turnovers in the NFC, last season. 
Beating the Saints was sweet, but only time will tell if it was ultimately worth it.