Dustin Pedroia vs. Robinson Cano: Who Is the Best Second Baseman in the AL?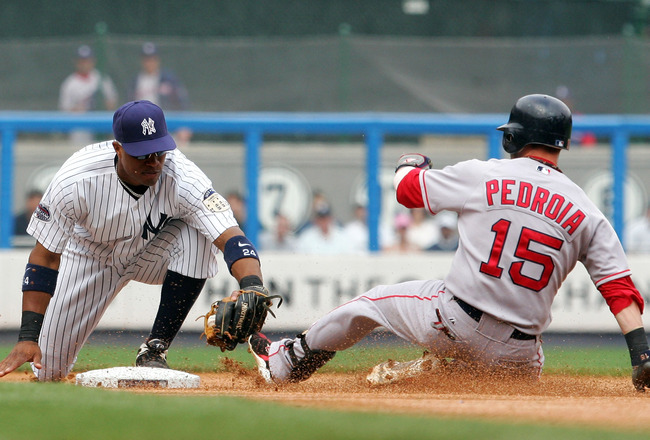 The AL East is home to the two best second baseman in the AL in Dustin Pedroia and Robinson Cano.
Jim McIsaac/Getty Images
Everything is a battle between the Red Sox and the Yankees for American League East supremacy.
And currently, an argument wages on that evokes memories of the late 1990s. Each team's fan base believes their young-stud middle infielder is the best in the division, and perhaps the AL, if not all of Major League Baseball.
The last time this happened, shortstops Derek Jeter and Nomar Garciaparra were the young guys emerging as some of the key components to their successful teams, fighting for top dog position as the teams constantly battled for the Division crown.
Fast-forward a decade or so, and the fight lives on, but this time it's on the other side of the second base bag, between Robinson Cano and Dustin Pedroia.
As both players lay the very early ground work for potential Hall of Fame careers, which team has the better second sacker?
Robinson Cano's Career to Date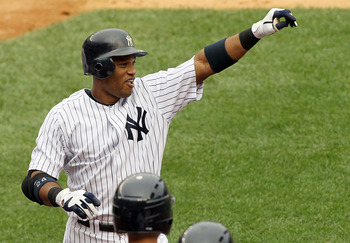 Jim McIsaac/Getty Images
The 28-year-old Cano has put together a solid career mark of .308/.347/.495 in his seven years in the big leagues.
He's smacked 140 homers since arriving in the Bronx, for an average of 20 per season.
Only twice has Cano finished a season batting under .300—his rookie year in 2005 (.297) and again in 2009 (.271).
Four times he's even slugged over .500.
He hit 100 runs in the two seasons before this (103 and 105, respectively), and should eclipse the mark again before this season ends. He's also knocked in more than 100 runs over the past two years.
Dustin Pedroia's Career to Date
Darren McCollester/Getty Images
Pedroia's career line is quite similar to Cano's with a .304/.373/.461 showing, good enough for a career .834 OPS.
Pedroia has never hit 20 homers (something he should reach this season, as he's hit 18 already) and has never knocked in 100 runs, but he's twice led the league in runs scored—once in hits and once in doubles.
He led the league with impressive totals of 118 and 115 in 2008 and '09 before getting hurt last season. He's also averaged 40 doubles a season and led the AL in 2008 with 54.
Robinson Cano's Awards to Date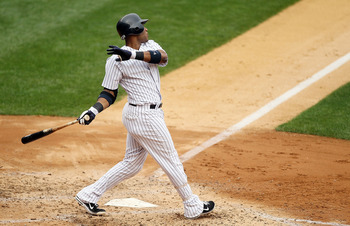 Jim McIsaac/Getty Images
Cano is a three-time All-Star and has finished in the Top 25 in MVP voting three times already, including a third place showing last season.
He's also a two-time Silver Slugger winner (2006 and 2010), and showed his complete baseball skill last year by capturing the Gold Glove for the position as well.
He definitely hit the ground running, taking second place in 2005's Rookie of the Year voting.
Dustin Pedroia's Awards to Date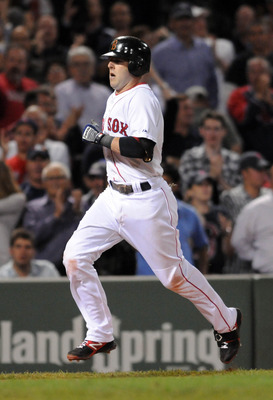 Darren McCollester/Getty Images
As successful as Cano has been at adding awards to his trophy case, Pedroia is at least his equal in that regard.
In his first year, Pedroia captured Rookie of the Year honors after hitting an impressive .317.
The next season, he went out and won the AL MVP, picking up both the Gold Glove and Silver Slugger along on the way.
Like Cano, Pedroia has been a three-time All-Star.
While Cano has an extra Silver Slugger award over Boston's diminutive second baseman, Pedroia has an MVP and Rookie of the Year that Cano does not.
Robinson Cano's Power Is Impressive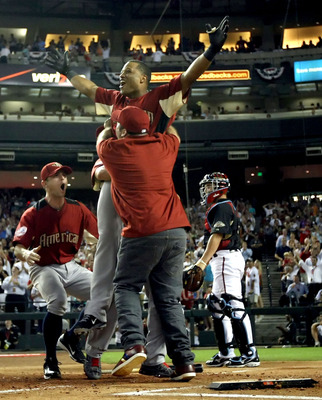 Christian Petersen/Getty Images
As the baseball world saw during this year's Home Run Derby, Cano's power is not only better than that of Pedroia's, but it's among the elite in the entire MLB.
Cano has crushed 25 and 29 homers in the two years prior to this, and has already bashed 24 this season.
He won this year's Derby by launching balls more than 450 feet, over and over with ease.
Dustin Pedroia Is an on-Base Beast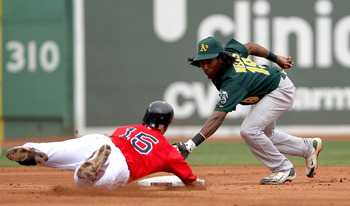 Jim Rogash/Getty Images
Pedroia might not have Cano's light-tower power, but he offers somethings offensively that his Dominican counterpart cannot match.
Pedroia is much better at drawing a walk, having drawn significantly more (295 to Cano's 216) in his career than Cano, despite playing in 339 less games.
Pedroia also uses that on-base ability far better than Cano. Even though Cano is the faster runner, Pedroia has swiped bases at a much better rate. He's stolen 81 bases, reaching at least 20 three times, and has been caught just 18 times.
His 82 percent success rate blows Cano's 54 percent away. Cano has never reached double digits, and this is the first season he's had more than five steals (8 in 2011). Cano has just 28 steals in his career.
Robinson Cano's Playoff Résumé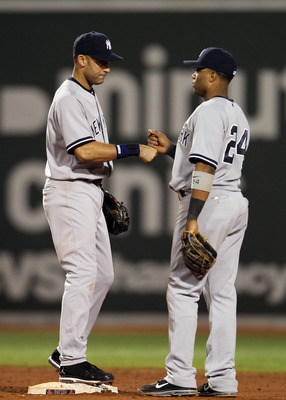 Elsa/Getty Images
Both teams appear to be heading back to October baseball, something Cano has grown accustomed to. Since he arrived in 2005, the Yankees have only missed the playoffs once, in 2008.
New York has gained three division crowns and two wild cards while he's been on the field for them.
They've also won two AL pennants, and captured the World Series in 2009.
In 37 career games, he's had 35 hits, achieving a .248 average.
Dustin Pedroia's Playoff Résumé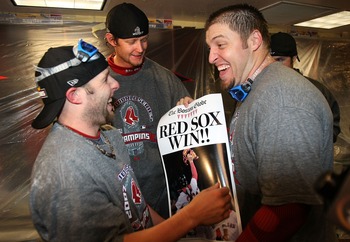 Jed Jacobsohn/Getty Images
Pedroia has played on three teams that have reached the postseason, once winning the division and twice entering as a Wild Card.
Pedroia's first full season in Boston was the team's most successful in that run, as they captured the AL Pennant before sweeping the Rockies in the World series.
Pedroia has 29 hits in 28 games for a .252 average. Both players have an identical .461 in playoff slugging, but Pedroia has the superior OPS, leading .804 to .757.
Robinson Cano's Ripken-Like Durability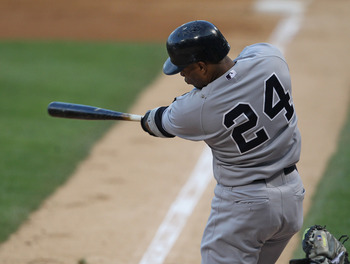 Jonathan Daniel/Getty Images
Cano has been one of the most durable players in all of Major League Baseball during the last five years.
Since 2007, Cano has played in no less than 159 of the the Yankees' games, and is on pace to approach that again as he's played in 141 of the team's 142 games this season. In his time with the Yankees, he's played in 781 of a possible 790 games.
Dustin Pedroia Is One of the Toughest Strikeouts in the Majors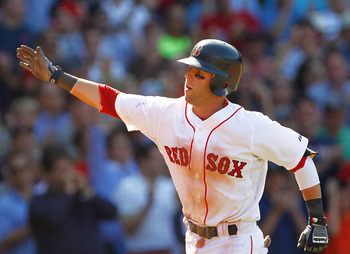 Pedroia's impressive at-bat against Jered Weaver
Jim Rogash/Getty Images
Pedroia, who ranks in the Top 10 in at-bats per strikeout every year in the MLB, is one of the most proficient hitters in the world when it comes to getting his bat on the ball.
Before this season, he had never struck out more than 52 times in a season.
Even this year, his 69 strikeouts is impressive considering he started the season in a slump and had been punched out 26 times by May 10. Which means that, since then, Pedroia has fanned just 43 times in five months.
Throw in the fact that this season is in-line with his career stats, as he's walking at a better rate than he strikes out. He has 80 walks this season, with a career total of 295 walks and 253 strikeouts.
While Pedroia has only gone over 50 twice, Cano, on the other hand, has had only one season coming in under 60 strikeouts. Twice he's been over 80 strikeouts in a season, with 495 strikeouts in his career compared to his 216 walks.
And if anyone doubts how hard Pedroia truly is to retire by way of the K, I'm sure Angels ace Jered Weaver could vouch for him.
Earlier this season, Pedroia battled Weaver in an incredible nine-minute, 13-pitch at-bat, before the Red Sox's little guy laced a single up the middle, plating two runs.
The video is here.
So Who Is the Best Second Baseman in the American League?
Both players are easily elite talents that bring things to the table that others might not, but Pedroia provides more than just on-field ability.
While Cano may be the most talented player on the Yankees, it is still very much Derek Jeter's team. However, Pedroia is the heart and soul of the Red Sox; an emotional leader, and one of the first voices heard anytime the media is around.
He certainly has that same "it" factor as Jeter. When Pedroia talks, people listen, and when he plays, people watch.
Pedroia drips with confidence, for himself and anyone wearing the same uniform, as evidenced by this video from May 7 of last year, about an at-the-time struggling David Ortiz.
Ortiz had two homers when this interview happened, and went on a tear immediately after, finishing the season with 32 and 102 RBI. He slugged .529 and has been even better this year, posting an OPS over 1.000 so far.
Because of his supreme talent and ability to make the rest of the Red Sox roster better, I crown Dustin Pedroia the best second baseman in the American League.
Follow John on Twitter at http://twitter.com/#!/johnbotelho16
Keep Reading

Boston Red Sox: Like this team?