25 Comical Fantasy Football Team Names You've Never Heard
Mike Stobe/Getty Images
It all started with an offseason of uncertainty.
It was followed by an expedited free-agent frenzy that scattered more NFL players than a Roger Goodell bust at a Pacman Jones strip club.
However, without delay, the NFL season opened up Thursday without any hiccups, new DUI arrests or coaches shooting more foot fetish videos. (That we know about at least.)
More importantly, Thursday marked the start of something even more anticipated than season three of The Real Housewives of New Jersey.
Well, maybe not that anticipated, but close:
Fantasy Football.
Anyone who can sit here and tell me they watched the Bengals play the Browns on Sunday for the explosive, offensive action and didn't tally the rushing attempts by Cedric Benson, should check their nose. It is likely growing exponentially.
"It's not even real life, it's fantasy," my girlfriend used to say as I sat glued to my stat tracker, watching red dots proceed methodically down a virtual field instead of exchanging pleasantries with her family at the dinner table.
A new year always brings a fresh start and the hopes that your chums will forget your pitiful attempt at managing your fantasy football team the previous season.
Thursday's opener featured two of the league's elite fantasy players in Drew Brees and Aaron Rodgers. Both failed to disappoint, throwing for over 300 yards and three touchdowns, providing a jovial start to the 2011 fantasy campaign for team owners.
If you have one of these fantasy gods, you probably attempted to come up with a witty team name, but instead ended up somewhere between a double entendre and idiotic.
"Mr. Rodger's Neighborhood."
"Life's a Brees."
"Brees Wax."
Am I getting close?
Perhaps Jerry Maguire quotes tickle your fancy.
"Brees and Dogs Can Smell Fear."
I'll stop.
"The Brees Knees."
Sorry, now I'll stop.
You probably think you are a creative genius.
You're not.
You also likely wear Jesus sandals with socks, tuck your collared shirt into your jeans and have a leather cell phone case affixed to your belt.
You may or may not have a fancy job title like a Senior Quantitative Analyst II. (The II came with no pay increase, but you took it for the title, plus they threw in a free abacus.)
Your friends recently mentioned you had a mangina and you just laughed along because you thought they were talking about the current ESPN analyst and former Browns head coach.
Don't fret. Help is here.
A snazzy, hip, uniquely splendorous team name is the only thing standing in the way of fantasy football supremacy—you can recoup some of those man cards you lost along the way.
These ridiculously original names are guaranteed to knock your cell phone right out of its holster and help you regain the respect you deserve.
They should all be original, but if any of them are not, that probably just means I've subconsciously plagiarized along the way.
"So let me get this straight...you're watching stats calculate?"
"Look babe, it's not my fault your grandma's funeral was the same day as my critical Week 6 matchup against the Boston Teabags..."
Irritable Bowe Syndrome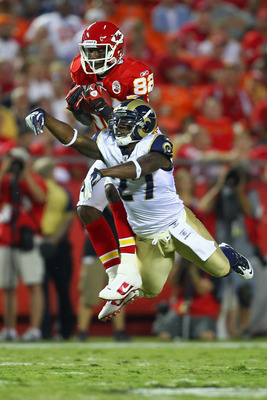 I knew I shouldn't have eaten that chili dog
Dilip Vishwanat/Getty Images
If you were fortunate enough to start Dwayne Bowe in Week 12 last season, you were treated to 13 catches, 170 yards and three touchdowns.
His next game, he caught one ball for three yards.
If that doesn't activate your IBS, I don't know what will.
For those who didn't have Bowe last year, but took him this season, you may want to prepare for the overwhelming jubilation or heartbreaking torture you are about to endure.
To simulate, eat a plate of nachos swimming in sour cream, then wait to see if you nap peacefully afterward or if your toilet puts up a white flag an hour later.
Living in a Van Down by the Rivers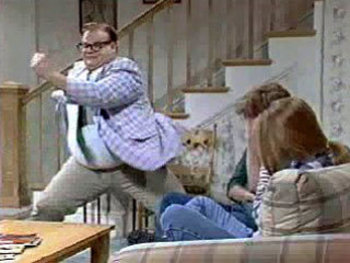 It will be tough to throw TD passes to Antonio Gates when you're living in a van down by the river
There is no reason to believe the always healthy and always consistent Philip Rivers won't have another stellar season this year.
Don't take it from me, take it from Matt Foley—who is managing his team this year while living in a van down by the river.
More Champagne, Mr. Forte?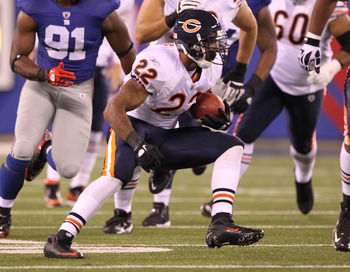 Where's your Player's Club at?
Al Bello/Getty Images
Unless Matt Forte somehow falters or Marion Barber steps up, this Tulane alum should have a big year.
Word is the homies in Chicago are tighter than a glove and chop a lot of game.
Morning, Woodhead!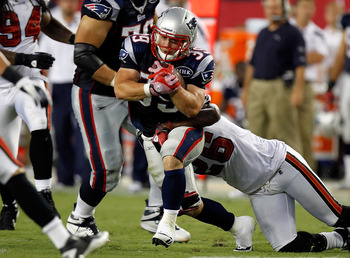 J. Meric/Getty Images
I feel like anything I write here will violate at least seven rules of journalism and basic life morals in general.
It's Not Hue, It's Me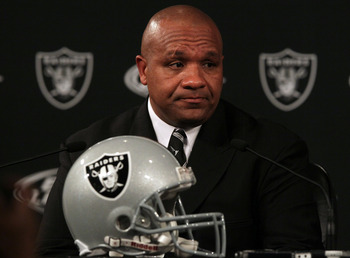 What am i getting myself into?
Justin Sullivan/Getty Images
I'm pretty sure this is what Al Davis doesn't say when he fires one coach after another.
"Look Tom, it's not you, it's...well, no. Actually, it definitely is you."
Stuckey in the Middle with You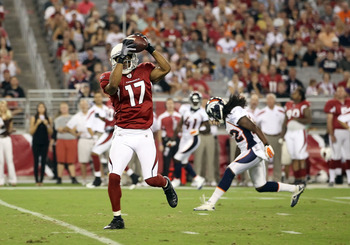 Christian Petersen/Getty Images
If you're trying to figure out how to come up with a fantasy team name because you have Chansi Stuckey on your team, you're either in a deep league or your team name should be the least of your worries.
As of today, he is owned in zero percent of Yahoo! leagues, so we should be okay.
To the Window...to the Wallace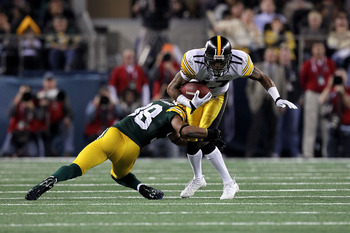 Al Bello/Getty Images
I was never completely confident that I understood what those Lil' John lyrics meant. To try and figure it out, I read the other lines of the song, with the hopes of putting two and two together. Instead, I realized it was the first song written in English that required the hiring of an interpreter to grasp, so I gave up.
In any case, Mike Wallace appears poised for a breakout year as the primary target for Ben Roethlisberger in Pittsburgh.
Honey Nut McCluster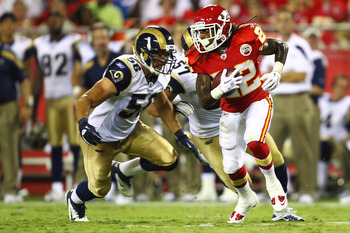 Honey Nut McClusters © brings out the nut in all of us
Dilip Vishwanat/Getty Images
Dexter McCluster is only owned in 14 percent of Yahoo! leagues, but this former University of Mississippi star can be the spark you need to begin your day.
They say breakfast is the most important meal of the day, so what better way to start it off than with this PPR guru?
I Remember When Movies Cost a Kaepernick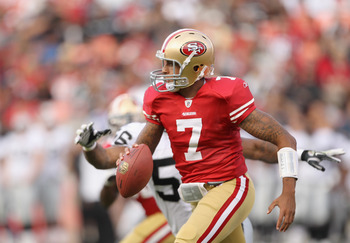 And we got a double feature and a cartoon...
Ezra Shaw/Getty Images
Any second stringer in San Francisco will tell you that backing up Alex Smith puts you just one series away from being put under center.
Colin Kaepernick isn't on anyone's fantasy team at the moment, but as soon as Smith loses the job (a matter of when, not if), Kaepernick will be there with popcorn and Red Vines when you pull him from the waiver wire.
Orton Hears a Who!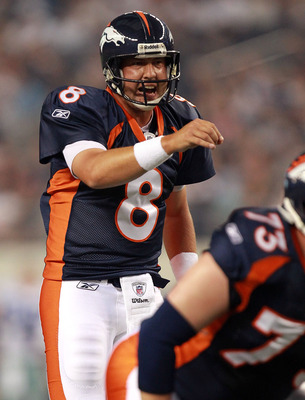 Did anyone else hear that? I know I heard something
Ronald Martinez/Getty Images
Orton quietly put up decent numbers last season, passing for over 3,000 yards and 20 touchdowns, but he is a second option at best on a fantasy team.
Wait, did you hear that?
There it is again.
I know I heard it this time...
Dez Nuts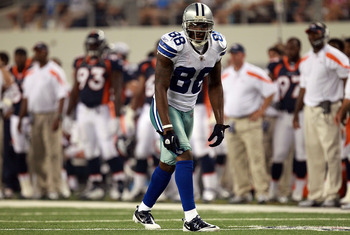 Got my mind on money and my money on my mind...
Ronald Martinez/Getty Images
I had to do it.
Was this really the third rap song reference in this slideshow?
A lot of experts and people who don't know their head from their (insert expletive here) are picking Dez Bryant to breakout in 2011.
If these prognosticators turn out to be incorrect, at least you'll have a sweet fantasy football team name.
Henne Badger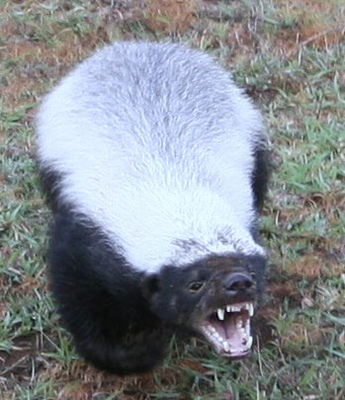 Bess if you don't start catching the ball, I'm going to have to get ferocious on your A...
This would've been a picture of Miami's starting quarterback, Chad Henne, but after a traumatizing gaze at this picture of a honey badger, I decided to opt with the pugnacious carnivore over the even-tempered QB.
In my defense, the honey badger is far more fearless, and even though his career is fairly young, I've yet to see Henne kill and devour a venomous cobra. (Link below.)
.
The Boldin and the Beautiful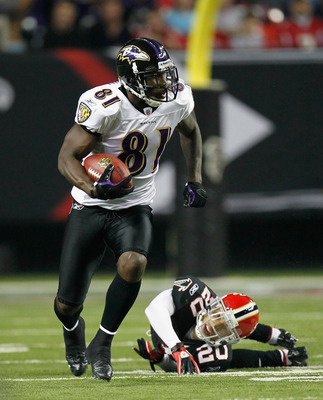 Kevin C. Cox/Getty Images
The brutal hit Anquan Boldin sustained while he was with Arizona two years ago may have killed his chances of being a hit soap opera star, but he can still dazzle on the football field. There is no reason to suspect Boldin won't lead the Ravens in receptions in 2011 with Joe Flacco at the helm.
You Could Take a Good Look at a Tebow by Sticking Your Head Up a Bull's A$$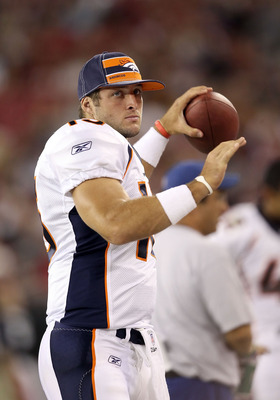 Wait... its got to be your bull...
Christian Petersen/Getty Images
Arguably the best line from the movie Tommy Boy, it doesn't make for a flattering nickname for this left-handed tank, but flattery doesn't help convince your friends you belong in their fantasy league either, now does it?
Or perhaps you could take the butcher's word for it?
Tim Tebow's 2011 season could take a series of paths, so we'll have to sit back and let the brake pads fall where they may here.
I See Hue, and He Looks Glorious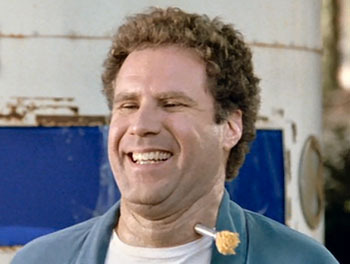 You're my boy Hue!
Is there really a second slide about Hue Jackson?
Moreno 911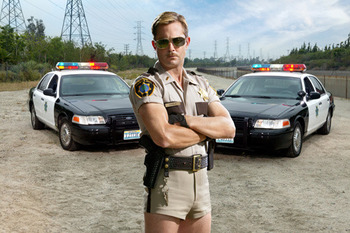 Knowshon Moreno will be the workhorse for Denver this year whether he dons the aviator glasses and short police shorts or not.
Are We Hoomanawanui or Are We Dancer?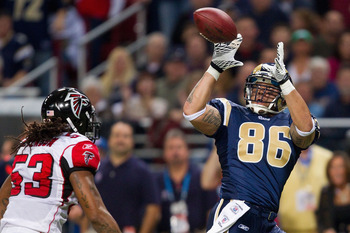 My sign is vital. My hands are cold...
Dilip Vishwanat/Getty Images
Michael Hoomanawanui is only on one percent of Yahoo! fantasy teams—and it's not because of his skills. It's his indecisiveness. Rumor has it he is on his knees looking for answers.
A passerby recently heard him mutter, "Am I human? Or am I dancer?"
He clearly can't decide.
Until he figures it out, Hoomanawanui will find himself in every league's free-agent pool.
I'm Going to Punch You in the Ivory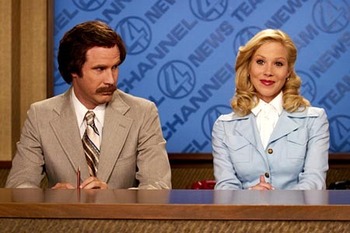 Right in the baby maker...
After a promising rookie season rushing for over 700 yards and five touchdowns, Ivory has found himself on the physically unable to perform list. A fracture in his foot will sideline the back for the first six weeks of the season. When he returns, he will be fourth on the team's depth chart, behind Mark Ingram, Pierre Thomas and Darren Sproles.
All he can do once he returns is ride the bench and stay classy once the Saints tell him thanks for stopping by. But mostly he should stay classy.
Thanks for stopping by.
Stay classy...
Maclin' Oat Bran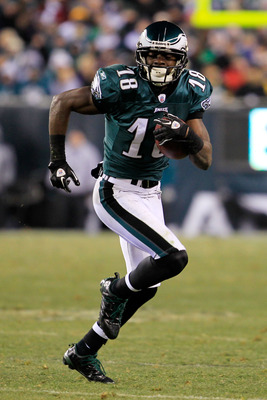 Chris Trotman/Getty Images
After filling yourself with Honey Nut McClusters, it may be tough to power through another bowl of cereal, but for a speedster like Jeremy Maclin, team owners will find the room.
Last season, in only his second year in the league, Maclin hauled in 70 balls and scored 10 touchdowns.
With Vick under center this season, stats will be o' plenty for Philadelphia receivers, so a repeat or increase of these numbers seems likely.
So Good When It Hits Your Phillips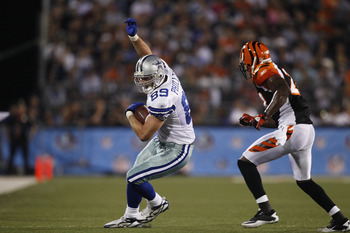 Ok, I'll do one...
Joe Robbins/Getty Images
John Phillips won't get too much opportunity stuck behind All-Pro tight end Jason Witten; however, some of that might have something to do with his weekend availability.
A typical Sunday for Phillips involves frequenting Home Depot with his wife, in hopes of finding wallpaper and flooring. If there's enough time, he makes it to Bed Bath & Beyond.
With the nice little Sunday Phillips has set up, it could be hard for the backup tight end to find time to play.
Royal with Cheese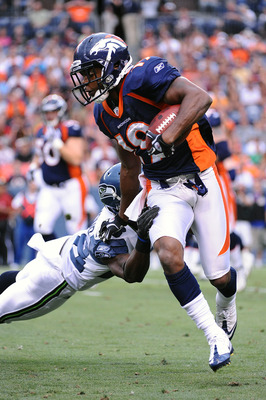 Garrett Ellwood/Getty Images
In 2008, Eddie Royal caught 91 passes and terrorized opposing special teams with his dazzling kick and punt returns.
Since then, his production has dipped significantly, partly because he hasn't had a quarterback good enough to get him the ball. Or perhaps he's been consuming too many quarter-pounders instead of focusing on a steady conditioning program.
He's only owned in 13 percent of Yahoo! leagues, but is penciled in as Denver's second wide receiver. How long he holds down that spot remains to be seen. My guess is not long.
I'm in a Glass Chase of Emotion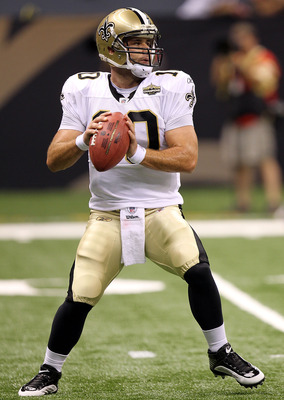 The man punted Baxter!
Ronald Martinez/Getty Images
Perched second on the depth chart behind Drew Brees, Daniel will see most of his playing time on extra points as the holder. Despite his lack of impact on the team, the former University of Missouri star will still make an effort to stay off of the Coronado Bridge while eating a burrito—just in case.
Baxter!
Today We Pray. Amendola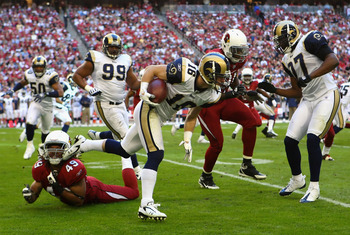 Christian Petersen/Getty Images
Danny Amendola became Sam Bradford's favorite target last season, hitting a career high in receptions with 85. In camp this year, he's impressed coaches again and should be a primary piece in the Rams puzzle this season.
He'll also have the entire world contingency of prayers on his side, so it would be tough to go wrong here.
The Hillis Have Eyes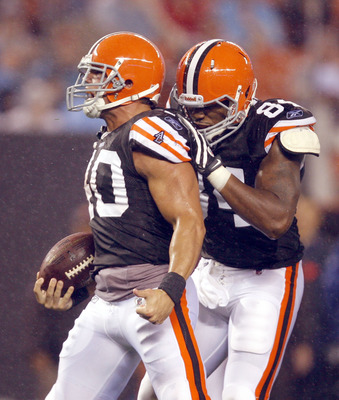 They also have guns too...
Matt Sullivan/Getty Images
Peyton Hillis emerged last year as a fantasy team owner's dream. The bruising running back rushed for 1,177 yards on just 270 attempts, caught 61 passes and scored 13 touchdowns.
Unlike the movie The Hills Have Eyes, which scored just 49 percent on Rotten Tomatoes, The Hillis Have Eyes should pillage his way to another great season as Cleveland's primary threat.
Breaston Implants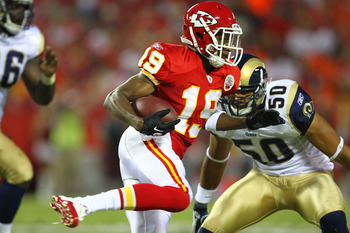 Dilip Vishwanat/Getty Images
Steve Breaston has seen his production suffer over the last two years, partly because of the departure of Kurt Warner.
Despite becoming the second target for whatever Arizona quarterback was unfortunate enough to start that week once Boldin left, he never got it together last season. He logged just 47 receptions and saw the end zone only once.
Now with Kansas City, he should be in better hands with Matt Cassel, but if things head south, you could always change your team name to Breaston Reduction once you release him.
See what I just did there?
Dishonorable Mentions
More Cushing for the Pushin
Yes We Cam
Scobee Snacks
Shark Finnegan Soup
Delone in the Dark
Devery Time we Touch
Flying Kleinsasser
Snelling Salts
Leaky Doucet
Cop a Feely
Vickers Vapor Rub
Keep Reading